Top Online Homeland Security Degree Programs
Get matched to an Online Homeland Security Degree Program for FREE!
What is a Homeland Security degree online program?
An online homeland security degree may prepare you to help protect your country. Homeland security programs often focus on emergency management, crime prevention, and intelligence. There are many types of homeland security degrees online including certificates, Associates, Bachelors, and Masters.
Associate Degrees
Bachelor's Degrees
Master's Degrees
AA in Homeland Security
BA in Homeland Security
MA in Homeland Security
This program provides a broad understanding of national security threats.
This program provides education in the basics of terrorism counterterrorism, hazard management, intelligence and other components of national security.
This program offers an advanced understanding of homeland defense, intelligence methods, terrorism, weapons of mass destruction and other advanced homeland security subjects.

Mind of a Terrorist
Emergency Preparedness
Border and Coastal Security

Introduction to Homeland Security and Defense
Intelligence and Homeland Security
Homeland Security Legal and Ethical Issues

Privacy & Civil Liberties in Homeland Security
Domestic Terrorism and Extremist Groups
Resilience and Homeland security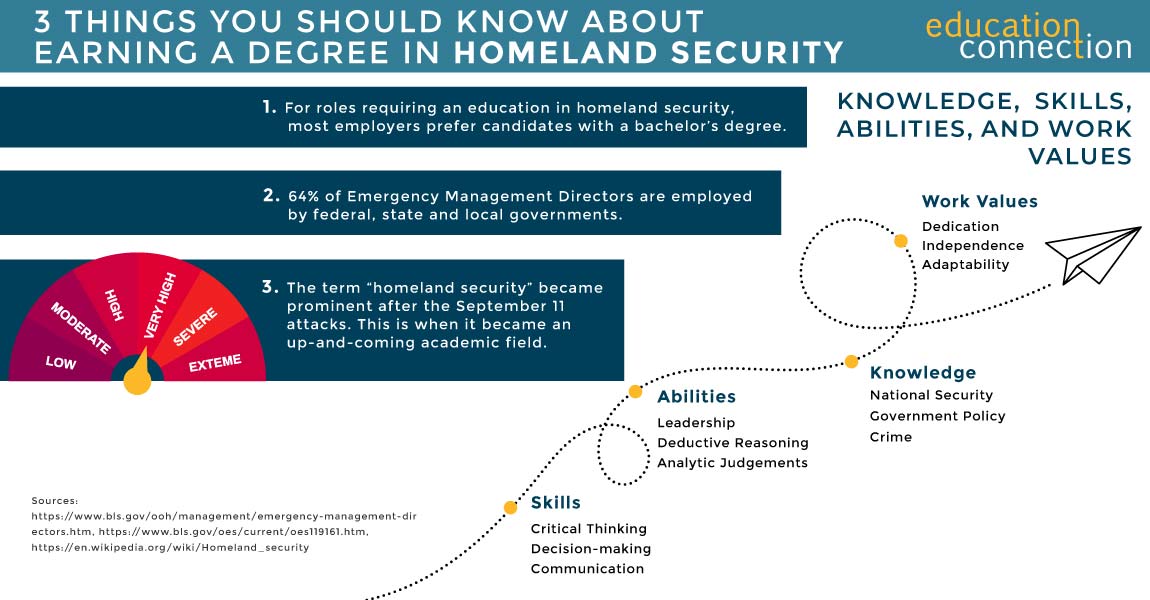 Homeland Security Degree Online Programs
Homeland security studies grew after September 11 when the U.S. government created the Department of Homeland Security. Federal, state and local governments, as well as large companies, often hire people who have homeland security degrees.
Most programs have a range of studies such as weapons of mass destruction, counterterrorism, intelligence, emergency management, and border management.
While there are specific online homeland security degrees, other schools offer homeland security as an emphasis for degrees in Criminal Justice, Information Systems, or Public Administration.
Associate in Homeland Security
An associate degree in homeland security usually requires 60 credits and takes two years to complete. The purpose of this degree is to give basic homeland security knowledge. It also prepares the student to get a bachelor's homeland security degree.
After finishing this program, you may be able to recognize challenges in homeland security and make plans for improvement.
Bachelor's in Homeland Security
An online bachelor's degree in homeland security typically takes 120 credits. These credits include classes in general education and homeland security topics. Usually, a full-time student may need 4 years to finish these requirements.
Most students who complete this program may be able to understand weapons of mass destruction and counterterrorism, create homeland security practices, and respond to security threats.
Those with a bachelor's degree in homeland security often find jobs in homeland security, law enforcement, emergency management, information security, and other public or private security roles.
Master's in Homeland Security
An online master's degree often requires a bachelor's degree plus another 36 credits of courses specific to the study of homeland security. This degree program may increase your leadership skills and improve your knowledge of national security and defense. When you complete these courses, you may be able to understand homeland security tasks, identify and analyze terrorist threats, and evaluate domestic security challenges.
Those with a Master's in Homeland Security often find analyst or manager jobs in government agencies, the military, or similar organizations dedicated to protecting public safety.
Featured Online Schools
1
Take advantage of some of the nation's most affordable tuition rates, while earning a degree from a private, nonprofit, NEASC accredited university
Qualified students with 2.5 GPA and up may receive up to $20K in grants & scholarships
Multiple term start dates throughout the year. 24/7 online classroom access.
Offering over 200 online degree
Popular Programs
Business Administration, Psychology, Information Technology, Human Services…

2
Ranked #8 by U.S.News & World Report for Best Online Bachelor's Programs
Apply up to 90 transfer credits for bachelor's students, and 9 transfer credits for master's degree students.
CSU Global graduates experience a return on investment of 4:1, which means they receive $4 in salary and benefits for every $1 they invest in their education.
Available Programs
Business, Computer Science, Criminal Justice, IT, Psychology…

3
Save up to 25%. Save thousands on your bachelor's with the Strayer Graduation Fund.
Strayer University is an accredited institution with a proud history of 125 years in quality education.
With the help of dedicated personal support and AI technology, earn your degree online or on campus.
Programs Include
Accounting, Business Administration, Criminal Justice & Information Technology

Sponsored
What Do Homeland Security Degree Courses Look Like?
Homeland security courses include basic classes that give an understanding of the topic. They also include more advanced courses that give detailed instruction in specific aspects of homeland security. This is a sample of the types of courses you may take.
Homeland Security and Defense:&nbspThis type of course provides an overview of key features of the United States' homeland security program. This includes analyzing homeland security operational and policy concerns.
Emergency Planning:&nbspThis type of course provides the learning necessary to survive natural and man-made disasters. Typical topics include threat assessment, risk analysis, emergency operations, and communications.
Intelligence and Homeland Security:&nbspThis type of course examines intelligence community responses to threats to the U.S. homeland. Students study illegal immigration, narcotics smuggling, money laundering and other organized crime.
Border and Coastal Security:&nbspTypically, this course studies the federal, state and local organizations involved in border and coastal security. Students learn about policies and strategies used to measure security along the United States' borders.
How Long Does It Take to earn a Degree in Homeland Security?
On average, a full-time student may need 4 years to earn a bachelor's degree in homeland security online. Students pursuing a master's degree full-time may need about 2 years.
Homeland Security Degrees That Could be Completed in 48 Months
| | | | | |
| --- | --- | --- | --- | --- |
| School | Degree Level | # of Credits Required | Start Dates | Minimum Months to Complete |
| American Public University System | Bachelors | 120 | Multiple | 48 |
| Columbia Southern University | Bachelors | 120 | 5 | 48 |
| University of Management and Technology | Bachelors | 120 | Multiple | 48 |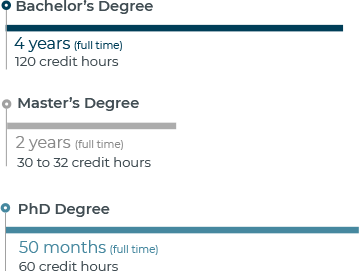 The Cost of a Homeland Security Degree Program
The cost of an online homeland security degree depends on the college chosen and the number of credits required. Tuition may be lower if you qualify for in-state tuition or military discounts.
| | | | | |
| --- | --- | --- | --- | --- |
| School | Degree Level | # of Credits Required | Cost Per Credit | Total Tuition Cost |
| American Public University System | Bachelors | 120 | $270 | $32,400 |
| Columbia Southern University | Bachelors | 120 | $230 | $27,600 |
| University of Management and Technology | Bachelors | 120 | $390 | $46,800 |
Top Schools that offer Homeland Security degree programs
According to the NCES, there were 939 schools that offer homeland security degrees or programs.  From those schools there were 4,834 homeland security degrees or programs awarded to students. 39.7_% of these programs were bachelor's degrees.
| | | |
| --- | --- | --- |
| School | 2016 Grads total/degrees awarded | Tuition (Out of State) |
| American Public University System | 919 | $6,480 |
| Utica College | 225 | $19,486 |
| Fayetteville Technical Community College | 216 | $8,576 |
| Saint Leo University | 169 | $20,760 |
| Columbia Southern University | 155 | $5,040 |
| Grand Canyon University | 128 | $17,050 |
| Capella University | 97 | $13,988 |
Choosing an Accredited Homeland Security Degree Program
Choosing an accredited homeland security degree program is important because it helps to show that the school meets quality standards. Employers often need applicants that have a degree from an accredited school or program.
Certification is not always a need for employment in homeland security, but it is available.
Certified Homeland Protection Associate (CHPA) designations are for current students or those who have graduated from an accredited college or university. They must have completed coursework in areas relating to homeland protection, take an online course, and pass the Homeland Protection Associate test.
The Certified Homeland Protection Professional (CHPP) certifies that individuals have the knowledge and skills required for Homeland Protection. Candidates for CHPP who have a bachelor's degree also need 2 years of experience as a responder, security profession or emergency manager to qualify.
CHPA and CHPP must be recertified every three years.
What can you do with a Homeland Security degree?
In 2016, there were 1.08mm people working in protective services which includes homeland security. The number of graduates in the workforce has been growing by 7.86%. The majority of homeland security graduates are male (71.3%).
In 2018, 9,550 Emergency Management Directors were employed with a mean annual wage of $82,570.
Top Salaries by State for Emergency Management Director
| | | |
| --- | --- | --- |
| State | Employment | Annual Mean Wage |
| California | 840 | $118,320 |
| New York | 680 | $99,960 |
| Texas | 540 | $89,810 |
| Pennsylvania | 440 | $69,850 |
| Illinois | 420 | $81,830 |
Jobs with a Homeland Security Degree
Emergency Management Director 
Emergency management directors prepare for natural disasters and other emergencies. They do tasks like organizing emergency response training programs and reviewing emergency plans. They also must apply for funding and meet with public officials to assess needs. Most work for local and state governments. 
Median Salary: $74,420 per year 
Job Growth Through 2026: 8% (As fast as average) 
Typical Entry-level Education: Bachelor's degree 
Intelligence Analyst 
Intelligence analysts collect and analyze data to identify and prevent threats – like terrorism. They may use surveillance, intelligence networks, geographic information systems, and more. These professionals need knowledge of public safety, security, law, communications, and technology. 
Median Salary: $81,920 per year 
Job Growth Through 2026: 5 to 9% (As fast as average) 
Typical Entry-level Education: Bachelor's degree 
Information Security Specialist 
Information security specialists, or analysts, implement cybersecurity measures. They take steps to protect organizations' computer networks and systems. That includes monitoring for security breaches, plus installing firewalls and data encryption software. These professionals are needed across many industries. 
Median Salary: $98,350 per year 
Job Growth Through 2026: 28% (Much faster than average) 
Typical Entry-level Education: Bachelor's degree