Top Law Enforcement Online Degree Programs
Get matched to an Online Law Enforcement Degree for FREE!
What is a Law Enforcement Degree Online Program?
An online law enforcement degree is a type of criminal justice (CJ) program. It is a popular path of study for those who want to become police officers, detectives or work in corrections.
One may find online law enforcement degree at all levels. From Associates to Bachelors, Masters and above. These programs look into crime, violence, policing and investigations.
Some take a broad view, while others may explore narrower themes. Like civil rights, domestic violence, constitutional law, police ethics and management.
Along the way, you may gain vital workplace skills. Things like how to communicate, problem-solve, reason and make decisions. These human interaction skills are often crucial to forming community-police relations.
Associate Degrees
Bachelor's Degree
Master's Degree

Associate of Science in Law Enforcement

Bachelor of Science in Law Enforcement Administration

Master of Science in Criminal Justice and Law Enforcement

This program introduces students to the U.S. criminal justice system. It's ideas, theories and practices. At the same time, students may learn about ethics, communication and making decisions.
This program is about how to lead and manage in law enforcement agencies. Students may learn many basics. Like how to maintain

social order, protect individual rights, and uphold the laws

This program looks at how criminal justice organizations work. It also covers ways to manage people, programs and issues. Students may learn how to build policies with community support and team work.

Research Methods for Criminal Justice
Juvenile Justice System
International Criminal Justice

Policing Models for the 21st century
Investigations Management
Emergency Planning

Restorative Justice
Criminological Theory
 Applied Research for Criminal Justice Professionals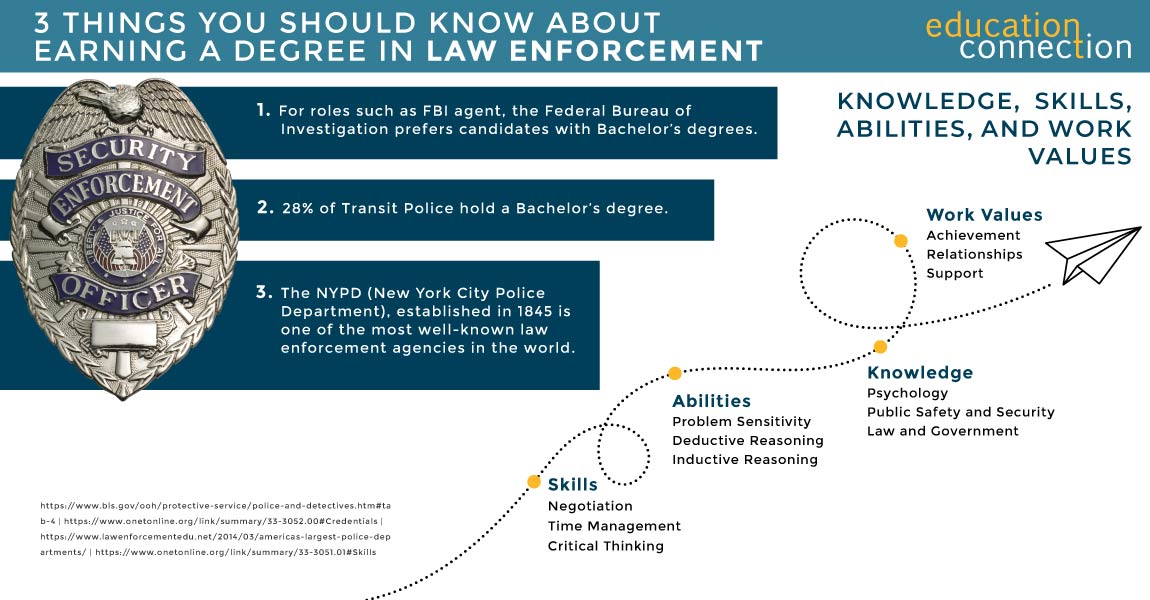 Law Enforcement Degree Online Programs
Online degree programs in law enforcement are a formal path of study. They aren't the same as going to the police academy where you learn how to fire a gun or make an arrest. Instead, a college degree in law enforcement studies the criminal justice system. It may help one to pursue a wide range of career options when you graduate.
Most programs help you understand the court, judicial and prison systems. This may mean learning about criminal law and specific kinds of crime. Like fraud or drug trafficking. Some programs also walk you through police procedures and policies. Things like what happens to a criminal from the point of arrest until sentencing.
Two other topics you may study are psychology and sociology. These may shed light on why people commit crimes. Very important if your goal is to solve them. You may even go deeper to understand the mob mindset. Or how people's behavior changes in a group and ways to control crowds.
Learning how to communicate with others is also important in many programs. There are various tactics to understand when dealing with witnesses, suspects or victims. Some programs may also go deeper into police-community relations and other administrative duties.
Depending on which degree you pursue, you may also learn how to conduct research. Stepping into a leadership position often entails backing up decisions with data. Programs like this often cover police administration in depth. This means you may learn a few business-focused topics. Like budget, project control and human resources.
Associate in Criminal Justice – Law Enforcement
An associate degree in law enforcement may entail 60 credits. On average, a full-time student may need 2 years to complete these requirements. Apart from degree specific courses, you may take college level English and math.
Most associate degree programs in law enforcement cover general criminal justice subjects. Things like police management, firearms, juvenile delinquency, and crisis control.
In doing so, they may expose you to a wide range of ideas, theories and practices. Some of these may look at the nature, scope and impact of crime. Others may help you become familiar with criminal law, court systems and corrections.
Earning an associate degree may help you complete a bachelor's degree in less time. It might also serve as an entry point to a range of jobs. Whether in private security, crime scene investigation, probation, or court administration.
Bachelor's in Law Enforcement
A bachelor's degree in law enforcement may entail 120 -180 credits. On average, a full-time student may need 4 years to complete these requirements. But for those who have an associate degree, military or police academy training may be able to transfer credits. Or test out of some courses.
Most programs aim to provide a strong foundation of criminal justice knowledge. Still general, but more in-depth than the associate. For instance, you
may learn about techniques used in policing and national security. There is often an emphasis on criminal law, the U.S. justice system, the constitution and civil rights.
Courses in applied research methods often help students build professional skills too. These courses may have a technical element to them. Science and computing are tools of law enforcement. You may thus learn how to use current police technology to gather data or make sense of findings.
A bachelor's degree may enable you to pursue career paths in CJ, forensics, federal agencies (E.g. FBI) and more.
Master's in Law Enforcement
A master's degree in law enforcement may entail 30 – 39 credits. Some working students opt for a part-time program. But there are full-time options too. The time it takes to complete a MS may thus range from one to 2 years or more.
Masters programs often appeal to mid-career professionals who want to climb the ladder. As such, they often go into more detail than the bachelor. This means taking a deeper look at theory, ethics and proven managerial practices.
Some course plans look at how crime impacts society and how well the CJ systems work. They may do this to help you learn to develop and analyze policies. At the same time, building skills in data-driven decision making.
You may also find schools that offer concentrations in law enforcement. Popular areas are fraud management, IT, corrections and Intelligence Analysis. Choosing a focal point often anchors research for a thesis and/or builds career skills.
MBA – Law Enforcement and Corrections
An MBA in law enforcement is a professional degree. Some programs consist of 36 credits. They may take one year for seasoned/military and fulltime students to complete.
The courses usually revolve around a business core. Which makes the MBA distinct from a MS degree in law enforcement. This may mean studying operations, marketing, finance and analytics first. Then, taking a handful of law enforcement classes. The aim – to build an understanding of
Featured Online Schools
1
Take advantage of some of the nation's most affordable tuition rates, while earning a degree from a private, nonprofit, NEASC accredited university
Qualified students with 2.5 GPA and up may receive up to $20K in grants & scholarships
Multiple term start dates throughout the year. 24/7 online classroom access.
Offering over 200 online degree
Popular Programs
Business Administration, Psychology, Information Technology, Human Services…

2
Ranked #8 by U.S.News & World Report for Best Online Bachelor's Programs
Apply up to 90 transfer credits for bachelor's students, and 9 transfer credits for master's degree students.
CSU Global graduates experience a return on investment of 4:1, which means they receive $4 in salary and benefits for every $1 they invest in their education.
Available Programs
Business, Computer Science, Criminal Justice, IT, Psychology…

3
Save up to 25%. Save thousands on your bachelor's with the Strayer Graduation Fund.
Strayer University is an accredited institution with a proud history of 125 years in quality education.
With the help of dedicated personal support and AI technology, earn your degree online or on campus.
Programs Include
Accounting, Business Administration, Criminal Justice & Information Technology

Sponsored
COURSEWORK FOR AN ONLINE LAW ENFORCEMENT DEGREE
As you can see there are different kinds of online law enforcement degree programs available. This means, the classes you take will depend as much on your program level (Associate, Bachelor, Master, MBA) as it will on the program's focus.
We'll take a look below at some of the complex terms. See which types of courses suit your goals and career interests.
Criminological Theory: &nbspThis type of class looks at theories of what causes crimes. It may thus touch on psychology, biology and sociology. Students may also look at how these theories apply to policy and crime control.
Psychology for Law Enforcement:&nbspThis type of class may help students understand how to use psychology in the field. This may include two areas. One may look at issues like crisis and hostage negotiations. Another, what services police officers may have access to for themselves.
Homeland Security:&nbspThis type of class may introduce students to the field of national security. It often looks at federal, state, and local agencies and how they prepare for and respond to threats. These range from gun violence in schools to cyber terrorism.
Crime Scene Investigation:&nbspThis type of class may provide a basic understanding of how to process crime scenes. Students may also learn about different types of evidence. Also, how to process evidence in a proper manner to assist crime laboratory experts.
How Long Does It Take to earn a Law Enforcement Degree?
On average, a full-time student may need 4 years to earn a bachelor's degree in law enforcement online. The time line is shorter for those that enter with a two-year associate degree under their belt.
Law enforcement students pursuing an MS or MBA online may need from one to two years. But some may need longer if studying part-time. Accelerated programs may provide credit for military or academy training.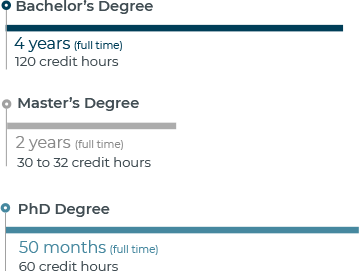 Online Law Enforcement Degrees That Could be Completed in 208 weeks
| | | | | |
| --- | --- | --- | --- | --- |
| School | Degree Level | # of Credits Required | Start Dates | Minimum Months to Complete |
| Ashford University | Bachelors | 120 | Multiple | 48 |
| Purdue University Global | Bachelors | 180 | 4 | 48 |
| American Intercontinental University | Bachelors | 180 | Multiple | 48 |
The Cost of a Law Enforcement Degree Online Program
Tuition costs for Criminal Justice – Law Enforcement Administration majors average, $5,953 for in-state public colleges, and $24,100 for out of state private colleges.
| | | | | |
| --- | --- | --- | --- | --- |
| School | Degree Level | # of Credits Required | Cost Per Credit | Total Tuition Cost |
| Ashford University | Bachelors | 120 | $485 | $58,200 |
| Purdue University Global | Bachelors | 180 | $371 | $66,780 |
| American Intercontinental University | Bachelors | 180 | $325 | $58,500 |
Top Schools that offer Law Enforcement degree programs
According to the NCES, there were 4,153 schools that offer law enforcement degrees or programs.  From those schools there were 31,180 law enforcement degrees awarded to students. The majority (59.9%) of these programs were bachelor's degrees.
| | | |
| --- | --- | --- |
| School | 2017 Grads total/degrees awarded | Tuition (Out of State) |
| University of Phoenix- AZ | 1,711 | $11,219 |
| CUNY John Jay College of Criminal Justice | 1,368 | $42,931 |
| Colorado Technical University – Colorado Springs | 669 | $11,960 |
| University of Phoenix – California | 633 | $9,552 |
| CUNY Borough of Manhattan Community College | 435 | $29,713 |
| Arizona State University – Downtown Phoenix | 412 | $47,498 |
| Western Illinois University | 408 | $12,951 |
| Monroe College | 310 | $15,428 |
| Grantham University | 258 | $6,540 |
| Ashford University | 240 | $12,160 |
Choosing an Accredited Law Enforcement Degree Program
Accreditation is a type of rubber stamp. It is where an outside agency checks to see if a school and/or program meets their standards. Usually, the status lasts a certain amount of time.
Many online colleges with law enforcement degrees have regional accreditation. Studying at one of these schools may allow you to apply for financial aid. You are only able to do this at institutions that the U.S. Department of Education recognizes.
Attending a school with regional accreditation may be important for other reasons too. Such schools often have transfer credit policies in place. Also, if you want to go to grad school, you need to furnish transcripts from an accredited college.
Once approved, many institutions put individual programs up for review too. One agency involved in this process is (CALEA®). The Commission on Accreditation for Law Enforcement Agencies, Inc.
Created in 1979, CALEA® is a main credentialing authority. It is also a joint effort of law enforcement's major executive associations. The way it works is that a school first enrolls. Then undergoes a self-study. The agency then assesses it against its own criteria. After a review and achieving status, the school must maintain standards. Then, re-accredit. You can check where a school is in this process on CALEA® website.
What can you do With a Law Enforcement degree?
There are 1.08 million people in the criminal justice/law enforcement management workforce. But employment estimates are going up by 7.86 %. The average age of a person with a degree in protective services in 39.3. Most people have a bachelor's degree and are male.
Top Salaries by State for Law Enforcement Officers
| | | |
| --- | --- | --- |
| State | Employment | Annual Mean Wage |
| Texas | 15,930 | $79,950 |
| California | 11,250 | $107,120 |
| New York | 8,880 | $91,250 |
| Florida | 6,600 | $76,560 |
| Arizona | 5,810 | $81,810 |
Jobs with a Law Enforcement Degree
Law Enforcement Officer
Law enforcement officers work to ensure that people abide by laws. This comes with different duties depending on where an officer works. Police officers regulate traffic, control crowds, prevent crime, and arrest violators. Others have job titles like detective, game warden, FBI agents, and transit police.
Median Salary: $63,380
Job growth through 2026: 7% (As fast as average)
Typical Entry-level education: Bachelor's degree
Deputy Sheriff
Deputy sheriffs are a common type of police officer. You can often recognize them by their uniforms. Part of their duties involve responding to emergency and non-urgent calls. When called to a scene, they look for evidence and criminal activity. They also conduct searches and arrest suspects. Some may work in a niche type of crime like narcotics. Others may advance gain experience then work in a special unit.
Median Salary: $61,380
Job growth through 2026: 7% (As fast as average)
Typical Entry-level education: Bachelor's degree
Highway Patrol Officer
Highway patrol officers make sure drivers follow the speed limit. They often chase suspects down or pursue people who don't pay road tolls. As one would guess, they spend a lot of time in their cars. Their watchfulness often prevents crime by stopping people from speeding or driving drunk.
Median Salary: $61,380
Job growth through 2026: 7% (As fast as average)
Typical Entry-level education: Bachelor's degree