Top Online Military Social Work Degree Programs
Get matched to an Online Military Social Work Degree Program for FREE!
WHAT IS A MILITARY SOCIAL WORK DEGREE?

A military social work degree is most often found as a Master of Social Work (MSW) program. It studies the many ways to help people solve and cope with problems. Then applies these concepts to support active-duty personnel, veterans and their families.
Those who want to use counseling methods need a master's degree and state license. They'll also need 2 years of supervised field work. A military social work degree may ready you to pursue this licensure. Or, at the bachelor's level, may ready you to help out as a case manager.

MASTER DEGREES

Master of Social Work- Military Social Work
---
The online MSW at USC offers an advanced standing program (37 credits) and traditional (60 credit) program. The Military Social Work track helps you learn how to meet the unique needs of active military members, veterans and their families.
---
Clinical Practice with the Military Family
Clinical Practice with Service Members and Veterans
Military and Veterans Policy and Program Management
MASTER DEGREES

Master of Science in Social Work (MSSW) – Military Social Work Specialization
---
The online MSSW at the University of Louisville offers an advanced standing (30-credit) program and a regular (60-credit) program. Students complete an advanced field practicum in an approved military social work placement.

---
Military Social Work
Mental Health
Psychopathology
MASTER DEGREES

Master of Social Work
---
The online MSW at Simmons melds social justice values with a strong emphasis on field education. They offer full-time, part-time and accelerated options. Choose from courses of study in child and family, mental health and addictions and health and aging.
---
Social Policy
Human Behavior
Advanced Clinical Practice
ONLINE MILITARY SOCIAL WORK DEGREE PROGRAMS

Military social work is most often found as an area of emphasis within broader MSW programs. At its most basic, you'll study specific ways to assess and support this vital group. This can mean studying military culture to understand specific issues of concern:
Support for stressed military personnel facing deployment
Anxiety of active duty and veterans upon their return home
Physical, mental and psycho-social issues of service members and veterans
Assisting service members find health and career services
Counseling for military families
Helping to provide links to resources (career, financial, housing and benefits)
Stressors for active duty, guard, reserve and veteran groups
Post-traumatic stress
Many schools offer two types of programs: (1) traditional or general, (2) advanced standing.
Before we talk curriculum, it's important to know what kind of program you're looking for.
Are you new to social work?
Do you already have a bachelor's degree in social work (BSW)?
Would you prefer to study addictions, aging, mental health or the needs of children?
General MSW Programs often entail about 60 to 65 credits. They are more foundational since they cater to non-social work students. You'll still need a bachelor's degree to enroll, but it doesn't need to be a BSW.

In such programs, there are two parts and fieldwork. The first part consists of foundation courses. The second consists of advanced practice courses. So, basics first, use – second.
In the foundation courses, you'll often take a wide range of courses in human behavior and social justice. They touch on how to assess and work with a wide variety of people.
After this part of the program, you'll likely take higher level, clinical classes. These may get into leadership and management themes in social work. You may, for instance, study ethics, diagnosis and assessment. In some schools, this is the point where you choose a direction. Popular areas include:
Adult mental health and wellness courses
Children youth and family courses
Social change courses
Trauma and interpersonal violence
Advanced practice classes are about how to intervene when faced with a problem. As a result, they may expand your skills. Choosing a direction may be a useful way to leverage your interests. This might be addiction, domestic abuse, or policy advocacy.
'Advanced standing' MSW programs often entail about 30 to 37 credits. They are for students with a Bachelor of Social Work (BSW). As such, they'll skip the basic courses. Instead, classes cover clinical upper-level content. This makes them shorter, though you'll complete a practicum in your area of emphasis.
What Will I Learn? As an online military social work degree student, you may take courses like the following. Expect to also complete a field practicum in a Military Social Work Placement. Under the general list below are some sample class outlines and program options.
Mental Health
Intro to Family Therapy
Psychopathology
Substance Use and Use Disorders
Clinical Practice – Military social work
Clinical Practice with the Military Family: This type of class may help you understand the family life cycle for military families. How the demands and stressors of military culture affect dynamics. For instance, how they cope with the deployment of a parent, spouse or child.
Clinical Practice with Service Members and Veterans: This class may study active-duty, retired and deployed service members and veterans. What are their needs? How to deal with health, mental and psychosocial issues. It may pay attention to themes like combat trauma, stigma and mental health therapy.
Field Education Internship: This part is about applying what you learned in real settings. It's a part of all the programs below although each school specifies the number of hours and location.
UNIVERSITY OF LOUISVILLE – MS IN SOCIAL WORK – MILITARY SOCIAL WORK
The Kent School MSSW program features 60-hour and advanced standing 30-hour course plans. It focuses on providing services to veterans, active personnel and their families
UNIVERSITY OF SOUTHERN CALIFORNIA – MSW IN MILITARY SOCIAL WORK
The online MSW at USC mirrors the campus program. There's a 35-credit advanced standing program. It offers several concentrations. It offers several concentrations. You can choose one area then further tailor studies with a focus on military social work.
REGIS COLLEGE – ONLINE MSW
The online MSW at Regis spans two years. In the first part, you take generalist courses in areas like social work policy and diversity. The next is a year of clinical courses. These focus on clinical assessment and diagnosis.
LOYOLA UNIVERSITY CHICAGO – ADVANCED STANDING BILINGUAL MSW ONLINE
Loyola's Spanish and English MSW focuses on the under-served. It looks at unmet mental health needs. There's no specific course about military culture. But you'll look at ways to serve Latin, immigrant, and refugee groups.
Simmons University – Online MSW
Simmons'online MSW program comes in an accelerated 16-month version. It does not cover military culture. But, there are courses in social policy, racism and human behavior.
NORTHCENTRAL UNIVERSITY – MA IN MARRIAGE AND FAMILY THERAPY – MILITARY FAMILY THERAPY
NCU offers a Masters in Marriage and Family Therapy program. If you want to pursue a counseling career, the MFT degree explores family systems. You can tailor your studies to focus on the mental health needs of military families.
Featured Online Schools
1
Southern New Hampshire University
Take advantage of some of the nation's most affordable tuition rates, while earning a degree from a private, nonprofit, NEASC accredited university
Qualified students with 2.5 GPA and up may receive up to $20K in grants & scholarships
Multiple term start dates throughout the year. 24/7 online classroom access.
Offering over 200 online degrees
Popular Online Programs
Business Administration, Psychology, Information Technology, Human Services…
2
Purdue Global University
Experience world-class education online with more than 175 programs at associate's, bachelor's, master's and doctoral levels.
Competency-based ExcelTrack™ Programs may allow you to earn your degree faster and for less money
Courses taught by highly respected faculty members who are experts in their fields
Full range of student services including no cost tutoring in math, science and writing
Available Online Programs
Business, Analytics, Computer Science, Cyber Security, Healthcare Management, RN to BSN, Criminal Justice, Psychology

3
Colorado State University
Ranked #8 by U.S.News & World Report for Best Online Bachelor's Programs
Apply up to 90 transfer credits for bachelor's students, and 9 transfer credits for master's degree students.
CSU Global graduates experience a return on investment of 4:1, which means they receive $4 in salary and benefits for every $1 they invest in their education.
Online Programs Include:
Accounting, Business Administration, Criminal Justice, Psychology & Information Technology

Sponsored
HOW LONG DOES IT TAKE TO EARN A MILITARY SOCIAL WORK DEGREE?

It may take a full-time student 2 years or less to earn an online MSW in military social work. To get to this point, you'll need to first earn a bachelor's degree.
Some BSW programs take full-time students 4 years to complete. There are also schools (E.g. Simmons University) that offer a 3+1 program. These roll the BSW and MSW degrees into 4 years.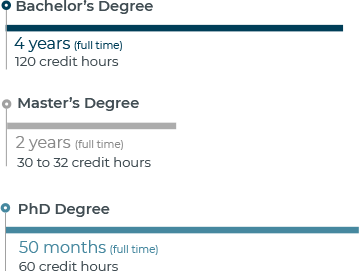 ONLINE SOCIAL WORK DEGREE PROGRAMS THAT COULD BE COMPLETED IN 104 WEEKS
| School | | # of Credits Required | Start Dates | Minimum Months to Complete |
| --- | --- | --- | --- | --- |
| Northcentral University | Master of Social Work (MSW) | 36 credits | multiple | 24 months |
| Simmons | Accelerated Master of Social Work (MSW) | 65 credits | September | 12 to 16 months |
| University of Southern California | Master of Social Work- Military Social Work (advanced Standing) | 35 credits | Multiple | 12 months |
HOW MUCH DOES AN ONLINE MILITARY SOCIAL WORK DEGREE PROGRAM COST?
The cost for an online military social work degree depends on several factors. One is where you live. The average in-state tuition of a social work degree is $6,993. The out-of-state tuition is $29,900.
The other is how many credits you have to complete. Many schools charge a per credit rate while others may charge a flat fee for the course. If you are paying per credit, the fewer you need to complete, the fewer to pay for. Sometimes you can reduce costs through eligible transfer credits.
| School | # of Credits Required | Cost Per Credit | Total Tuition Cost |
| --- | --- | --- | --- |
| University of Southern California | 37 credits | $,1863 | $68,931 |
| Northcentral University | 36 credits | $2,163 per course | $25,956 |
| University of Louisville | 30 credits | $714 | $21,420 |
TOP SCHOOLS FOR MILITARY SOCIAL WORK DEGREE ONLINE PROGRAMS
Last check, there were over 50 schools that offer social work degrees or programs. From those schools there were 46,810 social work degrees awarded to students. The majority (56%) of these programs were master's degrees.;
| School | 2017 Grads total/degrees awarded | Tuition (Out of State) |
| --- | --- | --- |
| University of Southern California | 1,438 | $56,255 |
| Rutgers University – New Brunswick | 756 | $31,282 |
| University of Texas – Arlington | 677 | $26,553 |
| New York University | 619 | $56,225 |
| Fordham University | 618 | $52,687 |
| CUNY – Hunter College | 523 | $14,852 |
| Aurora University | 465 | $24,260 |
| Columbia University – NYC | 460 | $59,430 |
| Loyola University Chicago | 425 | $44,048 |
| California State University– Los Angeles | 305 | $18,629 |
CHOOSING AN ACCREDITED MILITARY SOCIAL WORK DEGREE ONLINE PROGRAM
There are two main reasons to look for an accredited online military social work degree. The first speaks to program quality. The second revolves around licensure.
Regionally accredited schools may also have programs that are CSWE-accredited. The Council on Social Work Education (or CSWE) is a national association. It has a Commission on Accreditation – the sole accrediting agency for social work education in the U.S.
As a policy and standards-setter, the CSWE has criteria which a school must meet. This includes the type of courses and skills on a curriculum. In all, there is a stringent peer review of each social work program to see if it is compliant.
Candidacy, or the review, takes about three years and does not guarantee accreditation. But once accredited, students can rest 'reasonably assured' of the program's quality. That stated, the school must reaffirm its status every few years. This means maintaining or improving itself.
The CSWE only accredits programs at the bachelor's and master's levels. It also keeps a directory on its website. This is a great way to check where your choice schools stand. It is something to keep in mind since this relates to the second point, licensure.
Social work is a regulated field and each state has policies about licensure. Yet there is one rule of thumb per the Association of Social Work Boards (ASWB). To pursue a license, you'll usually need to earn your degree from a CSWE-accredited program.
WHAT CAN I DO WITH A MILITARY SOCIAL WORK DEGREE?
The number of people in the social work workforce is 725,950 strong and growing by 6.19%. Reports also point to a gender imbalance since 87% of employees are women aged 43.2 years. Newcomers are getting younger, but in one year there has only been a 0.36% change in the average.
It's an exciting time to pursue a career in social work. Per BLS.gov, employment of social workers is on the rise by 16% through 2026. This is much faster than average for all occupations.
Projections are even more favorable for specific types of social workers. The demand for healthcare social workers is growing by 20%. A close second at 19% growth is for mental health and substance abuse social workers.
Top Salaries by State for Healthcare Social Workers
| STATE | EMPLOYMENT | ANNUAL MEAN WAGE |
| --- | --- | --- |
| Nevada | 730 | $78,940 |
| California | 18,150 | $72,770 |
| District of Columbia | 530 | $70,580 |
| Oregon | 1,480 | $70,190 |
| Connecticut | 2,170 | $68,840 |
CAREERS WITH A MILITARY SOCIAL WORK DEGREE
There are a variety of exciting career paths one might pursue with a military social work degree. For entry-level roles like caseworker and mental health assistant, expect to need a BSW degree. Clinical roles will require an MSW and possible state license.

MILITARY SOCIAL WORKERS

Military social workers work with active service members and veterans. Some are civilians while others are active duty or veteran military social workers.
Active and former military personnel can face unique challenges as a result of their job. These can include isolation, anxiety, insomnia, post-traumatic stress disorder, and depression. They may also have a hard time transitioning to civilian life, with finances or deployment.
The role of a military social worker is to help with these issues and others. Some use their skills as homeless outreach social workers or as liaisons to services. Others may have the knowledge to counsel military families or work with addictions.
Entry-level education: Bachelor's or master's degree in Social Work
Job Growth through 2026: 16% (much faster than average)
Median annual salary: $61,980

SOCIAL WORKERS

Social workers help people solve and cope with problems in their day to day lives. Clinical social workers also diagnose and treat mental, behavioral, and emotional issues.
Bachelor's social workers (BSW) may work with groups, community organizations and policymakers. They operate at the macro level to develop or improve programs, services and policies. This may involve advocacy and speaking up for the underserved.
Clinical social workers have an MSW and a license. They may provide therapy to individuals, groups, families and couples. Often, they'll choose a specialty. School, child and family, healthcare, addictions and mental health are examples.
Entry-level education: Bachelor's or master's degree in Social Work
Job Growth through 2026: 16% (much faster than average)
Median annual salary: $47,980

MENTAL HEALTH AND SUBSTANCE ABUSE SOCIAL WORKERS
Mental health and substance abuse social workers focus on mental illness or addictions. In their role, they may provide counseling or services. For example, they might run support groups or 12-step programs.
Some may work in military support programs. One example is the Navy's Substance Abuse Rehabilitation Program. Another is the Air Force's Alcohol and Drug Abuse Prevention and Treatment Program. Others may work in outpatient centers or family services.
Entry-level education: Bachelor's or master's degree in Social Work
Job Growth through 2026: 19% (much faster than average)
Median annual salary: $43,250