Top Online Military Studies Degree Programs
Get matched to an Online Military Studies Degree Program for FREE!
WHAT IS An Online MILITARY STUDIES DEGREE?

An online military studies degree program looks at the nature of diplomacy, and war. It'll often examine military decision making from a historical and ethical context.
Along with basic knowledge, military studies major aims to help you grow as a leader. As such, it may be a useful degree to pursue if your goal is a career in the armed forces or in the private sector.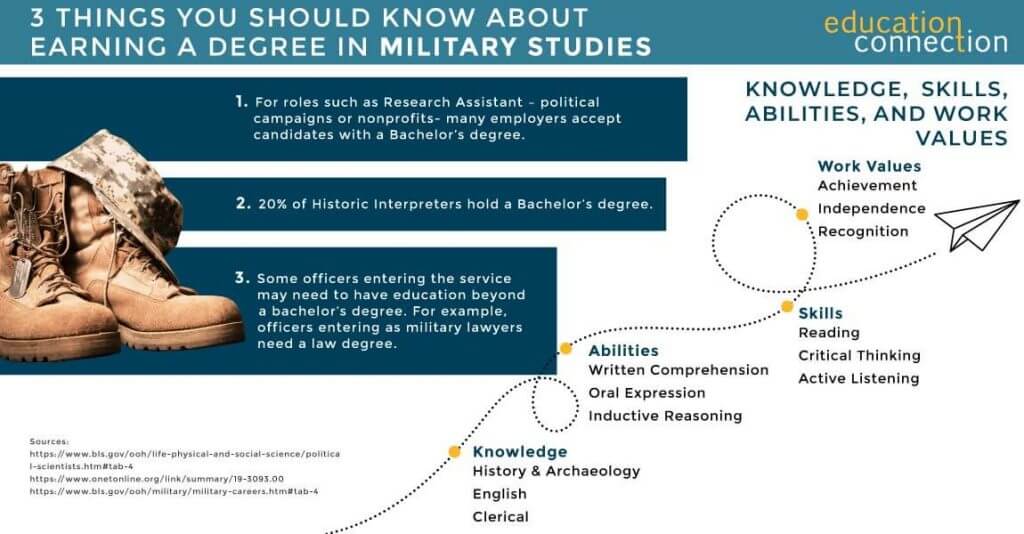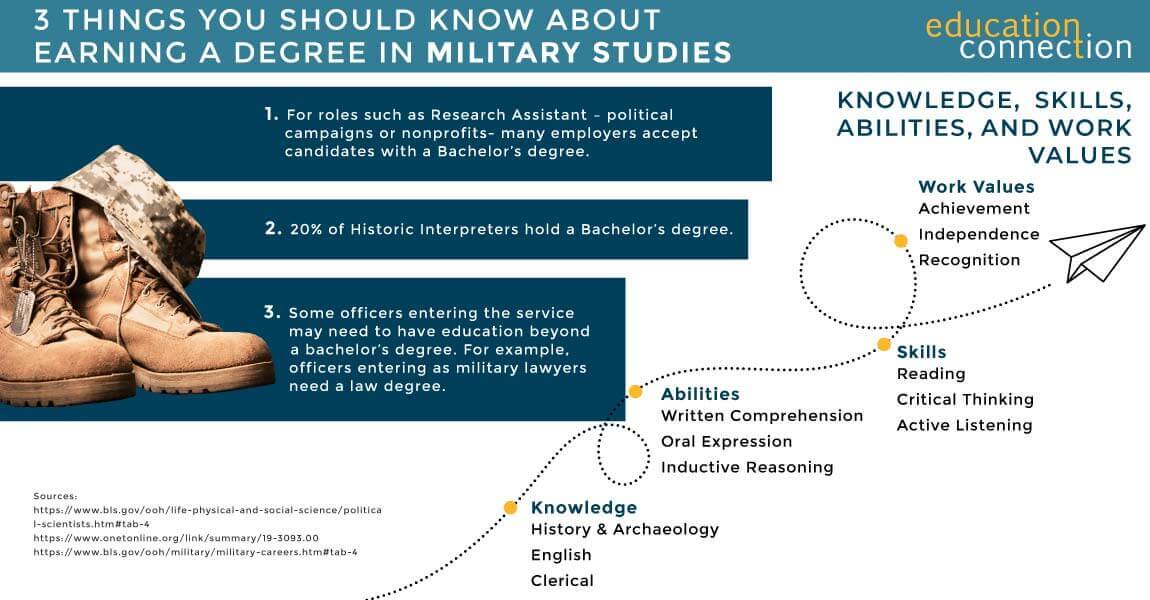 Associate DEGREE

Associate of Arts in Military Studies
---
A broad general-education curriculum with studies specific to the United States military, including government, politics, and the role of the military as a peacekeeping force.
---
Intro to Military Studies
Politics
Ethical Issues related to the Military
Bachelor's DEGREE

Bachelor of Arts (BA) in Military Studies
---
This program may help you understand military history and global conflicts. You'll study military operations from classical times to the 20th century.

---
Peacekeeping
Intro to Military Studies

Military Leadership
MASTER's DEGREE

Master of Arts (MA) in Military History
---
This program may help you understand the military history and global conflicts. You'll study military operations from classical times to the 20th century
---
Global Military History

Military Thought and Theory

Amphibious Warfare
ONLINE MILITARY STUDIES DEGREE PROGRAMS

The typical bachelor's degree in military studies is a Bachelor of Arts degree. As such, you are likely to take a range of liberal arts classes besides your major. Apart from electives, you may need to complete a final research project.
Most military studies programs have broad and narrow themes. Broad themes may look at armed conflicts in the context of history. They'll also take a deep dive into American military operations and the anthropology of war.
You may also take classes in areas like political science and global affairs. Such topics often help you to make sense of the ways war defines our world. The effects to the economy, culture and fabric of society.
Narrow topics look at the role of the military during times of peace and conflict. Such classes may take a deep look at the U.S. Military institution and its impact. Side topics often shed light on peacekeeping and institutions like NATO.
At the same time, you may study different ways to deter or deal with military threats and risks. These classes may look at real-world security issues as well as ethics and strategy.
Another area you are likely to study is leadership. These classes focus on the military decision process. How to apply these high-impact principles and practices to the workplace.
To do this, you'll often study history and the actions of military leaders throughout time. These courses may help you assess pros and cons especially as you study the past to learn from it.
What Classes Will I Take? Take a look at some sample Military Studies courses below
Intro to Military Studies
International Relations
Survey of the American Military
American Military History
Peacekeeping & Conflict Resolution
Military Leadership
Featured Online Schools
1
Southern New Hampshire University
Take advantage of some of the nation's most affordable tuition rates, while earning a degree from a private, nonprofit, NEASC accredited university
Qualified students with 2.5 GPA and up may receive up to $20K in grants & scholarships
Multiple term start dates throughout the year. 24/7 online classroom access.
Offering over 200 online degrees
Popular Online Programs
Business Administration, Psychology, Information Technology, Human Services…
2
Purdue Global University
Experience world-class education online with more than 175 programs at associate's, bachelor's, master's and doctoral levels.
Competency-based ExcelTrack™ Programs may allow you to earn your degree faster and for less money
Courses taught by highly respected faculty members who are experts in their fields
Full range of student services including no cost tutoring in math, science and writing
Available Online Programs
Business, Analytics, Computer Science, Cyber Security, Healthcare Management, RN to BSN, Criminal Justice, Psychology

3
Colorado State University
Ranked #8 by U.S.News & World Report for Best Online Bachelor's Programs
Apply up to 90 transfer credits for bachelor's students, and 9 transfer credits for master's degree students.
CSU Global graduates experience a return on investment of 4:1, which means they receive $4 in salary and benefits for every $1 they invest in their education.
Online Programs Include:
Accounting, Business Administration, Criminal Justice, Psychology & Information Technology

Sponsored
What Military Studies Degree Courses Will I Take?
If you're pursuing military studies as a grad student, there are different paths to choose as well. Some programs focus on how to provide counseling to military families and individuals. Others may focus on military history and research
Intro to Military Studies:This course explores and analyzes the past and present. You'll take a look at war and peacekeeping from a historical lens. Other topics may help you refine leadership and decision skills.
Peacekeeping & Conflict Resolution: Students may learn how to manage peace and mitigate conflict in an ever evolving and complex conflict environments. The courses typically focus on skill development of communication, negotiation and mediation.
Military Leadership: Typically, this course examines world and U.S. military leadership principles. Students may analyze various topics on the evolution of military leadership, its issues and strategy.
International Relations: These courses typically cover the complex relationships between various countries from politics to security issues.
HOW LONG DOES IT TAKE TO EARN A MILITARY STUDIES DEGREE?
It may take four years full time to earn an online military studies degree. This is because the typical bachelor's degree program consists of 120 credits.
If you have transfer credits, you may be able to shorten the time to completion. Some schools accept credits from military experience or an associate's degree.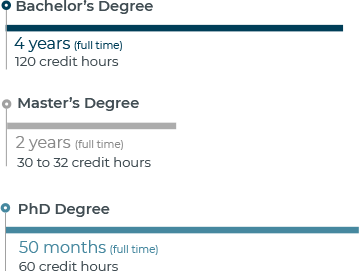 ONLINE MILITARY STUDIES DEGREE PROGRAMS THAT COULD BE COMPLETED IN 208 WEEKS
| School | Degree | # of Credits Required | Start Dates | Minimum Months to Complete |
| --- | --- | --- | --- | --- |
| Ashford University | BA in Military Studies | 120 | Multiple | 208 |
| Norwich University | MA in Military History | 36 | 4 Start Dates per year | 78 |
| Southern New Hampshire University | MA in History- Military History | 33 | Multiple | 65 |
HOW MUCH DOES A MILITARY STUDIES DEGREE PROGRAM COST?
Tuition costs for Military History majors vary. On average it costs $6,216 for in-state public colleges and $23,160 for out of state private colleges.
Other variables that may affect prices are transfer credits and discounts. U.S. service members and the spouses of those on active duty may be eligible for a discounted rate. If you have transfer credits, you'll have fewer to do and pay for.
| | | | | |
| --- | --- | --- | --- | --- |
| School | Degree Level | # of Credits Required | Cost Per Credit | Total Tuition Cost |
| Ashford University | Bachelors | 120 credits | $485 | $58,200 |
| Norwich University | Masters | 36 credits | $704 | $25,344 |
| Southern New Hampshire University | Masters | 33 credits | $627 | $20,691 |
TOP SCHOOLS FOR MILITARY STUDIES DEGREE PROGRAMS
Last check, there were 7 schools that offer Military History degrees or programs. From those schools there were 196 Military History degrees awarded to students. The majority (87%)) of these programs were master's degrees.
| School | 2017 Grads total/degrees awarded | Tuition (Out of State) |
| --- | --- | --- |
| American Public University System | 149 | $6,480 |
| Norwich University | 45 | $35,318 |
| Hawaii Pacific University | 15 | $23,160 |
| United States Airforce Academy | 45 | $0 |
| Columbia College | 6 | $7,887 |
| Austin Peay State University | 11 | $21,456 |
| United States Military Academy | 10 | $0 |
CHOOSING AN ACCREDITED MILITARY STUDIES DEGREE ONLINE PROGRAM
You'll find six agencies that are in charge of accrediting the schools in their region. Such schools meet levels of quality set by the U.S. Department of Education.
Higher Learning Commission
Middle States Commission on Higher Education
New England Association of Schools and Colleges
Northwest Commission on Colleges and Universities
Southern Association of Colleges and Schools Commission on Colleges
Western Association of Schools and Colleges (ACCJC, SCUC)
To receive the status of an accredited school, the institution first submits to a review. This review generally looks to see if the school meets criteria. It usually includes an on-site evaluation of programs, services, policies and processes.
Once a school receives its status, it must renew – about every 7 years. This entails another review and some effort by the school to maintain or improve its quality.
Regional accreditation is important for several reasons. For one, students at accredited schools may be eligible to receive federal financial aid. Also, only accredited schools have transfer policies. This is important if you want to use past or future credits towards a degree.
WHAT CAN I DO WITH A MILITARY STUDIES DEGREE?
There are 988,521 people in the civilian-military history workforce, a number that is growing by 0.54%. Most are male with an average age of 44.5 years. Over half (51%) have a bachelor's degree.
Per BLS.gov, enlisted personnel make up about 82% of the Armed Forces. They are the ones who carry out military operations. The remaining 18% are officers. These military leaders manage enlisted personnel and operations. About 8 percent of officers are warrant officers. They are technical and tactical experts in a specific area such as Army aviators.
Top Salaries by State for Military Historians
| STATE | EMPLOYMENT | ANNUAL MEAN WAGE |
| --- | --- | --- |
| District of Columbia | 220 | $106,610 |
| California | 220 | $85,690 |
| Maryland | 110 | $79,310 |
| New Mexico | 40 | $76,100 |
| Colorado | 50 | $75,870 |
CAREERS WITH A MILITARY STUDIES DEGREE
A bachelor of arts in military studies may ready you to pursue a variety of careers. Whether you choose a military or civilian career may depend on your goals.

MILITARY OFFICERS

Members of the U.S. military service maintain the U.S. national defense. Some military officers work in the Army, Navy, Air Force and Marines. Others work in civilian occupations such as nurses, doctors, lawyers, logisticians and counselors.
Median salary: Pay is based on rank and time in service
Job Growth through 2026: N/A
Entry-level education: Bachelor's degree

POLITICAL SCIENTISTS

A political scientist may work to make sense of election data and public opinion. Some have jobs in foreign affairs where they may have a hand in diplomatic efforts. Others may keep their finger on the pulse of current events and policy decisions. They'll do this to track and forecast political, economic and social trends.
Median salary: $115,510
Job Growth through 2026: 3% (slower than average)
Entry-level education: Master's degree or PhD

MILITARY HISTORIANS

Historians use their research skills to look at past events. They'll gather historical data from various sources. This includes taking a critical eye to scan archives, books, and artifacts. Their role is to try and interpret history, then write about what they found. Doing this helps to inform the public as well as governments and businesses.
Median salary: $59,120
Job Growth through 2026: 6% (as fast as average)
Entry-level education: Bachelor's degree for some non-historian roles, Master's degree or PhD more common