Nutrition Degree Online
Get Matched to a Nutrition Degree Online for FREE!
WHAT IS AN ONLINE FITNESS AND NUTRITION DEGREE?
Online nutrition degree or fitness degree programs tend to focus on lifestyle choices that impact health and wellness. So, you could learn about the many different methods that can be used to help people deal with their health concerns or reach personal goals like weight loss.
You may also study the human body and body processes, like how food is digested or how muscles recover after exercise. You may also explore the laws and ethics that go into the fields of nutrition and fitness. And, you may even delve into business topics that could apply to your field like accounting.
Earning a fitness and nutrition degree online could be your entry point to helping others make healthier choices! From learning what goes into a great meal plan to being able to understand the science that comes into play when you work out, this program could teach you more about the body and what it needs to perform at its best.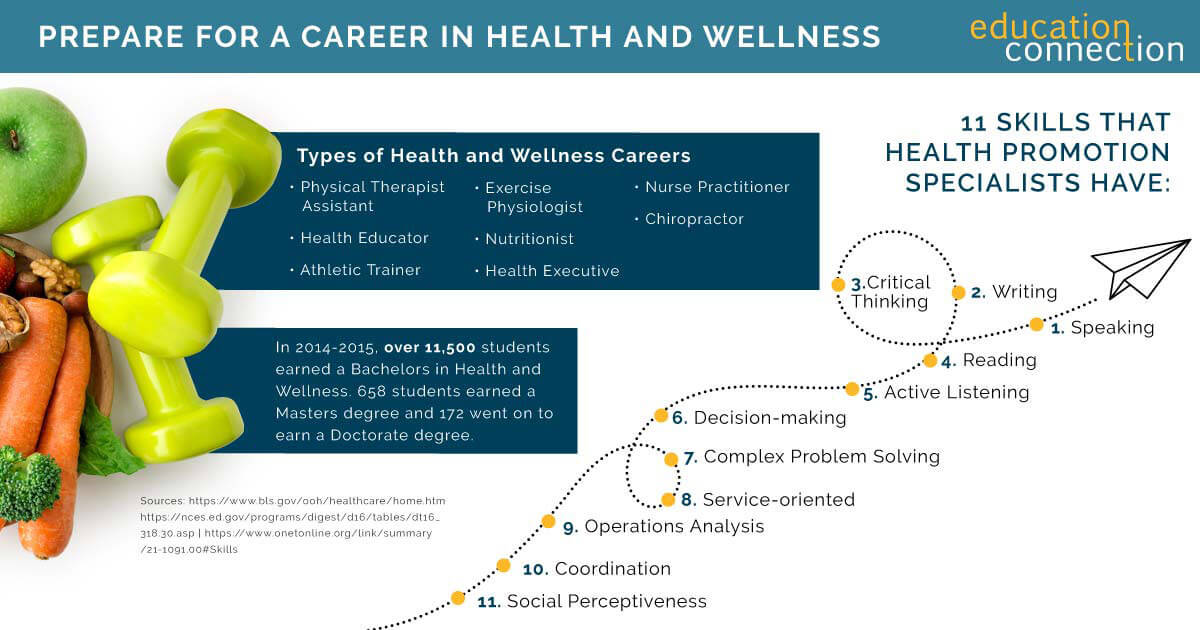 TYPES OF ONLINE DEGREES IN NUTRITION AND FITNESS
From dietetics to exercise science, there are several types of degree programs that deal with the impact of lifestyle choices on the human body. These include
Bachelor of Science (B.S.) in Dietetics
This program may be aimed at those who hope to pursue dietetic registration and/or a state license. The program may cover foods and nutrition in health care as well as public or private food service. A bachelor's degree in this field may explore the science behind nutrition as well as nutritional needs throughout the human life cycle, and more.
Course Examples:
Intro to Dietetics
Nutrition and Health Science
Health Care Systems
Bachelor of Science in Nutrition
This program teaches aspects of nutrition science,  how food choices can impact a person's lifestyle, and how to apply healthy eating concepts in a community. A bachelor's degree program in this field may also cover topics like food science and safety and even the business and professional knowledge you may need for your career goals.
Course Examples:
Food Science
Nutrition Science
Health and Wellness
B.S. in Exercise Science and Fitness Training
This program may focus on the core aspects of personal fitness training and exercise science, including topics like sports nutrition, techniques for strength training and more. Plus, you could focus on learning the best ways to motivate and instruct in order to lead fitness classes, train an athlete, or even coach a sports team.
Course Examples:
Anatomy
Physical Education and Health
Injury Care and Prevention
NUTRITION AND FITNESS ONLINE DEGREE PROGRAMS
Nutrition and fitness degree programs may be aimed at students with differing goals. A nutrition degree program usually covers areas like food chemistry and cell biology – with a focus on the science of food and nutrition, of course. Students may learn how to provide a nutritional assessment and plan a diet that meets the needs and health goals of their clients.
The field of dietetics shares a lot in common with the study of nutrition and fitness. However, a dietetics program may be designed for students with the goal of pursuing registration or a state license. With that in mind, these program may offer courses that focus on community nutrition, food systems management, and nutritional needs throughout the human life cycle, with an eye on the field's many complex issues and needs.
APPLYING TO ONLINE DEGREES IN NUTRITION AND FITNESS
So, what might be needed of you as you apply to a fitness, health or nutrition bachelor degree online program? While it's best to check directly with your program of interest, here are some things that a school will usually ask for:
Academic Transcripts – Generally, you'll need to send transcripts from high school and/or any previous colleges you have attended. Many schools require official transcripts, which must be mailed in a sealed envelope by your high school counselor or registrar.
Minimum Grade Point Average (GPA) – Some schools and programs state a minimum GPA needed for admissions.
ACT or SAT Scores – Some schools may require these, while others make test scores optional or waive them for students who have been out of high school for a while.
Letters of Recommendation – Some schools may request letters of recommendation from those who can speak to how ready you are for college, such as teachers and counselors.
Personal Statement or Essay – If an essay is required or optional, it may be a great chance to help your school learn more about you, your interests, and your goals.
CERTIFICATION
Certification may be needed for certain kinds of fitness trainer or instructor career paths. And, some employers may prefer to hire certified trainers and instructors. There are many types of these programs that exist, and they all require a written exam which may test you on your knowledge of areas like exercise techniques, ability to assess clients' fitness levels and more.
That said, going for your certification is not going to replace earning a college degree. Some employers may prefer candidates who hold a degree in a health or fitness field like exercise science or physical education. And, some of these degree programs may be designed to help you prepare for certification such as Certified Personal Trainer from the National Academy of Sports Medicine (NASM).
ASSOCIATE'S DEGREE
Most of the fitness and nutrition degree programs you may find online are at the bachelor's level. That may be even more true of nutrition programs, since the Bureau of Labor Statistics (BLS) states that earning a bachelor's degree is needed in order to pursue a career path in nutrition and fitness. That said, you may find associate's degree programs that could help you pursue your goals. These may include:
Associate Degree in Applied Exercise and Fitness: This type of program may cover knowledge and skill areas like group exercise instruction, weight management and nutrition. In addition, you could study areas of business and finance knowledge that could apply to gym operations or starting your own fitness business.
Associate of Science in Applied Nutrition: You may pursue a foundation in nutrition knowledge, including the natural and social sciences involved in food choices, as well as the math that goes into calculating nutritional components. You could also work on soft skills and knowledge like critical thinking and communications. And, you could apply what you learn to many nutritional problems and issues.
There are two types of degrees that can be earned when going for your associate's degree in a nutrition and fitness program. These are the Associates of Arts (A.A.) and Associates of Science (A.S.). For the most part, both degrees should get you ready for careers in the field of nutrition and fitness. However, there are some differences to be noted about each degree type. For example, an A.A. degree is less specialized than an A.S. degree. So, if you would like to study the field more in depth, then an A.S. degree might be a better fit for you.
In total, students must complete 60 credit hours before they are able to graduate.
Common programs include:
Associate in Applied Science (AAS) in Exercise Science
Associate's in nutrition and fitness programs include courses like:
Food Science
Nutrition Therapy
You'll also take general courses, like writing and math. Some programs require a capstone project or even an internship.
BACHELOR'S DEGREE
When pursuing a bachelor's degree in nutrition sciences, students will develop a deep knowledge of how human health, nutrition and medicine are related. They can then take this knowledge and apply it in roles such as a health specialist or food safety auditor. Some of the programs will even prepare students to take the registered dietitian exam.
Usually, a student can earn their B.S. in 4 years. You may be able to speed up this process by enrolling in faster paced programs that can help you get your degree in as few as 2 years. Some common bachelor's degree programs are:
Bachelor of Science in Nutrition: A B.S. in Nutrition examines how diet and health are connected. Students in this kind of program will gain knowledge in areas like how the human body breaks down food and how the body uses the nutrients from broken down food to create and repair cells and tissues.
Bachelor of Science in Exercise and Fitness: Bachelor of Science in Exercise and Fitness programs focus on training students to get ready for careers in health fitness and clinical fields. The core focus of these programs are in areas like exercise science, personal fitness and nutrition.
Common programs include:
Bachelor of Science (BS) in Nutrition Science
Bachelor of Science in Dietetics
Some students also choose a specialty, depending on their career goals.
Nutrition and Fitness Bachelor's programs include courses like:
Nutrition Science
Health and Wellness
Food Science
You'll also take general courses. That may include courses in math or the natural sciences. And, many programs have a final research project or capstone.
GRADUATE DEGREE
Online Master's degree programs in nutrition and fitness will give students the ability to take on roles as leaders in the health and wellness industry. This degree can help you take on more advanced roles after getting your state license too. Some topics that are covered include nutrition research methods and how to treat eating disorders. Some programs you might find are:
Master of Science in Nutrition and Public Health: This degree prepares graduates to turn best practices and guidelines into plans that help to evaluate food and nutrition programs. You will also develop policy, systems and strategies in places like food assistance programs, child care programs and private practice.
PhD in Nutrition Education: A PhD in Nutrition Education will prepare you to work with many types of people in many settings. Students in these programs will take elective classes that go beyond the core focus in order to learn how to provide food and nutrition education to all types of people.
Common programs include:
Master of Science (MS) in Nutrition Education
PhD in Nutrition and Health Sciences
Nutrition and Fitness Master's programs include courses like:
Health and Wellness
Nutrition Research Methods
Nutrition and Fitness Doctorate programs include courses like:
Molecular Nutrition
Food Literacy and Safety
Penn Foster: Fitness and Nutrition
Open the door to a career opportunity with from an accredited, online school offering a Fitness & Nutrition certificate program
Learn online, at a pace that is right for you in the convenience of your own home
Affordable tuition with customized payment plans are available to fit your current needs
WHAT DO FITNESS AND NUTRITION DEGREE COURSES LOOK LIKE?
Some schools offer programs in either fitness or nutrition while other schools combine both fields. Many of the same courses are taught in each as they are needed for any type of program in this field. Possible courses that you might be required to take include exercise methods, nutrition planning and meal prep. In other areas of study in these programs, courses like sports training or natural health might be taught. When deciding which program might be best for you, you may want to think about your specific career goals in the field. For example, if you are interested in working as a personal trainer in a gym, you may benefit from getting an online certificate in personal training. But, if you want to focus on health and diet, an online degree might be a better choice for you.
So, What Are Education Requirements For A Nutritionist?
According to the BLS, nutritionists typically must earn a bachelor's degree in foods and nutrition or a similar area. Requirements may also vary by state. That said, many employers may prefer candidates with the Registered Dietitian Nutritionist (RDN) credential.
Education Requirements for becoming an RDN include:
You must earn a bachelor's degree accredited by the Accreditation Council for Education in Nutrition and Dietetics (ACEND).
You must complete a Dietetic Internship (DI) with at least 1,200 hours of supervised experience.
To maintain this once you've achieved it, you must earn 75 continuing education credits every five years.
Keep in mind that while you could earn a bachelor's degree in nutrition and dietetics online, you'll need to pursue a dietetic internship in person if you're interested in working toward the RDN credential. Contact your online program to learn more about how you could fulfill this internship requirement.
Here's What Else You Might Learn In Your Online Degree In Nutrition And Fitness Program:
Sciences related to the body like anatomy
Knowledge for personal training, coaching, and fitness instruction
The relationship between nutrition and athletic performance
Nutrition throughout the human life cycle, including the needs of children, and woman who are pregnant or nursing
The science of food, including nutritional analysis and food safety
Nutritional assessment and education
Some common courses include:
Financial Accounting:&nbspFinancial accounting courses teach you the basic concepts of accounting. You will focus on the recording and reporting of business transactions for all forms of businesses.
Sports Psychology:&nbspThese courses will provide you with an overview of the basic ideas that are essential to understanding the psychology and behavioral aspects of sports and exercise science.
Nutrition and Wellness:&nbspNutrition and Wellness courses are designed to teach you the science skills as they apply to food preparation, food production and human nutrition. You will learn about the science behind many of these principals, the food production industry and the structure and function of essential nutrients.
Food and Culture:&nbspA course that compares the unique differences between Western diets and non Western diets. You will explore how issues in culture, economics and location can play a role in the preparation and access of certain types of foods.
HOW LONG DOES IT TAKE TO COMPLETE AN ONLINE FITNESS AND NUTRITION DEGREE PROGRAM?
There are nutrition and fitness degrees available at every level from a certificate to a PhD. Certificates take the least time to complete and you can choose to earn one at the same time as your degree so that you can add to your education. Some certificate programs take as little as three months to complete, and some can take up to two years or more.
An associate's degrees in nutrition and fitness programs call for 60 to 65 credit hours. They can usually be earned in under three years.
If you are going for your bachelor's degree in nutrition and fitness, it can be earned in about 4 years. On average, schools require 120 to 125 credits. You can also start with your associate's degree and choose to add on with a bachelor's degree later down the line. If you choose to do this, note that most programs accept transfer credits and you won't have to start all over.
If you want to earn your Master's degree, you will need to earn about 30 credit hours after completing your bachelor's degree. Many students choose to work in the field while earning their master's degree. Master's in Nutrition and Fitness programs usually take two to three years of study. PhD programs may take anywhere from two to five years.
EXAMPLE FITNESS AND NUTRITION PROGRAMS
| | | | |
| --- | --- | --- | --- |
| School | # of Credits Required | Start Dates | Minimum Months to Complete |
| Grand Canyon University | 120 | Multiple | 48 |
| Liberty University | 36 | Multiple | 18 |
| Purdue Global University | 180 | Multiple | 48 |
DID YOU KNOW?
Jobs for nutritionists and dietitians are projected to grow 11% between 2018 and 2028, a rate that's much faster than average for all occupations!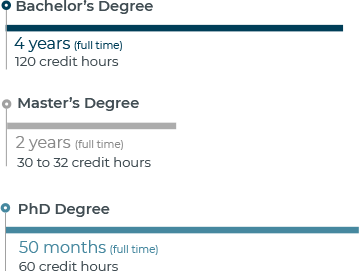 Here's What To Look For From Your Online Degree In Nutrition And Fitness Program:
As you browse fitness and nutrition degree online programs to find your ideal match, here are a few things you may want to keep in mind:
Flexibility…But Not the Yoga Kind: Earning nutrition or fitness degrees online may be the ideal path for students who need to fit their studies into a busy schedule, or who live far from schools that offer these programs. Flexible features to look for may include mobile friendly platforms, no set login times, and 24/7 support. Some online programs may even let you try a course to see if the learning style works best for you.
A Nutrition or Fitness Program That Gets You Pumped. Are you eager to explore best practices for food safety, or are you hoping to study the business side of the fitness industry as well as the science that goes behind it? Try to find a program that works with your interests and gets you eager to start learning.
Student Outcomes and Career Choices. Is your program designed to help students prepare for a specific career path or is it more open ended? It's important to find out if the degree you are thinking about will help get you to your career goals. Don't be afraid to ask about outcomes for recent graduates, and always research your career path to learn as much as you can about any education requirements.
THE AVERAGE COST OF AN ONLINE FITNESS AND NUTRITION DEGREE PROGRAM
According to the most recent data, Nutrition Science students paid a median in state public tuition of $8,471 per year. Out of state private tuition was $35,656 per year.
Many online schools charge by the credit. Compare cost per credit for these schools that offer master's in fitness and nutrition programs.
| | | | |
| --- | --- | --- | --- |
| School | # of Credits Required | Cost Per Credit | Total Tuition Cost |
| Penn State University | 30 – 39 | $924 | $27,720 – $36,036 |
| Rutgers University | 30 | $915 | $27,450 |
| Arizona State University | 30 | $434 | $13,024 |
TOP SCHOOLS FOR ONLINE NUTRITION AND FITNESS DEGREE PROGRAMS
Last check, there were 203 schools offering Nutrition and Fitness programs. From those schools, 3,879 degrees were awarded to students. The majority were Bachelor's degrees.
| | | |
| --- | --- | --- |
| School | 2017 Degrees awarded | 2019/20 Tuition (out of state unless *) |
| University of California Davis | 230 | $43,394 |
| Texas Woman's University | 152 | $18,055 |
| University of Arizona | 144 | $36,718 |
| New York University | 120 | $53,308* |
| Pennsylvania State University Main Campus | 119 | $35,514 |
| Tufts University | 104 | $58,578* |
| University of Minnesota Twin Cities | 100 | $33,325 |
| Columbia University in the City of New York | 97 | $61,788* |
| Metropolitan State University of Denver | 97 | $21,728 |
| Rutgers University New Brunswick | 96 | $32,189 |
CHOOSING A NUTRITION AND FITNESS DEGREE ONLINE ACCREDITED PROGRAM
Accreditation is a concern for many students in any degree program. And, students are smart to seek out these types of programs since they are usually more concerned with the outcomes that can help to promote a student's success.
Look for Accredited Online Nutrition and Fitness Programs
You'll want to make sure the school you are thinking about going to is accredited by an organization recognized by the U.S. Department of Education. This may ensure your school meets certain academic standards. For example, the Accreditation Council for Education in Nutrition and Dietetics (ACEND) accredits certain dietetics and nutrition programs. Choosing an ACEND accredited program may be required for pursuing the RDN credential.
FITNESS AND NUTRITION CAREER PATHS AND POTENTIAL SALARIES
Nutrition and fitness is a field that deals with with the health of groups and people. And, because of this the economy is responding. The nutrition field is growing by about 11% which is much faster than average. Pursuing an online degree program in nutrition or fitness may allow you to secure a career in this thriving sector. But what are the job titles and earnings for those who are employed in this field?
By looking at the list that follows, you will see the salary information for 2018 collected by the BLS. All the information provided is based on the median annual salary data.
TOP SALARIES BY STATE FOR FITNESS AND NUTRITION DEGREE HOLDERS
The following information is for a career in Dietitians and Nutritionists. Salary and employment numbers will differ for other career paths.
| | | |
| --- | --- | --- |
| State | Employment | Annual Mean Wage |
| California | 7,930 | $74,060 |
| Alaska | 140 | $71,210 |
| Connecticut | 820 | $69,610 |
| Hawaii | 290 | $69,050 |
| New Jersey | 1,860 | $68,810 |
NUTRITION AND FITNESS CAREER PATHS AND POTENTIAL SALARIES
Job prospects for these positions vary depending on the role but they range from growing as fast as any other occupation to growing faster than average according to BLS. Below you'll find a guide to some of the more popular career paths that many graduates pursue. We've also listed the minimum education that is needed to enter the field along with salary (2018) and job outlook through 2028.
Interested in food science? Want to counsel people to better health?
From food service manager to health educator to registered dietitian, find an online nutrition degree program that is perfect for you! By exploring the programs shown here, you could take the first step to pursuing a career in nutrition. Get started!