Become a Market Research Analyst
Get matched to an Online Marketing Degree Program for FREE!
WHAT IS A MARKET RESEARCH ANALYST?
To grasp the essence of becoming a market research analyst, it's imperative to comprehend the role these analytical experts play. Market research analysts delve into the intricacies of markets and their dynamics, aiding companies in unraveling the products or services people desire, determining what consumers are willing to pay for these offerings, and devising effective strategies to generate excitement for novel ventures. Typically, a background in market research or a related field, coupled with robust mathematical and analytical abilities, is essential for this profession.
A career as a market research analyst might align with your interests if you possess a distinctive combination of traits: you possess analytical acumen and proficiency in mathematics, coupled with the ability to adeptly gather data and present your findings. Moreover, meticulous attention to detail and a commitment to precision are among your strengths. Simultaneously, you thrive as a critical thinker, eagerly dismantling conventional beliefs to unveil the essence of research inquiries.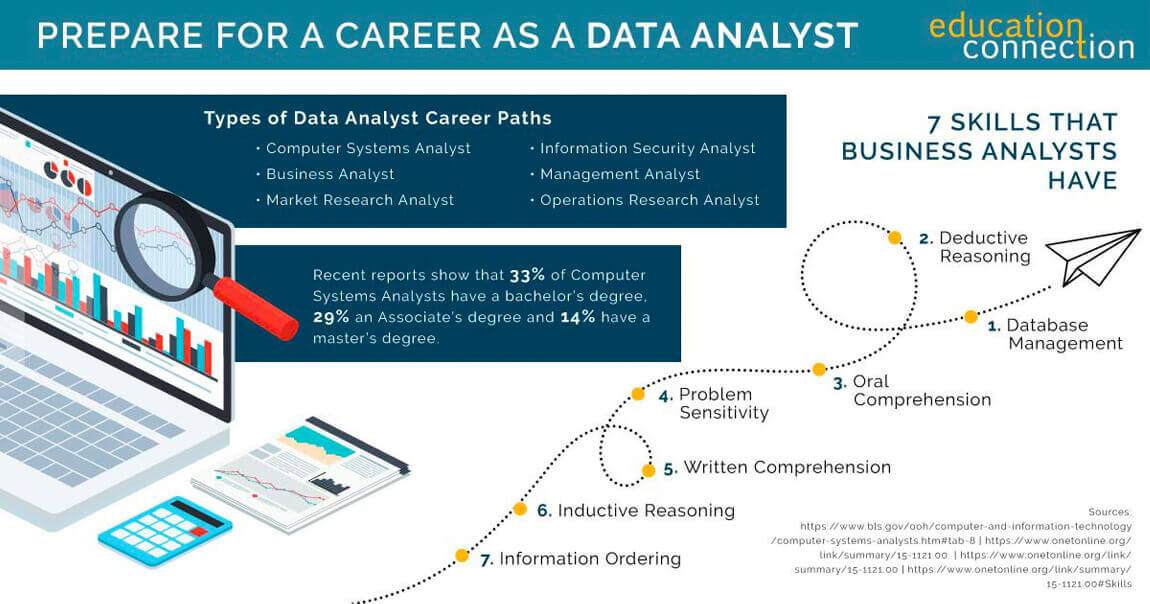 MARKETING RESEARCH ANALYSTS: A RANGE OF POSSIBILITIES
MARKETING RESEARCH ANALYST RESPONSIBILITIES

WHERE MARKETING RESEARCH ANALYSTS WORK

TYPES OF MARKETING RESEARCH ANALYSTS

Market Research Analysts study market conditions to examine potential sales of a product or service. These professionals are the unsung heroes of the marketing world. They help companies understand what products people want, who will buy them, and at what price, which is another way of saying that they monitor and forecast sales trends. They do this by giving a marketing strategy concrete goals through data by doing the research to find out what it is that the consumers want and turning that complex data into graphs, tables, and reports.
In today's rapid tech driven market, any company worth their salt that makes a product or service needs a market research aspect to survive. A quick scan for "Market Research Analyst" on Idealist shows a wide swath of areas of focus for market research analysts, that range from analyzing the real estate market for commercial real estate to doing research on the visitor experience at a major museum to taking part in political and non profit work.

In other words, you could tailor your interests to pretty much any career path, depending on what's out there in the job market.

Marketing Research Analyst – Analyze, collect and interpret data about products and the consumer market using surveys, feedback reports from customers and stats. They also define trends and growth metrics and provide actionable insights to their clients.

Marketing Manager – Develop and oversee the overall marketing strategy of a firm or a company. They also direct the efforts of the workers such as market research analysts to create these strategies.

Survey Researchers – Use different methods to design surveys and gather accurate info about consumers and markets.
WHAT YOU MAY STUDY IN A MARKET RESEARCH ANALYST DEGREE PROGRAM
Market research analyst degree programs may be quite diverse, since many professionals in this field study related areas like marketing, statistics, and math. In other words, not every analyst's educational background looks the same. However, your program should:
Have courses in areas like marketing, research methods and economics
Help you enhance your skills in analytics and critical thinking
Assist you in honing your knowledge in math, in areas such as algebra and statistics
You can try to explore a few different programs to see if one sounds best for your interests, skills and goals. For example, you may be tech oriented and hope to study computer science, with the goal of using your knowledge in math and analytics to apply to the field of market research. Perhaps you could find a program that makes sense for your unique interests!
Learning about market research and analysis is also typically part of a Bachelor's program. Students in such a program also pursue the ways that marketing works from start to finish. That may include being able to understand both the consumer and the market place as well as learning how to develop products, and uncovering the mysteries of consumer behavior. And, you'll probably take a look at current issues and challenges in the field – from social media and internet marketing to global business.
Bachelor's Degree
SHOULD I CONSIDER MARKET RESEARCH BACHELOR'S DEGREE PROGRAMS?
Market research analysts will usually need a bachelor's degree in market research or a related field. Depending on your area of focus, of course, you may be required to hold a bachelor's degree or in some cases a master's or doctorate. A bachelor's degree in this field will prepare you for a successful marketing career in service industries as well and non profit and public sectors.
WHAT COULD I LEARN IN A MARKET RESEARCH BACHELOR'S DEGREE PROGRAM?
Careers in market research require that you hold at least a bachelor's degree in marketing, survey research, advertising or related areas. These degree programs cover topics such as marketing strategies, research, analysis and product management. And they will teach you how to identify factors that make for successful advertising.
Bachelor's level courses may include:
Introduction to Marketing
Media Planning and Buying
Brand Management
Master's Degree
SHOULD I CONSIDER MARKET RESEARCH MASTER'S DEGREE PROGRAMS?
The level of education you need to pursue depends on your career goals and employer's needs. Some roles with more of a technical focus may require a master's degree. As of 2022, 39% of Market Research Analysts and Marketing Specialists said they needed a master's degree. And, the Bureau of Labor Statistics (BLS) predicts that career prospects may be best for analysts who earn a master's degree.
However, you may not need to earn your master's degree in market research, specifically. Market research analysts sometimes pursue studies in areas like statistics, marketing, or business administration (MBA).
WHAT COULD I LEARN IN A MARKET RESEARCH MASTER'S DEGREE PROGRAM?
A master's program with a focus on marketing and market research could help you build new knowledge in this field, or add to what you learned in your bachelor's program. The program courses may include the ins and out of the field, including math and analytics and how to conduct or perform research in order to help you find answers to pressing marketing questions.
You may also study how to use your skills in analytics, in areas like probability and statistics, to help interpret data. You could explore current technology like data mining and tools for web analytics. And, you could learn how to extract and report your findings, in order to help a business make smarter decisions.
Master's level courses may include:
Advanced Marketing Research
Consumer Insights
Analysis Tools for Market Research
Strategic Internet Marketing
Ethical and Legal Issues in Marketing
INDUSTRY FACT:
Market research analyst jobs are projected to grow 13% from 2022 to 2032, much faster than the average for all jobs.
Doctoral Programs
SHOULD I CONSIDER MARKET RESEARCH PhD DEGREE PROGRAMS?
While no doctorate programs are made specifically for market research, many of these higher level programs are offered in the general field of marketing. A doctorate in marketing is a terminal degree in one of the fastest growing areas of business. There are two main paths a student can follow. Those are the PhD track and the doctorate of business administration (DBA) track. A PhD degree program will focus more on research and theories of marketing. A DBA degree program will focus more on the practical applications of market research.
WHAT COULD I LEARN IN A MARKET RESEARCH PhD DEGREE PROGRAM?
Since each school will offer different programs for a student based on their interests, few students in these programs take the same courses. However, most programs will have similar core courses.
Doctoral programs course may include:
Multinational Marketing
Advanced Research Methods
Buyer Behavior
Special Topics in Marketing
1
Take advantage of some of the nation's most affordable tuition rates, while earning a degree from a private, nonprofit, NEASC accredited university
Qualified students with 2.5 GPA and up may receive up to $20K in grants & scholarships
Multiple term start dates throughout the year. 24/7 online classroom access.
Popular Programs
Business Administration, Psychology, Information Technology, Human Services…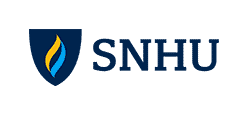 2
Ranked #8 by U.S.News & World Report for Best Online Bachelor's Programs
Apply up to 90 transfer credits for bachelor's students, and 9 transfer credits for master's degree students.
CSU Global graduates experience a return on investment of 4:1, which means they receive $4 in salary and benefits for every $1 they invest in their education.
Available Programs
Business, Computer Science, Criminal Justice, IT, Psychology…

3
Award-winning programs created to help you succeed.
A quality education doesn't have to be expensive. Earn an accredited degree for less.
Programs start monthly – Apply free this week!

Sponsored Schools
WHAT COURSES MIGHT I TAKE IN A MARKETING DEGREE PROGRAM (AND HOW MANY OF THEM ARE MARKETING ANALYST COURSES)?
A marketing program may cover topics from the essential business concepts and marketing principles to courses on specific topics – like non profit agencies, social media marketing, and brand development. You may focus on how to help a business or product stand out in a busy global market place. And, you could explore consumer decision making and how to build lasting customer relationships.
In addition, any bachelor's program usually requires you to take general education courses, like writing, math, courses in the natural sciences, and even information technology. Since a marketing research role may call for a lot of diverse knowledge, you may be surprised just how useful these gen ed courses end up being!
Other courses in a marketing program may include:
Digital Marketing
Business Writing
Internet Marketing
Global Marketing
Other courses that may be particularly relevant to market research analysts may include:
Consumer Behavior
Marketing Research
Introduction to Statistics
HOW LONG DOES IT TAKE TO EARN A MARKET RESEARCH ANALYST DEGREE?
How long it takes to earn an online market research analyst degree depends on degree level. It can also depend on how much time your schedule allows you to dedicate to your schooling.
For full time students, Associate's degree programs call for 60 to 65 credits of course work. They can usually be earned in under three years.
If you are going for your bachelor's degree, you can choose to go for either your B.A. or B.S. Earning an online Bachelor's will take about four years. On average, they require 120 to 125 credits. You can also start with your associate's degree and choose to add on with a bachelor's degree later down the line. Most schools accept transfer credits. That said, you won't have to start over if you decide to go for your bachelor's degree after having finished your associate's degree.
If you want to earn your Master's degree, you will need to earn about 30 credits hours after completing your bachelor's degree. Earning an online Master's degree may take around two years of study. And earning a PhD degree can take from four to six years.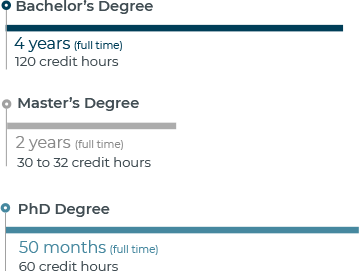 MARKET RESEARCH CERTIFICATION: DO I NEED TO BE CERTIFIED TO BECOME A MARKET RESEARCH ANALYST?
Pursuing your certificate in market research is voluntary for the most part. That said, market research analysts may earn certification to show that they have the skills and knowledge needed for a role. If you're interested, the Marketing Research Association awards the Professional Researcher Certification (PRC) to qualifying market research analysts.
Keep in mind that earning your PRC is for analysts who have a few years of experience under their belts. If you're still pursuing your education and haven't started working in your field, it might be too early to sit for this exam. However, it's not too early to start doing your research to find out the certification requirements as you work on building the knowledge you need.
REQUIREMENTS FOR EARNING PROFESSIONAL RESEARCHER CERTIFICATION (PRC) INCLUDE:
At least three years of work experience in opinion and marketing research
12 hours of industry related education courses
Passing an exam
To renew your certification once you've earned it, you must complete 20 hours of continuing education, every two years.
APPLYING TO MARKET RESEARCH ANALYST DEGREE PROGRAMS: ADMISSIONS REQUIREMENTS
If you hope to prepare for a career in market research, step one is to find a college degree program that cab help you achieve the knowledge you need. Part of that means making sure you meet the admissions requirements!
POTENTIAL ADMISSIONS REQUIREMENTS FOR BACHELOR'S PROGRAMS THAT MAY BE IDEAL FOR MARKET RESEARCH ANALYSTS:
Official High School Transcripts. Often, schools request that your transcripts be sent straight from your high school. If you've already taken some college courses, you will also need to have official college transcripts sent.
SAT or ACT Scores. Some schools may require test scores, while others make this optional.
GPA. Many schools and programs set a minimum GPA for admissions, but some do not.
Letters of Recommendation. Some schools don't require these, while others may use teacher or guidance counselor recommendations to learn more about your strengths.
Personal Essay. If an essay is required, it may be a chance to share your background, interests, and goals related to the field. You could also offer an explanation for any weak parts in your application, if any.
POTENTIAL ADMISSIONS REQUIREMENTS FOR MARKET RESEARCH MASTER'S DEGREE PROGRAMS:
A Bachelor's Degree. You'll need to have earned your bachelor's degree. Your master's program may welcome applicants from diverse fields, or they may want you to have a certain background.
Official College Transcripts. You will need to have transcripts sent from any previous school(s) you went to.
Resume. Your program may want to know your work and education history as it relates to your interests in market research.
GRE or GMAT Scores. Some programs require scores from either the GRE or the GMAT. Others may not ask for test scores, or may offer a waiver to eligible applicants.
Letter(s) of Recommendation. You may need to submit letters from faculty members, supervisors, or others who can speak to how ready you are for graduate studies.
Academic Statement of Purpose. If required, this statement could give you a chance to explain more about your background, your academic interests, and how graduate studies could help you pursue your career goals in market research.
DID YOU KNOW?
On a global scale, market research companies rake in revenue of over $44.5 billion U.S. dollars!
CAREERS IN THE MARKETING RESEARCH ANALYST FIELD
The good news is that jobs for market research analysts aren't going anywhere soon. Business is growing. According to the BLS, market research analyst jobs are projected to grow 13% from 2022 to 2032, which is much faster than the average of all other professions. There seem to be so many ways as to how to proceed as a market research analyst.
According to the BLS the median salary for a market research analyst as of May 2022 was $68,230.
Median Annual Salary: $68,230 per year
Job growth through 2032: 13% (Much faster than average)
Typical Entry level education: Bachelor's
Median Annual Salary: $138,730 per year
Job growth through 2032: 6% (Faster than average)
Typical Entry level education: Bachelor's
Survey researchers create and carry out surveys while also analyzing the gathered data. Surveys serve the purpose of collecting factual information like employment details and salary figures. Additionally, they are employed to inquire about people's opinions, preferences, beliefs, or desires in order to gain a deeper understanding.
Median Annual Salary:$60,410 per year
Job growth through 2032:-4% (Decline)
Typical Entry level education: Master's