Top Online Communications Degree Programs
Get matched to an Online Communications Degree Program for FREE!
What is an Online Communications Degree Program?
Online communications degree programs cover a broad range of subjects. What they all have in common is sharing ideas. You'll learn to do so through writing, speaking, and even conflict resolution.
Communicating information to achieve goals is key in all organizations. Some online communications degree programs may focus on an industry or sector – like business. Others focus on particular work functions or fields, like public relations. What most programs have in common is learning to express concepts effectively. If you love using words (and visuals!) to get a message across, this program may be for you!
Associate Degrees
Bachelor's Degrees
 Master's Degrees
Associate of Arts in Communication Studies
Bachelor of Arts in Communication Studies
Master of Arts in Communication
This program examines the foundations of communication – from theory to application. You'll work on a variety of skill areas. These include writing, public speaking, and interpersonal communication. Plus, you'll learn how these skills apply to different goals and settings.
The program takes an in-depth look at getting your message across. You'll study everything from best practices for visual communications to the theory of persuasion. And, you'll learn to communicate effectively for diverse audiences and situations.
This program covers the principles, practices, and contexts of communications. You'll examine everything from philosophy and ethics to the modalities of communications. Students also gain an introduction to graduate study, including qualitative and quantitative research.

Professional Public Speaking
Photography
Communication Law

Media Writing for Communication
Technology & Communication
 Visual Journalism

Communication & Identity
Mass Media Industries
Digital Media Design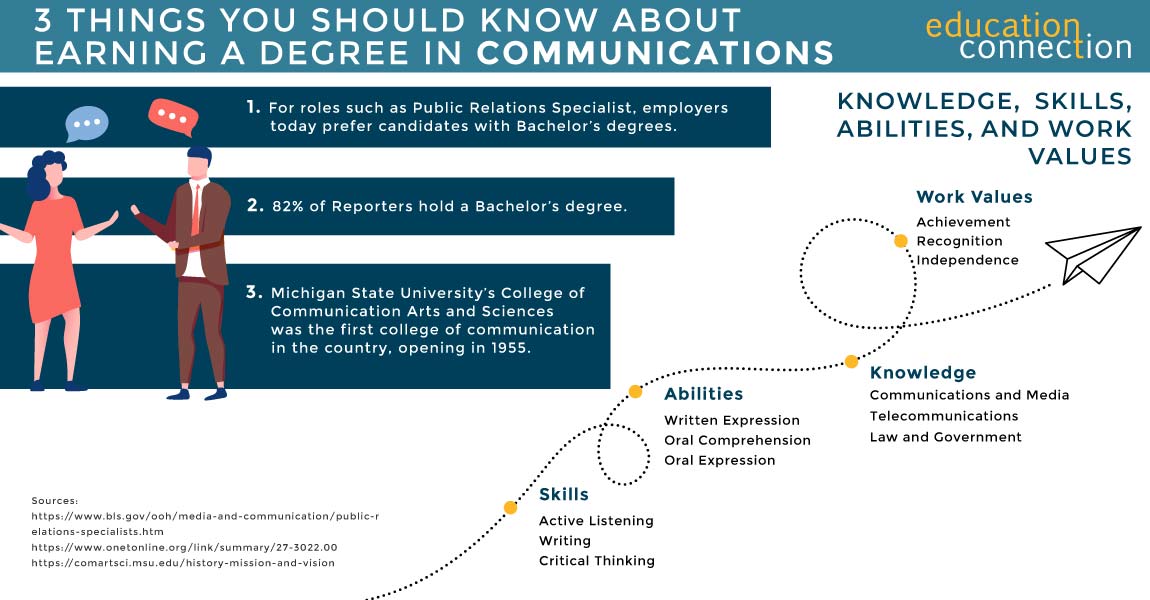 Online Communications Degree Programs
Marketing. Copywriting. Event planning. All of these practices involve communication, plus the many knowledge areas that fall under that umbrella. Your particular online communications degree program could take a broad view of the field. Or, it could concentrate on a niche area – like digital strategy or PR. Either way, you'll likely do a lot of writing, speaking, and researching ways to reach diverse audiences.
Undergraduate Communications Programs
At the undergraduate level, you'll likely cover the fundamentals of everything communications can be. For example, you could try your hand at journalism. You could learn the final points of social media marketing. And, you could study how public relations keeps lines of communication open among businesses, government organizations, and consumers.
Courses in your major may bring together a variety of skill areas. That includes public speaking, research, writing, and critical thinking. And, you could learn many applications for these skills – from composing a tweet to crafting a speech.
Programs may also offer concentrations. For instance, you could study New Media, which includes digital media like online articles, blogs, and social media. Other concentrations may include Business Communications, Journalism, Radio & Television, and more.
Look for undergraduate communications programs like:
Associate of Arts (A.A.) in Communication Studies
Associate in Applied Science Degree (A.A.S.) in Marketing Communications
Bachelor of Arts (B.A.) in Communication Studies
Bachelor of Science (B.S.) in Communications
Graduate Communications Programs
At the graduate level, students of communications may take an even more analytical approach to how people and organizations exchange information. Expect to study both the theories and practical strategies behind communications.
As with undergraduate programs, most graduate communications programs are diverse. You could take courses in everything from personal interactions to digital media. You could also study communications in different contexts – like politics or conflict resolution.
In many cases, you can choose a concentration. For example, a concentration in Digital Strategy could cover how to deploy digital media to achieve business goals. Some programs even focus on a particular industry. For instance, a health communications program delves into communication strategies for medical and wellness organizations. That includes everything from publishing medical findings to talking more effectively with patients.
Look for graduate communications programs like:
Master of Arts (M.A.) in Communication
A. in Emerging Media
Master of Science (M.S.) in Communication
PhD in Communication
Featured Online Schools
1
Take advantage of some of the nation's most affordable tuition rates, while earning a degree from a private, nonprofit, NEASC accredited university
Qualified students with 2.5 GPA and up may receive up to $20K in grants & scholarships
Multiple term start dates throughout the year. 24/7 online classroom access.
Offering over 200 online degree
Popular Programs
Business Administration, Psychology, Information Technology, Human Services…

2
Ranked #8 by U.S.News & World Report for Best Online Bachelor's Programs
Apply up to 90 transfer credits for bachelor's students, and 9 transfer credits for master's degree students.
CSU Global graduates experience a return on investment of 4:1, which means they receive $4 in salary and benefits for every $1 they invest in their education.
Available Programs
Business, Computer Science, Criminal Justice, IT, Psychology…

3
Save up to 25%. Save thousands on your bachelor's with the Strayer Graduation Fund.
Strayer University is an accredited institution with a proud history of 125 years in quality education.
With the help of dedicated personal support and AI technology, earn your degree online or on campus.
Programs Include
Accounting, Business Administration, Criminal Justice & Information Technology

Sponsored
Online Communications Courses
No matter what degree level and specialization, your coursework will cover different ways of sharing messages. That could include everything from journalism and copywriting to social media and even graphic design.
Public Speaking:&nbspThis course covers everything that goes into effective speaking. That includes putting together well-researched presentations, understanding your audience, and speaking in different situations. No "ums" allowed!
Mass Media and Broadcasting:&nbspMass media include print, radio, film, television, and the internet. A course like this may cover everything from the laws governing advertising to the ethics of what gets shared. You'll seek a clearer picture of how media impacts the economy. And, you'll study the finer points of each medium.
Visual Communications and Design: &nbspNot all communication is verbal. This course covers how to use visuals to express your ideas. You'll study design principles and the technologies used to create graphics. And, you'll learn how and when to use visuals across different channels.
How Long Does It Take to Earn a Degree in Communications?
A Bachelor's in Communications generally takes at least four years to earn. A Master's in Communications usually takes around one to two years to earn. Of course, it all depends on whether you study part time or full time, among other factors.
Communications Degree Programs That Could be Completed in 24 Months or Less
| | | | | |
| --- | --- | --- | --- | --- |
| School | Degree Level | # of Credits Required | Start Dates | Minimum Months to Complete |
| Colorado Christian University | Associate's | 60 | Multiple | 24 |
| Berkeley College | Associate's | 60 | N/A | 24 |
| Syracuse University | Master's | 33 | N/A | 15 |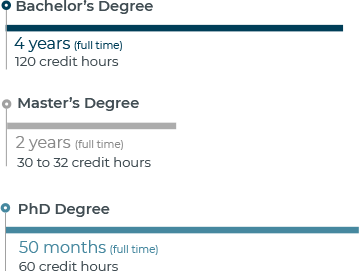 The Cost of a Communications Degree Program
NCES records the average annual cost of attending a public, four-year school as $19,189. Average tuition cost went up to $39,529 for private and for-profit schools. Compare tuition for these schools that offer communications degree programs:
| | | | | |
| --- | --- | --- | --- | --- |
| School | Degree Level | # of Credits Required | Cost Per Credit | Total Tuition Cost |
| Southern New Hampshire University | Bachelor's | 120 | $320 | $38,400 |
| Walden University | Bachelor's | 181 | $325 | $58,825 |
| Purdue University Global | Bachelor's | 180 | $371 | $66,780 |
Top Schools That Offer Communications Degree Programs
NCES lists 1,696 institutions with Communications programs. From those schools, students were awarded 118,046 degrees in 2016 (the most recent data). The most common degree awarded in this field was the Bachelor's (82.5%).
| | | |
| --- | --- | --- |
| School | 2016 Degrees awarded | 2018/19 Tuition (out of state unless *) |
| The University of Texas at Austin | 1,251 | $37,580 |
| Michigan State University | 1,196 | $39,766 |
| California State University-Fullerton | 1,050 | $18,766 |
| Pennsylvania State University-Main Campus | 996 | $34,858 |
| California State University-Northridge | 960 | $18,773 |
| University of Georgia | 940 | $30,404 |
| Northwestern University | 932 | $54,568* |
| University of Southern California | 895 | $56,225* |
| University of Missouri-Columbia | 852 | $27,042 |
| Temple University | 846 | $29,066 |
Choosing an Accredited Communications Degree Program
The Accrediting Council on Education in Journalism and Mass Communications (ACEJMC) accredits communications programs. They accredit programs they feel will best help students prepare for potential career paths.
ACEJMC values programs that have multidisciplinary curriculums. Programs should also foster critical thinking and freedom of expression. In addition, programs must have competent faculty and the resources students need to pursue their goals.
In short, choosing an accredited program can help you be confident in the quality of your education. But, it's optional and may not be required for career paths in communications.
What Can You Do with a Communications degree?
According to the most current census data, there are over 2 million communications graduates in the workforce. (The number of graduates is growing at an annual rate of 3.39%!)
Wondering if you fit in? The average degree-holder in the workforce is 40 years old. Females are slightly more likely to study communications, representing 64.6% of degree-holders.
Media and communication occupations are growing steadily – about as fast as average for all roles. The industry is projected to add 6% more roles by 2026. Demand has resulted from the need for professionals who can work with information across a variety of platforms. For instance, growing social media use may add jobs for public relations specialists. And the popularity of internet streaming platforms has led to more film and video editor roles.
Top Salaries by State for Reporters
| | | |
| --- | --- | --- |
| State | Employment | Annual Mean Wage |
| District of Columbia | 1,610 | $100,550 |
| New York | 4,540 | $81,930 |
| California | 3,430 | $67,820 |
| Arizona | 680 | $61,400 |
| New Jersey | 590 | $61,180 |
Source: https://www.bls.gov/oes/current/oes273022.htm#st
Careers with a Degree in Communications
Public Relations Specialist
Public Relations Specialists develop and maintain a public image for an organization. The goal is to influence public perception of that organization. For instance, specialists may write press releases about a company's recent achievements. They may ensure advertising and promotions are on the mark. And they may monitor a company's public image on social media.
Median Salary: $60,000 per year
Job Growth Through 2026: 9% (As fast as average)
Typical Entry-level Education: Bachelor's degree
Technical Writer
Technical Writers document and communicate technical information. They write things such as instruction manuals, how-to guides, and FAQ pages. These writers may work with technology professionals to put together materials for purposes like user support. Many work for professional, scientific, and technical services companies.
Median Salary: $71,850 per year
Job Growth Through 2026: 11% (Faster than average)
Typical Entry-level Education: Bachelor's degree
Reporter
Reporters inform the public about events and news. They may report at the local, national, or global level. And, they may use various media – like television, news websites, or radio. Reporters may research stories provided to them as well as pitch their own ideas. Then they must interpret and present their findings to their audience.
Median Salary: $43,490 per year
Job Growth Through 2026: -9%
Typical Entry-level Education: Bachelor's degree