Online Public Relations Degree
Get matched to an Online Public Relations Degree Program for FREE!
What is a Public Relations Degree?
Public relations (PR) is a branch of marketing and communications. As such, an online degree in PR often covers both marketing communication skills and media relations. These areas help students learn to tell stories in order to sell services and products. And, improve the brand of a company using mass media and special events.
Problem solving is important too. So, you may study research methods and analysis.  This may improve your ability to create and run campaigns. Then, score the results using metrics and data. Part of any communications degree is to learn how to speak and write with clarity. Writing for public relations may span speeches, press releases, and social media. And public speaking is about confidence and grammar. Plus, using suitable language for products, services and corporate communication.
As a result, online students may grow skills while also building know how. You may learn to express yourself better with your peers and coworkers. Public relations specialists also need to know crisis management. That is about knowing how to take the lead with media communications. Like creating a plan that manages fall out from bad publicity.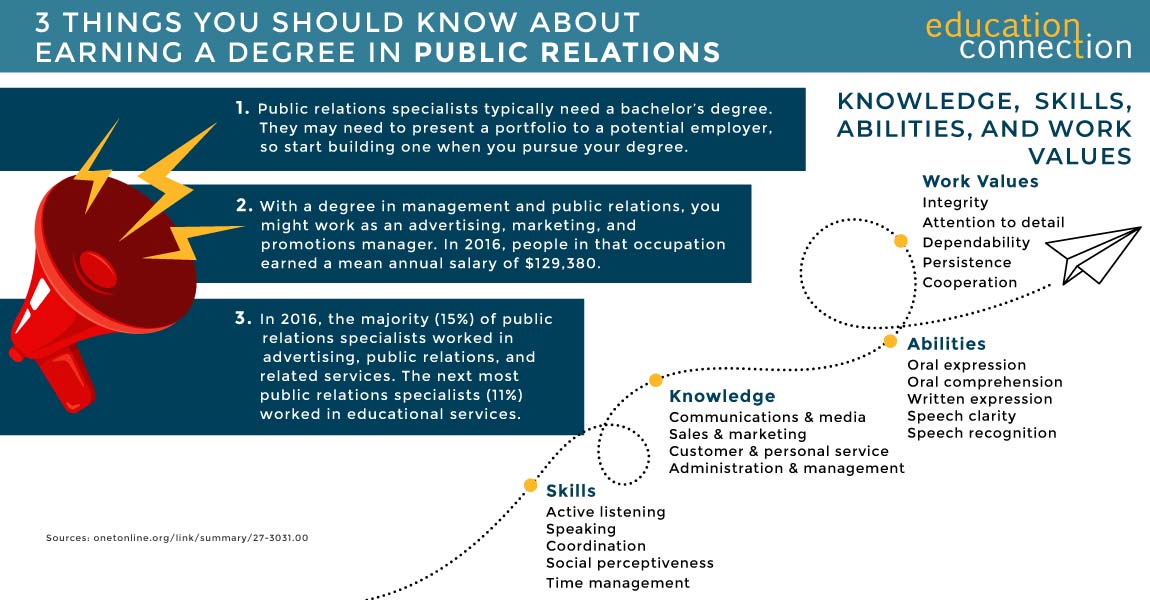 TYPES OF ONLINE PUBLIC RELATIONS PROGRAMS
There are many types of online programs in PR. To narrow school search results, choose a level of program, then check out all the different majors. Here are a few as a resource guide.
B.A. in Public Relations and Marketing
Explore PR as the core of a business. Study creative subjects such as communication, customer behavior, and advertising. Learn how to devise and conduct research for various public relations campaigns.
Course Examples:
Social Media strategy
eBusiness
Visual communications
B.A. in Communication Studies: Advertising and Public Relations
Explore ideas and practices in marketing and branding. Learn public relations writing. That is about how to write effective messages to sell and promote products and people.
Marketing principles
Public speaking
Communication theory
B.S. in Marketing
Learn how to use marketing channels. Use digital and other media to create marketing and communications plans that work.
Course Examples:
Consumer behavior
Promotions
Strategic communication
Online Public Relations Degree Levels
There are four levels of PR programs. Associate, bachelor's, masters and PhDs. These programs may fall under many titles. Communications, journalism, marketing, or business, for example. All relate to public relations. If just starting out, you begin with an undergrad degree. Some people do this at community college with an associate degree. That said, a bachelor's tends to be a gateway for many of the job fields public relations professionals go for.
There are two kinds of online bachelor's degree programs. Bachelor of Arts (BA) and Bachelor of Science in public relations (BS). Both tend to take about four years and entail 120 credit hours of coursework. From there, you may continue your higher education in grad school. There are master's, MBAs and PhD degree programs at this level. Nearly 11 % of students who studied PR earned a master's degree. In doctorate PR programs, you learn to do research in the field.
The Road to Earning a Public Relations Degree:
The hardest aspect of earning a Communications and PR degree was a "service learning" aspect of the program for a couple of the courses, in which you have to seek out a connection in the real world that will allow you to handle basic public relations functions for that organization, or at least give you the information you need to create a hypothetical PR campaign.
Marketing & Communications Coordinator at UHY Advisors

1
Take advantage of some of the nation's most affordable tuition rates, while earning a degree from a private, nonprofit, NEASC accredited university
Qualified students with 2.5 GPA and up may receive up to $20K in grants & scholarships
Multiple term start dates throughout the year. 24/7 online classroom access.
Popular Programs
Business Administration, Psychology, Information Technology, Human Services…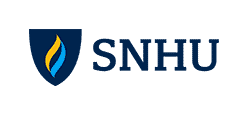 2
Ranked #8 by U.S.News & World Report for Best Online Bachelor's Programs
Apply up to 90 transfer credits for bachelor's students, and 9 transfer credits for master's degree students.
CSU Global graduates experience a return on investment of 4:1, which means they receive $4 in salary and benefits for every $1 they invest in their education.
Available Programs
Business, Computer Science, Criminal Justice, IT, Psychology…

3
Award-winning programs created to help you succeed.
A quality education doesn't have to be expensive. Earn an accredited degree for less.
Programs start monthly – Apply free this week!

Sponsored Schools
Public Relations Courses
Gen ed courses cover subjects like English, math, history, science, and philosophy. If you are earning a B.A., you will have to take courses like these and a capstone project. These courses are not all connected to PR. But, may help you improve your writing, reading, critical, and communications skills. These are all good skills for public relations managers to have.
The online courses you take in a PR major will cover many subjects. To put these areas in perspective, you may learn through case studies. These may provide strong foundation of skills and knowledge in public relations. If in a public relations bachelor's degree, you'll also take elective courses. Electives help you learn more about a certain area of PR. For example, you may study journalism, business, entertainment PR, or sports PR.
Course Examples:
Mass communications:&nbspA broad course of study that may help you open doors to a career in advertising, broadcasting, PR, journalism, and publishing. Learn how media works and impacts society.
Organizational communications:&nbspLearn skills and gain knowledge that you can apply to your work place at once. Study the effect of communication on organization.
Public speaking:&nbspLearn to deliver effective oral communication with focus on research, prep and performance.
Multimedia journalism:&nbspIn this course, you may cover the use of digital tech to produce news stories that combine different formats of media, such as text, hypertext, photos, video, animation, databases and more.
Electronic public relations:&nbspLearn about the strategic use of online, mobile and social media tools in PR.
Communication Strategies/PR:&nbspThis course may teach you the usage of PR tactics in an overall communications or marketing plan.
Research and analysis in PR:&nbspLearn the role research plays in PR.
Law and ethics in PR:&nbspThis course teaches critical knowledge of essential and relevant law impacting professional communicators.
How long does it take to earn an online Public Relations degree?
You may earn an associate's degree in PR in two years or less with full time study. That said, you may earn a B.A. in four years with full time study. If you are a working student, online schedules allow for flexibility. This enables many working students to pursue a degree full time, and work at the same time.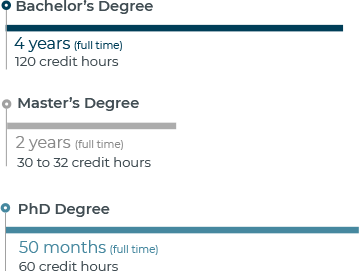 Examples of How Long it Might Take To Earn a PR Degree
| School | # of Credits Required | Start Dates | Minimum Months to Complete |
| --- | --- | --- | --- |
| Full Sail U | 120 | Monthly | 29 months |
| Ashford U | 120 | Monthly (every five weeks) | 48 |
| Pennsylvania State U | 120 | Winter, Summer, and Fall | 48 |
Average Public Relations Degree Costs
In 2017, students paid a median in state public tuition rate of $7,847. They paid a median out of state private tuition rate of $30,756. Below are the costs to earn a B.A. in PR:
| School | # of Credits Required | Cost Per Credit | Total Tuition Cost |
| --- | --- | --- | --- |
| Northern Michigan University | 120 | $437 | $52,440 |
| Ashford University | 120 | $510 + fees | $61,200 + fees |
| University of Florida | 124 | $955 + fee | $114,633 + fees |
Top Public Relations Schools
DataUSA tells us there were 288 schools in the United States that offer PR degrees or communication programs in the 2021 school year. From those schools, there were 19,702 degrees earned by students. Most of these degrees were B.A.'s.
| School | 2021 degrees awarded | 2022/23 Tuition (out of state unless *) |
| --- | --- | --- |
| Fashion Institute of Technology | 618 | $16,490 |
| U of Texas at Austin | 616 | $41,070 |
| Michigan State U | 588 | $41,958 |
| Southern New Hampshire U | 721 | $15,380 |
| U of Alabama | 340 | $32,300 |
BECOMING AN ACCREDITED PR PROFESSIONAL
Once you've completed your PR program, you can pursue PR accreditation or certification. Both signify to future employers that you have the skills, knowledge, and talent you claim to have. Firstly, by taking an exam and being interviewed, you can show your ability to a panel of proven professionals. If you do well, you can secure a cert or accreditation. Adding this to your resume can help employers verify your skills and talents.
Accreditation and certification are offered by professional PR organizations. These are well trusted in the field. They may add a level of respect and honor to your resume. While you don't need to be accredited or certified to work in PR, it helps to be so.
Some examples of bodies that offer certification and accreditation (or can connect you with one who does) include:
You may also join agencies like these to grow your professional knowledge in the field. Through membership, you may also attend conferences and access research in the field. By joining professional organizations, you can help keep your skills top notch.
A Career in PR
The PR workforce has 2.27 million members. A worker's average age in the field that same year was 40.1 years old.  Nearly 71.4 % of the workers with a degree in PR were female.
What can you do with a PR degree?
Per the Bureau of Labor Statistics, earning an online PR degree may give you the skills you need to pursue a career in many fields such as:
Public Relations
Copywriter
Fundraiser
Marketing
Media Buyer
Communications Manager
Mean Annual Salary for PR Specialists by State
The table below shows states with the highest employment levels. As such, this career path often asks for a degree in PR or communications.
| State | Employment | Annual Mean Wage |
| --- | --- | --- |
| California | 28,570 | $90,150 |
| Texas | 26,110 | $60,600 |
| New Jersey | 5,330 | $88,830 |
| District of Columbia | 17,400 | $119,270 |
| Virginia | 7,700 | $87,650 |