Undergraduate students are increasingly earning competency certificates to develop proficiency in a field. In fact, certificates are the fastest growing post-secondary credential. That's in comparison to associate's and bachelor's degree programs which typically cost students more in time, money, and commitment.
Certificates are designed for today's students with targeted education and skill enhancement at an affordable and faster rate than many degree programs. They may also boost a student or employee's resume with industry specific training to help them compete in the job market. For this reason, many undergraduate students pursue certificates as a skill step ladder. Sometimes this can be done in conjunction with a degree program and other times in lieu of one.
Understanding Undergraduate Certificates
These programs include short term and focused learning and skills attainment for earning a certificate. Certificates provide verification for the required work to show mastery of a specific subject area. Courses taken to earn a certificate focus on concentrated education, typically without including general study courses. That's why a certificate usually require less time than the interim it takes to complete a degree program.

Certificate programs tend to vary in length, but generally take less than two years with many lasting less than a year. Students often have a thorough understanding of their specific interest when they've earned a certificate. On the other hand, they usually take a broader set that includes general courses for a degree.

The cost of certificate programs may vary. For instance, if students work toward a certificate within a four-year public college program, that may cost more than earning a certificate at a two-year public university. Certification programs usually cost less than degree programs.
Sometimes students earn certificates as stepping stones on the path to completing their degree program. Some schools require that certificate program students enroll in their undergraduate degree program. In fact, with degree enrollments in decline, many universities are starting certificate programs to boost their active student numbers.
Admissions and Prerequisites
Certificate programs may have different admission requirements depending on the school. But there are general guidelines that likely apply to many certificate programs. For instance, many certificate programs require applications and associated fees as well as a high school, or equivalent, degree.
Some certification programs may also require that enrollees have specific coursework on their transcript and maybe even cite a minimum GPA for those classes. Others could request a transcript for all former courses completed. Prerequisite classes sometimes count toward your certificate courses. So, submitting transcripts might be beneficial even if it's not required. Typically, SATs and ACTs aren't required for certificate programs.
Schools may include a certificate program along with their course offering for enrolled students. In these cases, eligibility for the certificate program may include a specific education level, for instance, senior year. Program admissions departments could also require a proposal or letter of intent, and some also want a resume. Other schools typically also require that students earning a certificate remain enroll in their degree program throughout the certification process.
Combining with Degree Programs
Undergraduate degree program enrollments are declining. So, many schools are offering certificate programs in order to boost student numbers. In fact, certificates are the fastest growing post-secondary credential. When combined with a degree program, certificates could benefit students as well as schools. That's because certificate holders often learn industry specific training that may boost their career enhancement. This kind of specific skill-based learning often rounds out resumes with proof of relevant skill development for credentials that could stand out from the rest. Certificate programs also help schools enhance their offering for current students.
Credential stacking with certificates could provide a path for enrolled students to create a more versatile skillset. This strategy typically involves a sequence of targeted education and skills courses. Students can typically proceed through a certificate curriculum on a faster timeline than many traditional degree programs. They could also develop a deeper understanding of relevant tools and how to use them.
Benefits of Pursuing an Undergraduate Certificate
Certificate programs often provide an efficient route for students to earn career credentials, taking less time and money. That's because these programs usually proceed faster and often cost less than traditional degree programs and are usually online. Benefits like these have potential to make stacking credentials easier and more convenient than a typical accelerated degree program. In fact, students pursuing certificates often earn credits that apply to an undergraduate degree as well. Industries increasingly value, and sometimes request, certification to verify relevant job skills and knowledge. Let's explore additional benefits to certificate programs.
Diverse fields of study
From business and healthcare to technology and the arts, certificates reach across a diverse range of subjects. Each topic presents opportunities for several certifications. For instance, in healthcare students could pursue certificates in Medical Billing and coding, Phlebotomy, Dental Assistant, Pharmacy Technician, Clinical Medical Assistant, or Emergency Medical Technician (EMT). Earning certificates like these could help expand a student's resume, give them more flexibility in career choices, and enhance their appeal to potential employers.
Certificate programs give individuals the chance to deepen knowledge in a variety of specific areas. Students may then discover if the career goals they're considering match their potential job skills and experiences. Even if a nursing student finds out they don't want to draw blood after earning their Phlebotomy certificate, it helps boost their resume and adds credits toward their degree.
Filling skill gaps
Sometimes certificate programs also help those in the workforce who may be seeking job enhancement. That's. That's because when pursuing a certificate, individuals could acquire targeted skills and practical training applicable to their chosen industry. This could serve as professional development to help address skill gaps, enhance employability, and improve job performance.
Some employers encourage, reimburse, or even cover certificate programs for employees as upskilling options. Typically, professional certifications provide validation for mastery of the subject matter and skills developed. These learning outcomes could enhance a certificate holder's on-the-job practical skills and maybe even create potential for a promotion. So, certifications could benefit the workplace as well as the certified employee.
Flexibility and accessibility
Certificate programs tend to offer more flexibility than traditional degrees thanks to remote and part-time learning options as well as their targeted and accelerated coursework. Colleges are aware that certificate seeker are often also earning a degree or working and want to fit certificate studies into an already busy lifestyle.
Some of the ways schools help make certificates more accessible include part-time options, online learning, and evening classes. These flexible options give students with other commitments a chance to integrate a certificate program into their schedule. An accelerated learning rate also helps enrollees pursue a certificate without too much disruption because these programs often take a year or less. By contrast, traditional degree programs typically require two to four years of full-time enrollment.
Competency certificates hone in on specific skill acquisition and practical training with targeted courses. Certificate students often complete the program requirements without need for general studies classes. This has potential to free up more time for certificate seekers to meet other commitments while also achieving their education objectives.
Who Should Consider Undergraduate Certificates?
Undergraduate certificates often work well for enrolled students pursuing an associate or bachelor's degree. But these certificate programs may also serve recent high school graduates, working professionals, career changers, as well as anyone seeking to upskill and expand their contribution at work.
Recent high school graduates could enroll in certificate courses as an efficient and cost-effective way to boost their qualifications for entry level opportunities or degree programs. Working professionals may earn a certificate for skill acquisition to help increase their potential for a promotion. Others who may be considering a career transition can pursue certificates to learn job ready skills missing from their resume. This could enhance their employability while also serving as a way to try out aspects of this potential career change.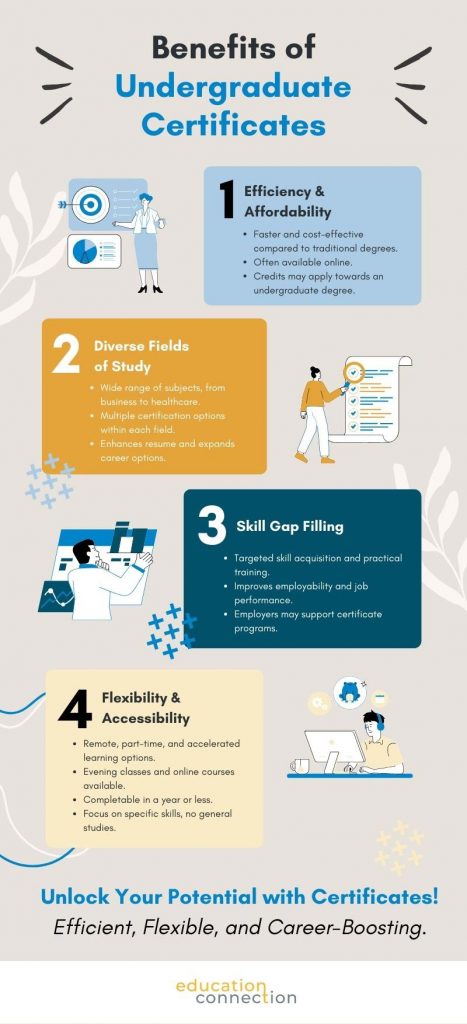 Want to use this Benefits of Undergraduate Certificates infographic on your site? Just use the code below!
Career Opportunities
Certificate courses may help enhance marketable qualifications for career focused students as well as employed people. Some may jumpstart a career with a 3- or 6-month competency certificate such as web designer, real estate agent, personal trainer, or air traffic controller. These serve as examples for how certificate courses may open entry level career pathways.
Healthcare industry specific training also includes opportunities for career enhancement thanks to certificate programs. From healthcare newcomers earning a phlebotomy certificate to practicing nurses seeking to fast-track credentials for a promotion, certificates serve healthcare practitioners at various levels. Here are specific examples of career opportunities with associated certificate programs.
1 Licensed Practical/Vocational Nurse (LPN)
---
In the role of an LPN or LVN, you might find yourself tending to elderly patients, whether in their homes or within residential care facilities. The increasing prevalence of conditions such as diabetes and obesity is likely to generate a heightened need for nurses. Additionally, the growing prominence of outpatient care centers could result in an increased demand for LPN positions.
Median annual salary, 2022:
$54,620 per year
Projected employment, 2022-2032
5%
2 Surgical Technologist
---
As a Surgical Technologist, you have the opportunity to support medical teams and surgeons throughout the entire surgical process, including pre-operation, during the procedure, and post-operation. Prior to the surgery, your responsibilities may involve tasks such as sterilizing equipment and preparing the patient. In the course of the operation, you may aid doctors by passing instruments and maintaining an inventory of supplies. Subsequently, your duties could include tasks like applying bandages to the patient and replenishing supplies in the operating room.
Median annual salary, 2022:
$55,960 per year
Projected employment, 2022-2032
5%
3 Court Reporter
---
As a Court Reporters, you have the opportunity to generate verbatim transcriptions during trials, depositions, and various legal proceedings. Simultaneous captioners offer comparable transcriptions for television or presentations in diverse settings, like press conferences and business meetings, catering to individuals who are deaf or hard of hearing.
Median annual salary, 2022:
$63,560 per year
Projected employment, 2022-2032
3%
4 Fire Investigator/Inspector
---
As Fire Investigators/Inspectors, you have the responsibility of examining fire scenes to identify their origin and cause. Your tasks include assessing fire damage, gathering evidence, and conducting witness interviews to reconstruct the events leading to the fire. Additionally, you inspect structures to ensure compliance with fire codes and safety regulations, providing recommendations for improvements as needed. Your role is crucial for preventing future fires and enhancing overall fire safety.
Median annual salary, 2022:
$69,450 per year
Projected employment, 2022-2032
5%
Conclusion
Earning an undergraduate certificate could springboard new job opportunities or enhance a stagnant career. Certificate programs offer a variety of flexible learning options from a 3-month online course to a year of skill-based learning on site at a university. You could explore targeted education opportunities like these to deepen your knowledge and career prospects.