Top Online Human Services Degree Programs
Get matched to an Online Human Resource Management Degree Program for FREE!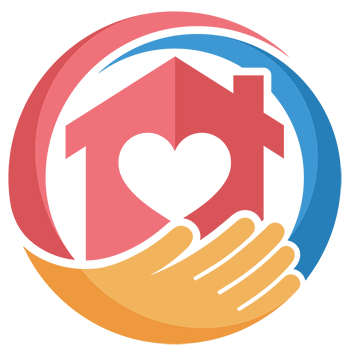 What is an Online Human Services Degree?
Human services programs focus on improving communities and helping people in need. You'll study issues affecting different populations – from veterans to the LGBTQ community. And, you'll learn about policies and programs that can assist.
Human services is a broad field. It includes roles in counseling, social work, personal care, and more. So, programs often reflect this diversity. You could study anything from abnormal psychology to the needs of aging people. Some programs offer concentrations – like criminal justice or child and adolescent services.
Earning a degree in human services may be ideal if you're compassionate and enjoy serving others. This kind of program could be a jumping-off point for many career paths that make a difference in the world.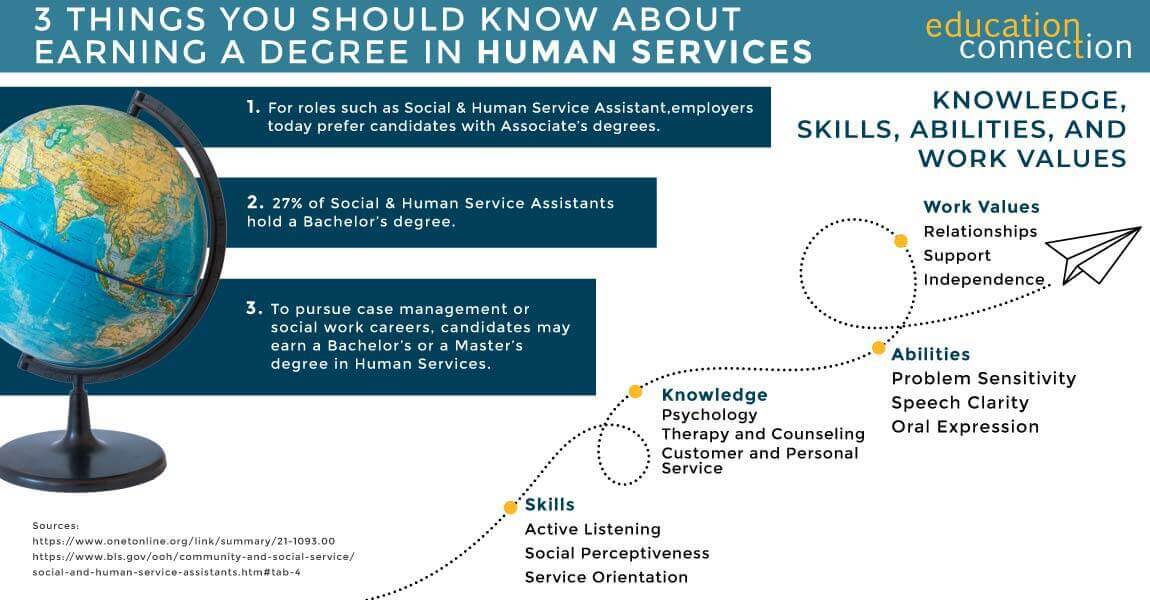 Bachelor Degrees
BS – Human Services
---
This program covers many areas in community and social services. These include elderly support, case management, crisis intervention, and more. You'll learn how to make a difference in diverse contexts – from families to organizations.
---
Courses include:
Human Development
Human Services Administration
Working in Modern Society
MASTER DEGREES
M.S. in Human Services – Organizational and Social Services
---
This M.S. program is designed for current professionals in human services. It explores issues and skill areas in this field, like delivery and accessibility of services. You'll also study how to plan and administrate programs that meet community needs.
---
Courses include:
Skills and Practice in Human Services
Professional Ethics & Personal Values
DOCTORAL DEGREES
Ph.D. in Human Services – Human Services Administration
---
The PhD program focuses on global policy, research, and practice. Candidates apply theory to current challenges and even conduct original research. The Administration track also covers leadership and management of nonprofit organizations.
---
Courses include:
Board Governance and Volunteer Management
Grant Writing
Research Theory, Design & Methods
ONLINE HUMAN SERVICES DEGREE PROGRAMS
Online human services programs focus on helping people with diverse needs. Coursework is usually interdisciplinary. So, you'll study social problems through lenses like psychology and public policy.
You could study human services at the undergraduate, Master's, or doctoral levels. Each program level has different learning goals and may lead to different outcomes.
HUMAN SERVICES ASSOCIATE'S DEGREE PROGRAMS
An online Associate's program introduces you to the complex field of human services. You could study psychology, sociology, and the history of social services. You'll explore human diversity – including race, gender, and sexuality. And, you could prepare to work with people experiencing a wide range of challenges.
Courses may include:
Delivery of Human Services
Substance Abuse
Legal and Ethical Issues in Human Services
Working with Families
Overcoming Prejudice and Discrimination
There are a few types of Associates in Human Service's programs. Two common ones are:
Associate of Science (AS) in Human Services – This program may be perfect for students interested in further study. You could build foundational knowledge needed to pursue a Bachelor's program, later. Programs could focus on both theory and skill areas.
Associate of Applied Science (AAS) in Human Services – This program may be ideal for those seeking entry-level career paths in human services. You could focus on applying concepts in practice. So, fieldwork may play a bigger role.
Human Services Bachelor's Programs
In an online Bachelor's program, you'll take a more comprehensive look at the human services field. You could examine policy, fundraising, and grant-writing. You could learn the ropes of leadership and administration for human services organizations. And, you might delve into areas like crisis intervention and case management.

These areas are interconnected but could also open your eyes to unique paths in Human Services. Besides your coursework, your program may let you choose a concentration. These could include:

Addictions and Mental Health Counseling
Children and Youth
Human Services Administration
Criminal Justice
Gerontology
And, many Human Services programs require practicums or internships. These could be a chance to put your knowledge into practice, in a supervised setting.

Two common Human Services Bachelor's programs include:

Bachelor of Arts (BA) in Human Services – A BA is a liberal arts degree that may take more of an interdisciplinary approach. So, you might be able to pursue more electives.
Bachelor of Science (BS) in Human Services – A BS program focuses more on the sciences, and courses within the major. So, there may be a bit less flexibility and fewer electives.
Human Services Master's Programs
Online Master's in Human Services programs could help you take your knowledge even further. You could prepare for enhanced roles, like leadership. And, you could hone your career focus by choosing a concentration – like counseling or administration.

Often, online Master's programs are aimed at working Human Services professionals. They may be perfect for those looking to take their careers in a new direction, like case management or social work.

Doctorate in Human Services
Online Human Services doctorates are usually PhD programs. They call for a combination of coursework and research. You could seek answers in more complex areas of human services – like strategic planning and evidence-based practice. In most cases, you'll have to write an original dissertation.

Featured Online Schools
1
Southern New Hampshire University
Take advantage of some of the nation's most affordable tuition rates, while earning a degree from a private, nonprofit, NEASC accredited university
Qualified students with 2.5 GPA and up may receive up to $20K in grants & scholarships
Multiple term start dates throughout the year. 24/7 online classroom access.
Offering over 200 online degrees
Popular Online Programs
Business Administration, Psychology, Information Technology, Human Services…
2
Purdue Global University
Experience world-class education online with more than 175 programs at associate's, bachelor's, master's and doctoral levels.
Competency-based ExcelTrack™ Programs may allow you to earn your degree faster and for less money
Courses taught by highly respected faculty members who are experts in their fields
Full range of student services including no cost tutoring in math, science and writing
Available Online Programs
Business, Analytics, Computer Science, Cyber Security, Healthcare Management, RN to BSN, Criminal Justice, Psychology

3
Colorado State University
Ranked #8 by U.S.News & World Report for Best Online Bachelor's Programs
Apply up to 90 transfer credits for bachelor's students, and 9 transfer credits for master's degree students.
CSU Global graduates experience a return on investment of 4:1, which means they receive $4 in salary and benefits for every $1 they invest in their education.
Online Programs Include:
Accounting, Business Administration, Criminal Justice, Psychology & Information Technology

Sponsored
How Long Does It Take to Earn a Human Services Degree Online?
An Associate's program in Human Services is roughly 60 to 64 credits long. For full-time students, it usually takes about two years.

Earning a Bachelor's in Human Services requires about 120 credits. This program usually takes about four years for full-time students.

Master's programs call for about 30 to 40 credits. They usually take one to two years, or longer.

Earning a PhD in Human Services usually calls for 55 to 62 credits. Other requirements, like the dissertation, can lengthen the program. But, many students finish in three to four years.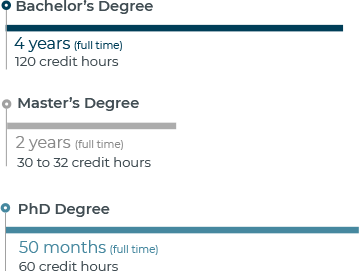 HUMAN SERVICES DEGREE PROGRAMS THAT COULD BE COMPLETED IN 20 MONTHS
| School | # of Credits Required | Start Dates | Minimum Months to Complete |
| --- | --- | --- | --- |
| Walden University | 48 quarter credits | Multiple | 20 |
| Liberty University | 30 | Multiple | 18 months |
| Rasmussen College | 91 | Multiple | 18 months |
THE AVERAGE COST OF A HUMAN SERVICES DEGREE
The closest tuition data is for Public Administration and Social Services programs. Students in these programs paid median in-state public tuition of $7,098 in 2016. Median tuition for out-of-state private colleges was $30,780.
Compare the above costs with tuition prices for these sponsored Human Services programs:
| School | # of Credits Required | Cost Per Credit | Total Tuition Cost |
| --- | --- | --- | --- |
| Purdue Global University | 45 | $420 | $18,900 |
| Colorado Technical University | 183 | $325 | $59,475 |
| UMass Online | 120 | $390 to $525 | Up to $63,000 |
TOP SCHOOLS FOR HUMAN SERVICES DEGREE PROGRAMS
Last check, there were 1,343 schools with Public Administration & Social Services programs. From those schools, there were 96,192 degrees awarded to students. The majority (51.2%!) of these were Bachelor's degrees.
| School | 2016 Total Grads/Degrees Awarded | 2018/19 Tuition* (Out of State Unless **) |
| --- | --- | --- |
| Liberty University | 2,023 | $22,584** |
| University of Phoenix-Arizona | 1,884 | $19,375** |
| University of Southern California | 1,821 | $56,225** |
| New York University | 943 | $51,828** |
| Grand Canyon University | 882 | $17,050** |
| Columbia University in the City of New York | 863 | $59,430** |
| Rutgers University-New Brunswick | 784 | $31,282 |
| SUNY Empire State College | 777 | $17,185 |
| Walden University | 764 | $12,120** |
| The University of Texas at Arlington | 762 | $26,533 |
*Estimated expenses for beginning, full-time undergraduate students
Accreditation for Online Human Services Degree Programs
It's important to earn your human services degree from an accredited school. For one, your school must be accredited to be eligible for federal financial aid. (Financial aid may be available for those who qualify.)

Besides school accreditation, your program could be individually accredited. The Council for Standards in Human Service Education (CSHSE) reviews programs to help ensure quality. CSHE-accredited programs adhere to national standards for education in human services. These standards vary by program level. At the Bachelor's level, they include:

Faculty with education and experience in human services
Cultural competence, including knowledge of diversity
Resources for students, including technology and library access
Coursework requirements – like Client Interventions and Strategies
Field experience within the curriculum
A CSHE-accredited Human Services program could also help you prepare to earn professional certification. Human Services Board-Certified Practitioner certification (HS-BCP) adheres to the same national standards as CSHE. This credential could help you showcase your professional knowledge.

Requirements for HS-BCP certification include:

At least an Associate's degree in Human Services or a related field
Your degree must be earned at a regionally accredited or state-approved school
Coursework in 11 content areas (including Group Work, Case Management, Social Welfare, and more)
350 hours of postgraduate human services work experience (graduates of CSHE-accredited programs, among others, are exempt)
You must recertify every five years. This calls for 60 hours of continuing education.

What Jobs Can You Get with a Human Services Degree?
As of 2016, there were 725,950 Public Administration & Social Service graduates in the workforce. This group had a one-year growth rate of 6.19%. 25.4% were employed as Social Workers.

Does the average human services worker sound like you? 79% of people who earned a Public Administration and Social Service degree were female. And, the average age of a degree-holder in the workforce was 43.2 years old.

Top Salaries by State for Social and Human Service Assistants
| State | Employment | Annual Mean Wage |
| --- | --- | --- |
| California | 55,880 | $44,090 |
| District of Columbia | 1,880 | $43,830 |
| Connecticut | 7,300 | $40,810 |
| Washington | 7,120 | $40,040 |
| Alaska | 1,000 | $37,710 |
Careers with a Human Services Degree
HUMAN SERVICES ADMINISTRATOR
These professionals run the administrative side of human services organizations. Duties could include records and information management, facilities planning, and hiring workers. Administrators must know about personal service, management, and clerical tasks. Communication skills and relationship-building are important in this role.
Median Salary: $94,020 per year
Job Growth Through 2026: 10 to 14% (Faster than average)
Typical Entry-level Education: Career training or Associate's degree

COMMUNITY ORGANIZER
Community Organizers help put in place people and structures that achieve community goals. They listen to community members and determine the problems and issues the group wants to address. They plan ways to bring about change. And, they recruit and develop leaders who can make an impact.
Median Salary: $41,570 per year
Job Growth Through 2026: 10 to 14% (Faster than average)

SOCIAL & HUMAN SERVICE ASSISTANTS
These professionals provide client services in areas like psychology, rehabilitation, and social work. They may help people from certain groups, like veterans or people with addictions. They may also help social workers with their duties. Human Service Assistants need knowledge of areas like psychology, counseling, and personal service.
Median Salary: $33,120 per year
Job Growth Through 2026: 15% (Much faster than average)
Typical Entry-level Education: Certificate or Associate's degree