Top Online Logistics Degree Programs
Get matched to an Online Logistics Degree Program for FREE!
What is an Online Logistics Degree Program?
An online logistics degree program teach how to keep operations running smoothly. That means knowing how to organize and manage supplies, people, and facilities. The goal? To make sure a business can stay competitive in the global market place.
This study is often paired with supply chain management (SCM). That refers to the flow of goods and services – from raw materials to finished products. So, you'll take a close look at how materials and goods are transported. And, you'll learn how to increase efficiency and reduce costs.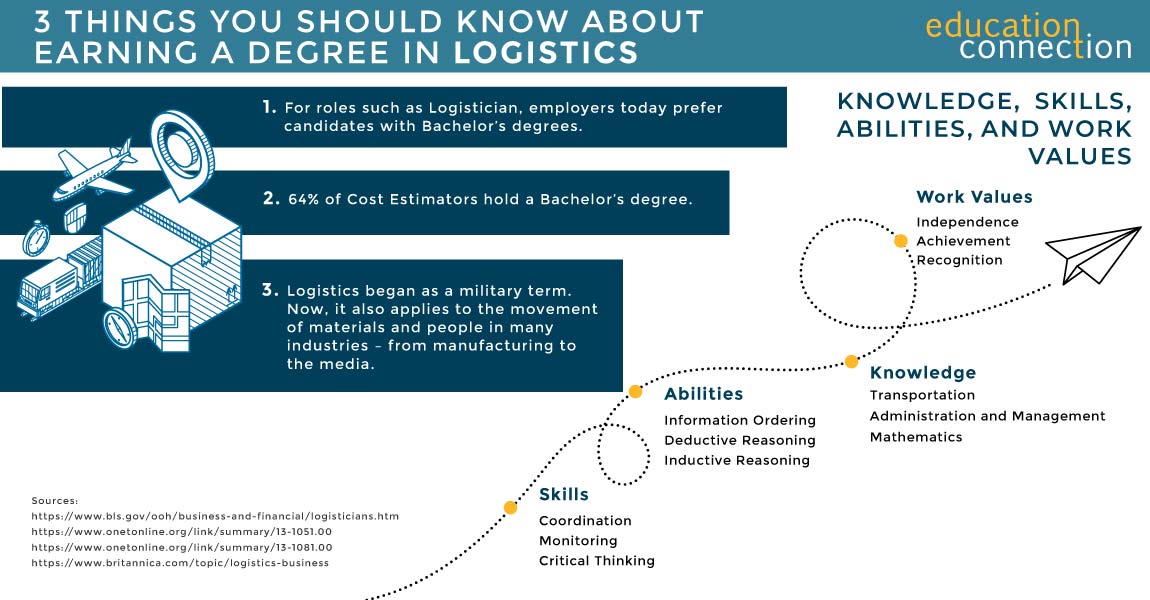 TYPE OF ONLINE LOGISTICS DEGREES
A.S. in Logistics and Supply Chain Management
B.A. in Transportation and Logistics Management
M.S. in Logistics Management
This program covers the basics of logistics and SCM. You will study the theory and practice of how to coordinate business operations. And, you'll delve into topics like transportation, warehouse operations, and more.
This program focuses on all types of transportation, across diverse industries. You'll learn how to apply analysis to logistics and SCM. And, you'll explore how transporting can impact the economy, the environment, and more.
In this program you will take an advanced look at managing. You'll learn what goes into moving goods, resources, and info. You'll learn your options for transport and which ones are best in your industry. And, you'll dive into the business knowledge managers need.

Purchasing
Production and Operation
Management of Information Systems

Management
Distribution Systems
Transportation Economics

Policy
Inventory Control
Cost and Analysis
Online Logistics Degree Programs
Online programs in this field can be found at the undergrad and grad levels. They all focus on how to coordinate operations, transport, and the move goods. But, programs build on each other to explore more advanced material.
Undergrad Logistics Programs
Undergrad degree programs provide an overview of the field. You'll learn how logistics and SCM work – and why they are the foundations of business.
Courses in your major touch on the process involved in the field, both locally and around the globe. Like purchasing, warehousing, transportation, inventory, and more. You could study the laws and policies that govern logistics. And, you could explore trends and newer issues in the field – like the growing focus on environmental impact.
These programs feature gen ed courses, courses in your major, and electives. But a Bachelor's program dives deeper. (Most logisticians need to earn a Bachelor's degree.)
In a Bachelor's program, you could take a more nuanced look at things from economics to transportation analysis. You could also take more business courses in areas like marketing and finance.
What undergrad degree programs to look for:
A.S. in Logistics and Supply Chain Management
A.A.S. in Management – Maritime Logistics
B.S. in Logistics Management
B.A. in Transportation and Logistics Management
S. in Business – Logistics Management
Grad Logistics Programs
At the grad level, these programs zero in on leadership and research in the field. You'll build on prior knowledge to explore advanced concepts – like logistics policy, material acquisition management, and more.
Master's programs – like the MBA – may focus on manager skills. You could study the management of things from assets and HR to traffic and transport. Expect to study the theory and methods behind both how to coordinate logistics and lead teams.
Research is part of most Master's programs. But at the PhD level, research is often the main focus. PhD students focus on new ways to solve problems in the field.
What grad degree programs to look for:
M.S. in Logistics Management
MBA in Logistics Management
DBA in Logistics & Supply Chain Management
PhD in Logistics
Featured Online Schools
1
No application fee for April & June terms.
Take advantage of some of the nation's most affordable tuition rates, while earning a degree from a private, nonprofit, NEASC accredited university
Qualified students with 2.5 GPA and up may receive up to $20K in grants & scholarships
Multiple term start dates throughout the year. 24/7 online classroom access.
Popular Programs
Business Administration, Psychology, Information Technology, Human Services…

2
Ranked #8 by U.S.News & World Report for Best Online Bachelor's Programs
Apply up to 90 transfer credits for bachelor's students, and 9 transfer credits for master's degree students.
CSU Global graduates experience a return on investment of 4:1, which means they receive $4 in salary and benefits for every $1 they invest in their education.
Available Programs
Business, Computer Science, Criminal Justice, IT, Psychology…

3
Save up to 25%. Save thousands on your bachelor's with the Strayer Graduation Fund.
Strayer University is an accredited institution with a proud history of 125 years in quality education.
With the help of dedicated personal support and AI technology, earn your degree online or on campus.
Programs Include
Accounting, Business Administration, Criminal Justice & Information Technology

Sponsored
Courses You Could Take in an Online Logistics Degree Program
Your courses will cover how business and supply chains work. Like how people, raw materials, and goods move from place to place. This complex system has many moving parts. So, expect to take courses that zoom in on all of the different aspects – from finance to transportation.
Some courses include:
Purchasing & Inventory Management: &nbspEverything from supplies and raw materials to finished products must be accounted for. This course covers the concepts and techniques you'll need, like supplier selection, contract negotiations, and procurement.
Global Logistics Management: &nbspIn our globalized society, goods move all around the world. In a course like this, you'll learn about key practices and considerations for importing, exporting, and even offshoring your operations.
Supply Chain Sourcing: &nbspThis course focuses on where goods and materials come from. You'll learn about supply and demand, sourcing materials from around the globe, and managing everything from raw materials to completed orders.
Distribution Management: &nbspDistribution is how materials and products get from point A to point B. But, it's much more complex than that. DM courses cover things from warehousing techniques and layout to the regulations that restrict transportation of goods.
How Long Does It Take to Earn a Degree in Logistics?
 An Associate's program may take about two years for full time students to earn. A Bachelor's degree takes at least four years, on average.
Grad programs may vary in length. For instance, an online DBA in Supply Chain and Logistics may take up to five years to earn.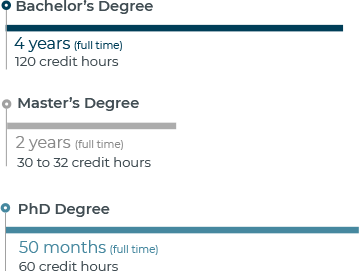 Logistics Degree Program Examples
| | | | | |
| --- | --- | --- | --- | --- |
| School | Degree Level | # of Credits Required | Start Dates | Minimum Months to Complete |
| Liberty U | MBA | 45 | Multiple | 24 months |
| Colorado Christian U | Associate's | 60 | Multiple | 24 months |
| Penn State World Campus | Master's | 30 | Multiple | 24 months |
The Cost of a Logistics Degree Program
The NCES lists the average cost of going to a public, four year school as $19,189 per year. For private and for profit schools, the average cost per year was $39,529. Compare costs for these schools that offer programs in this field:
| | | | | |
| --- | --- | --- | --- | --- |
| School | Degree Level | # of Credits Required | Cost Per Credit | Total Tuition Cost |
| Southern New Hampshire U | Bachelor's | 120 | $320 | $38,400 |
| Arizona State U | Bachelor's | 120 | $707 | $84,840 |
| Florida International U | Bachelor's | 120 | $345.87 | $41,502 |
Top Schools That Offer Logistics Degree Programs
NCES lists 296 schools with logistics, materials, and SCM programs. From those schools, 7,669 degrees were awarded to students in 2016 (the most recent data). The most common degree was the Bachelor's (68%).
| | | |
| --- | --- | --- |
| School | 2016 Degrees awarded | 2018/19 Tuition (out of state) |
| Michigan State U | 380 | $39,766 |
| American Public U System | 357 | $6,880 (no out of state tuition) |
| The U of Tennessee Knoxville | 328 | $31,426 |
| Texas A & M U College Station | 250 | $37,495 |
| Ohio State U Main Campus | 219 | $30,742 |
| U of Maryland College Park | 207 | $35,216 |
| U of Arkansas | 162 | $25,168 |
| Iowa State U | 162 | $23,392 |
| Central Michigan U | 154 | $24,120 |
| Columbus State Community College | 147 | $8,906 (out of state) |
Choosing an Accredited Logistics Degree Program
Accreditation can help to make sure a program meets certain standards. For starters, look for an online school that is regionally accredited at the institute level.
Also, the Accreditation Council for Business Schools and Programs (ACBSP) accredits business programs in logistics. These are Associate's, Bachelor's, and grad programs.
ACBSP bases its accrediting on select things, like student learning, staff, curriculum, and more. So, choosing an ACBSP accredited program can help make sure of the quality of your education.
What Can You Do with a Logistics Degree?
According to the most recent census data, the work force has 10.9 million business degree holders. That includes those who earned degrees in logistics, materials, and SCM.
More males (65.3%) hold a degree in this field. The average age of a degree holder in the work force is 43.7 years old.
As a whole, it is a growing field. It is part of the business and financial sector, which is supposed to grow 10% from 2016 to 2026. Not only are supply and distribution systems key to business, but they have become more complex in recent years. So, these pros may be needed to solve problems and improve efficiency.
Top Salaries by State for Logisticians
| | | |
| --- | --- | --- |
| State | Employment | Annual Mean Wage |
| Rhode Island | 600 | $105,730 |
| District of Columbia | 1,210 | $95,000 |
| Maryland | 5,440 | $91,710 |
| Washington | 6,270 | $90,240 |
| Alabama | 3,730 | $87,600 |
Jobs with a Logistics Degree
Logistician
These pros manage a supply chain. That means both dealing with how products move from supplier to consumer, and analyzing the system to increase efficiency. They are responsible for the entire life cycle of a product. In other words, they manage how products are acquired and delivered – and even how they are disposed of.
Median Salary: $74,600 per year
Job Growth Through 2026: 7% (as fast as avg)
Common Entry level Education: Bachelor's degree
Industrial Production Manager
These managers are responsible for daily operations – often in manufacturing plants. They manage workers and equipment, coordinating activities to meet production goals. They may oversee the entire production process, or manage one part of it. And, they can work in different industries – from food to machinery.
Median Salary: $103,380 per year
Job Growth Through 2026: -1%
Common Entry level Education: Bachelor's degree
Cost Estimator
Cost Estimators estimate the amount of time, money, materials, and labor that are needed for a process. They collect and analyze data, and work with stake holders to predict costs. They may work across different industries.
Median Salary: $64,040 per year
Job Growth Through 2026: 11% (faster than avg)
Common Entry level Education: Bachelor's degree