Top Online Medical Assistant Programs
Online Medical Assisting Programs May Be Completed In 18 Months!
WHAT IS A MEDICAL ASSISTANT?
Medical assistants (MAs) are the people who greet you at the front desk of a doctor's office. They help out in other health care teams too. Some of what MAs do is take care of office tasks. Things like setting up appointments. Yet other skills involve simple patient care duties. Things like taking down your vital signs. It is also important to note that 65% of MAs have earned a post-secondary certificate. These certificates may be completed as an online medical assisting program, or in a local campus.
Often the role a medical assistant plays varies on where they work. But they are always supervised by a licensed health care provider. No matter where the job, MAs have a lot to offer. Because of this, their skills are in demand. Reports show a surge of 29 percent job growth over the next few years. If you're thinking about it, you'll want to find out how to prepare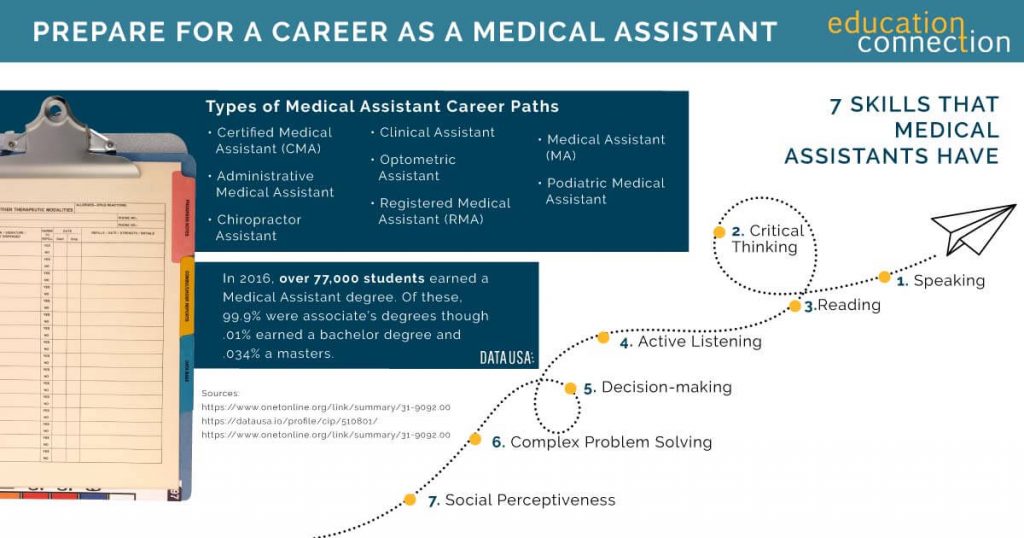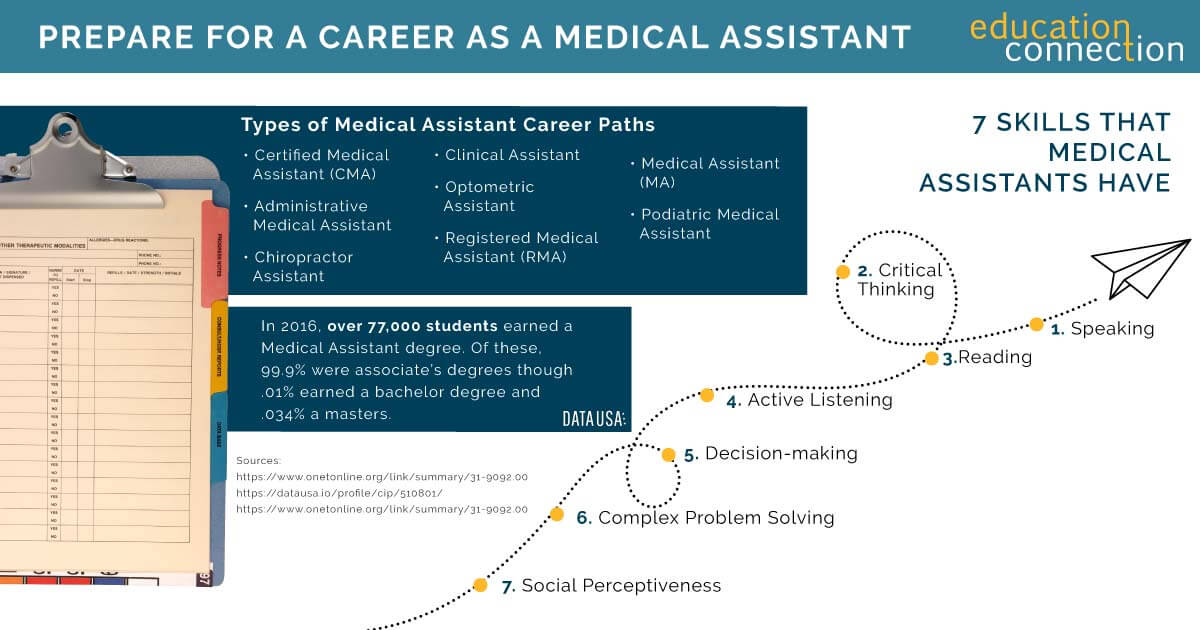 Medical Assistant Responsibilities
Where Medical Assistants Work
Types of Medical Assistants
Record Patient History
Answer telephones
Arrange lab services
Enter & update electronic health records
Schedule appointments
Measure vital signs
Most Medical Assistants (57%) work in physicians' offices.
Others work in hospitals, outpatient care centers and in chiropractors' offices.
Administrative medical assistants
Clinical medical assistants
Ophthalmic/Optometric
Assistants
Podiatric Medical Assistants
MEDICAL ASSISTANT CERTIFICATES AND PROGRAMS
Online Medical Assistant programs help students learn the basics of health care. Some courses study the body and its systems. Others focus on medical words and their meaning. You may also become familiar with the names of different drugs and lab tests.
Time spent in the lab is more hands-on. These courses are all about using tools of the trade. Things like preparing blood samples for the laboratory. Or, learning how to use specific software like electronic health records (EHRs).
Working With Patients
You'll also study how to deal with patients. This may mean learning how to measure vital signs. Or, the friendly ways to greet patients and check them in. As a result, you'll have a deeper sense of how to communicate with clients in an ethical and professional manner.
It's likely you'll also study some of the day-to-day office procedures. These courses often ready you to schedule appointments. Also, things like how to assist with patient insurance claims and use medical coding.
Some schools have course plans that serve as study guides. They often ready grads to take industry exams. Apart from classes, your program may require you to do an externship. This is one way to apply classroom learning in real time. As an online student, you may be able to do this in a nearby clinic or doctor's office.
Medical Administrative Assistant Certificate: A focus on how to manage an office. You'll likely study patient privacy and data security. This may suit the student who has strong people skills and prefers office tasks.
Medical Billing and Coding Certificate: This may suit someone who likes to use computers. You'll likely focus on software and systems. Courses may ready you to take the Certified Coding Associate (CCA) or CCS certification exam offered by AHIMA – American Health Information Management Association.
A.S. Health Sciences – Medical Administrative Assistant: Courses may prepare you to take the Certified Medical Administrative Assistant (CMAA) exam. Pursuing a full degree also leaves the door open to future studies. You may decide later to work towards a degree such as a Bachelor of Science in Health Science or a Health and Wellness Bachelor's Degree-Completion Program.
Medical Office Administration Certificate: Study the ins and outs of insurance processing and other office tasks. May also ready grads to sit for Certified Medical Administrative Specialist (CMAS), Certified Coding Associate (CCA), National Certified Medical Office Assistant (NCMOA) exams.
Featured Online Schools
1
Southern New Hampshire University
Take advantage of some of the nation's most affordable tuition rates, while earning a degree from a private, nonprofit, NEASC accredited university
Qualified students with 2.5 GPA and up may receive up to $20K in grants & scholarships
Multiple term start dates throughout the year. 24/7 online classroom access.
Offering over 200 online degrees
Popular Online Programs
Business Administration, Psychology, Information Technology, Human Services…
2
Purdue Global University
Experience world-class education online with more than 175 programs at associate's, bachelor's, master's and doctoral levels.
Competency-based ExcelTrack™ Programs may allow you to earn your degree faster and for less money
Courses taught by highly respected faculty members who are experts in their fields
Full range of student services including no cost tutoring in math, science and writing
Available Online Programs
Business, Analytics, Computer Science, Cyber Security, Healthcare Management, RN to BSN, Criminal Justice, Psychology

3
Colorado State University
Ranked #8 by U.S.News & World Report for Best Online Bachelor's Programs
Apply up to 90 transfer credits for bachelor's students, and 9 transfer credits for master's degree students.
CSU Global graduates experience a return on investment of 4:1, which means they receive $4 in salary and benefits for every $1 they invest in their education.
Online Programs Include:
Accounting, Business Administration, Criminal Justice, Psychology & Information Technology

Sponsored
WHAT TYPES OF CLASSES WILL I TAKE?
We've compiled a sample course plan to help you get an idea of what you may study in a medical assistant program. Since each school has unique courses, make sure to look at their syllabus. This way you'll see if it agrees with your goals.
Anatomy
Physiology
First Aid
Laboratory Techniques
Insurance Processes
First aid
Record Keeping
Patient Relations
HOW LONG DOES IT TAKE TO BECOME A MEDICAL ASSISTANT?
Diploma and certificate medical assistant programs may last between 10 months and 1 year. Full-time students pursuing an associate's degree often take about two years. Students who've earned a certificate may be able to complete their degree quicker.
ONLINE MEDICAL ASSISTANT PROGRAMS
| School | # of Credits Required | Start Dates | Minimum Months to Complete |
| --- | --- | --- | --- |
| Rasmussen College | 38 | Multiple | 9 months |
| Ultimate Medical Academy | 61 – 62 | Multiple | 18 – 21 months |
| Trident University | 36 | Multiple | 12 months |
HOW MUCH DOES MEDICAL ASSISTANT SCHOOL COST?
Some schools have two prices for online medical assistant programs. One for in-state and the other for out-of-state residents. Recent data lists the average out-of-state tuition as $16,685. This cost is on the rise by 6.39 percent. The average in-state tuition which is $3,604 is also increasing (by 6.29 percent).
At college, you'll pay for the credits you complete. In other words, if you pursue a certificate, it may cost less than an associate's degree. Certificates need fewer courses.
Many schools offer ways to save. Military and veteran students are often able to get a lower rate. Or, they may have credit transfer policies. This means using prior credits, so you'll have less to do and pay for. Make sure to also know what the fees are to graduate. Course materials are extra too.
Apart from these expenses, you may need to pay to take industry exams. Plus, you'll pay a fee for your certification – and to recertify. The CMA exam may cost $125 if you're a member of the AAMA or a CAAHEP or ABHES completing student or recent graduate. You can check these figures on agency web sites.
| School | # of Credits | Cost Per Credit | Total Tuition Cost |
| --- | --- | --- | --- |
| Trident University | 36 | $1,158 | $13,900 |
| Purdue University Global | 57 | $371 | $21,147 |
| Ultimate Medical Academy | 61 | $404.75 | $24,690 |
TOP ONLINE MEDICAL ASSISTANT SCHOOLS
According to the Bureau of Labor Statistics, the largest share of institutions with Medical Assistant programs are Public, 2-year institutions. Those schools awarded 77,811 degrees to students. The majority (99.9 percent) of these were associate's degrees. Not all of these awards were online medical assistant programs.
| School | 2017 Grads total/degrees awarded | Tuition (Out of State) |
| --- | --- | --- |
| San Joaquin Valley College – Visalia | 1,132 | $16,606 |
| Vista College | 868 | $15,450 |
| Ivy Tech Community College | 701 | $4,055 |
| ECPI University | 664 | $15, 051 |
| ASA College | 488 | $12,728 |
| Hunter Business School | 431 | $8,368 |
| Delgado Community College | 367 | $8,368 |
MEDICAL ASSISTANT CERTIFICATION
Can you be a medical assistant without certification? That depends on the state. In some states, MAs have to graduate from an accredited program, pass an exam, or both. In other states, formal education is not required. That said, today's employers tend to prefer graduates of medical assistant programs.
To set yourself apart, you may pursue post-degree certification. It's voluntary but shows others you have dedication and standard skills. Plus, standards are changing. As such, certified MAs may have a wider scope of duties than others. You should contact your state board of medicine for more details.
WHAT CERTIFICATION SHOULD A MEDICAL ASSISTANT HAVE?
The Certified Medical Assistant (CMA) is well-known. It is available through the American Association of Medical Assistants (AAMA). To be eligible you'll need at least a high school diploma. Graduating from an AAMA-approved school is also a must. The two agencieswho accredit medical assisting programs are:
Commission on Accreditation of Allied Health Education Programs (CAAHEP)
Accrediting Bureau of Health Education Schools (ABHES)
CMA applicants also need to complete a practicum (unpaid, supervised). The credential is valid for 60 months, so you'll have to recertify.
Types of Medical Assistants
Registered Medical Assistant (RMA) – The American Medical Technologists offers the RMA exam. You'll need to meet one of four eligibility paths: (1) education, (2) military, (3) work experience, (4) instructor. The RMA credential is good for 3 years and then you'll need to recertify.
National Certified Medical Assistant (NCMA) – The National Center for Competency Testing offers the NCMA exam. To take it, you'll need to be a current student or graduate of an NCCT authorized school. Others with two years of work or some military experience may also be eligible. Once you have the NCMA, you'll need to keep your status active.
Certified Clinical Medical Assistant (CCMA) – The National Healthcareer Association offers the CCMA and Certified Medical Administrative Assistant (CMAA) credentials. Once you have passed your exam, the certification will be active for two years. To stay current, you'll need to complete continuing education and renew.
Do you hope to work as a medical assistant in a certain kind of medical office? If so, you may choose to pursue one of the following:
MEDICAL ASSISTANT CAREERS
According to most recent data, there are over 4 million people working in the health industry! 634K of these people are estimated to be medical assistants. On average, most workers are 43.2 years old. However, the average age of a degree seeker is 27 to 28. 92% of degree seekers are female.
The medical assistant field is growing much faster than average at a rate of 15% by 2026. The average yearly wage of workers is $33,610, or $16.16 an hour.
/Alternatives to becoming an MA might include Health Information Technology, Health Service Managers and Medical Billing and Coding. All of these fields are also growing!
TOP STATES FOR MEDICAL ASSISTANT JOBS
The states with the highest employment level of medical assistants are:
| State | Employment | Annual Mean Wage |
| --- | --- | --- |
| California | 89,910 | $36,630 |
| Texas | 58,090 | $30,880 |
| Florida | 54,220 | $31,980 |
| Pennsylvania | 28,260 | $31,980 |
| New York | 25,140 | $36,220 |
MEDICAL ASSISTANTS
There are several types of medical assistant careers that may spark your interest.
Administrative medical assistants do many of the front office tasks like scheduling and answering the phones
Clinical medical assistants do basic lab tests and may have more responsibilities around patient care (prepare for x rays, draw blood etc.)
Optometric medical assistants may help an ophthalmologist in surgery or assist in an optometrist office
Podiatric medical assistants help foot doctors and may make castings of feet or help a podiatrist in surgery
Average annual salary (2017): $32,480 ($15.61/hr.) 
Job Growth to 2026: 29% (Much faster than average) 
Typical entry level education: Postsecondary non-degree award
MEDICAL SECRETARIES
Medical secretaries know their way around legal terminology and office tasks. Some of their work involves patient scheduling, billing, and keeping medical charts in order. They may also serve as the right arm to a physician, taking care of correspondence and emails.
Average annual salary (2017): $37,870 ($18.21/hr.)
Job Growth to 2026: -5% (decline) 
Typical entry level education: High school diploma or equivalent