Health Information Technician and Medical Records Programs
Get matched to an Online Medical Records and Health Info Tech Program for FREE!
What are Health Information Technicians or Medical Records Techs?
Health Information Technicians and Medical Records Techs are professionals who work with healthcare data. They are often known as HIT, short for health information technicians. And, they play a key role in healthcare organizations.
So, what exactly do they do?
First of all, health info techs document patients' information. That includes each person's medical history, symptoms, and test results. Technicians then organize and manage this data in paper and electronic filing systems. The goal is to make sure all data is accurate and secure. Additionally, technicians need to be able to find and use data for billing and other purposes.
Additionally some health information techs specialize in a particular role. For instance, medical coders review and code patient data for health insurance reimbursement. They are often a key link between healthcare providers and billing offices.
In summary, health information techs don't treat patients. But, they make sure doctors and nurses have the correct information at their fingertips. This is key to providing the best possible medical care!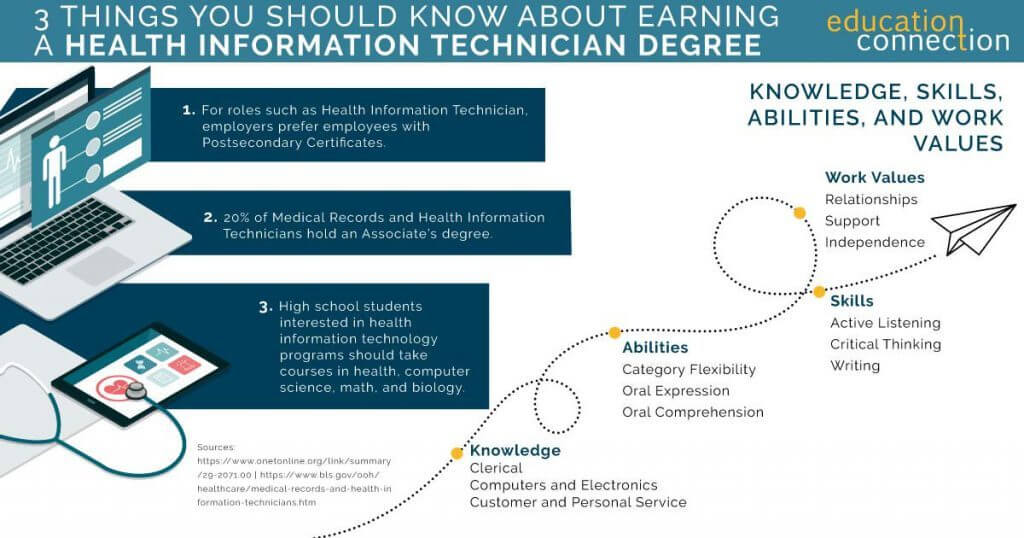 Health Information Technician Responsibilities
Review patient data for accuracy
Organize and manage databases
Track patient outcomes to assess quality
Use classification software to assign codes to data
Record data in an electronic form
Keep patient records confidential
Where Health Information Technicians Work

Health information technicians often work in hospitals. They may also work in physicians' offices, nursing care facilities, and other places.
TYPES OF HEALTH INFORMATION TECHNICIANS
Medical Coders – These technicians review and code patient data. This is necessary for billing and insurance purposes.
Cancer Registrars – These technicians work with cancer patients' information. They may code, compile, and analyze data related to cancer cases.
WHAT DEGREE DO YOU NEED TO BE A HEALTH INFORMATION TECHNICIAN?
Most health info technicians earn a postsecondary certificate or associate's degree. Both kinds of programs help you learn the ropes of healthcare data and how it's used. And either kind of program could prepare you to pursue certification, like RHIT.
HEALTH INFORMATION TECHNICIAN ASSOCIATE'S DEGREE PROGRAMS
Associate's degree programs give an overview of the field, including key skills. You'll study topics like health information management and medical coding. You'll get familiar with healthcare terms, practices, and ethical concerns. And, most programs touch on the biological sciences.
You may also take general education courses like Psychology or Communications. These courses could help you learn soft skills you may need for your career. For example, good interpersonal skills are important for health information technicians.
Look for associate's degree programs like:
Associate in Applied Science (AAS) in Health Information Technology
Health Information Technician (HIT) Associate's Degree
Associate of Science (AS) in Medical Billing & Coding
While programs vary, most offer courses like:

Medical terminology
Anatomy and physiology
Communication
Classification and coding systems
Healthcare reimbursement
Healthcare statistics
Computer systems
HEALTH INFORMATION TECHNICIAN CERTIFICATE PROGRAMS
Certificate programs offer many of the same courses as associate's degree programs. That includes medical terminology, human anatomy, and coding systems. But, certificate programs do not result in a degree. They call for fewer credits and tend to leave out the general education courses.
Some certificate programs focus on a specific area of the field. For instance, Coding Specialist Certificate programs cover clinical coding systems. You'll study the role of coding when it comes to billing for health services. And, you'll learn how to code medical records for health organizations like hospitals.
Featured Online Schools
1
Southern New Hampshire University
Take advantage of some of the nation's most affordable tuition rates, while earning a degree from a private, nonprofit, NEASC accredited university
Qualified students with 2.5 GPA and up may receive up to $20K in grants & scholarships
Multiple term start dates throughout the year. 24/7 online classroom access.
Offering over 200 online degrees
Popular Online Programs
Business Administration, Psychology, Information Technology, Human Services…
2
Purdue Global University
Experience world-class education online with more than 175 programs at associate's, bachelor's, master's and doctoral levels.
Competency-based ExcelTrack™ Programs may allow you to earn your degree faster and for less money
Courses taught by highly respected faculty members who are experts in their fields
Full range of student services including no cost tutoring in math, science and writing
Available Online Programs
Business, Analytics, Computer Science, Cyber Security, Healthcare Management, RN to BSN, Criminal Justice, Psychology

3
Colorado State University
Ranked #8 by U.S.News & World Report for Best Online Bachelor's Programs
Apply up to 90 transfer credits for bachelor's students, and 9 transfer credits for master's degree students.
CSU Global graduates experience a return on investment of 4:1, which means they receive $4 in salary and benefits for every $1 they invest in their education.
Online Programs Include:
Accounting, Business Administration, Criminal Justice, Psychology & Information Technology

Sponsored
HOW LONG DOES IT TAKE TO BECOME A HEALTH INFORMATION TECH?
Earning an associate's degree in health information technology takes about two years. (That is, if you are a full-time student.) These programs tend to range from 61 to 74 credits.
A certificate in medical coding may call for anywhere from 19 to 34 credits, give or take a few. So, you might be able to earn a certificate in less time than an associate's degree.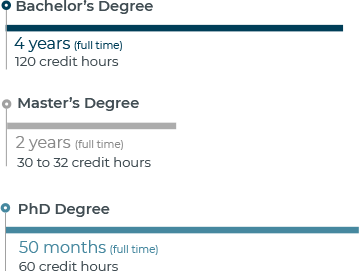 Health Information / Medical Records Technician Programs that could be completed in less than 18 months
| SCHOOL | # OF CREDITS REQUIRED | START DATES | MINIMUM MONTHS TO COMPLETE |
| --- | --- | --- | --- |
| Trident University | 36 | Multiple | 12 |
| Ultimate Medical Academy | 63.5 | Multiple | 70 to 75 weeks (about 17 months) |
HOW MUCH IT COSTS TO BECOME A HEALTH INFORMATION TECH
Your biggest cost will likely be your education program. In 2016, students in this field paid median in-state public tuition of $3,172. For out-of-state private colleges, median tuition was $22,253.
Compare tuition from a few other schools:
| SCHOOL | # OF CREDITS REQUIRED | COST PER CREDIT | TOTAL TUITION |
| --- | --- | --- | --- |
| Ultimate Medical Academy | 63 | $430 | $27,090 |
| Trident University | 36 | $1,158 (per course) | $13,900 |
TOP ONLINE MEDICAL RECORDS AND HEALTH INFORMATION TECHNICIAN DEGREE PROGRAMS
Last check, 468 schools offered health information technology programs. From those schools there were 10,879 degrees awarded to students. The majority (97.9%) of these were Associate's degrees.
| SCHOOL | 2016 DEGREES AWARDED | 2017/18 TUITION (OUT OF STATE UNLESS**) |
| --- | --- | --- |
| University of Phoenix-Arizona | 1,350 | $9,608** |
| Devry University-Illionis | 655 | $17,316** |
| Miller-Motte College-Wilmington | 232 | $11,105** |
| St. Petersburg College | 188 | $11,607 |
| Kaplan University-Davenport Campus | 186 | N/A |
| Rasmussen College-Flordia | 137 | $10,935 |
| Central Oregon Community College | 118 | $9,855 |
| Rasmussen College-Minnesota | 116 | $10,935** |
| Cuyahoga Community College District | 111 | $7,648 |
| Miami Dade College | 107 | $9,661 |
TOP STATES FOR MEDICAL RECORDS AND HEALTH INFORMATION TECHNICIANS
| STATE | EMPLOYMENT | ANNUAL MEAN WAGE |
| --- | --- | --- |
| California | 21,900 | $50,260 |
| Texas | 17,620 | $41,510 |
| Flordia | 12,460 | $40,980 |
| New York | 9,590 | $46,200 |
| Ohiio | 9,200 | $40,430 |
MEDICAL RECORDS AND HEALTH INFORMATION TECHNICAL CAREER PATHS
MEDICAL RECORDS AND HEALTH INFORMATION TECHNICIANS (I)

Health information technicians document patients' health information, including their medical history, symptoms, examination and test results, treatments, and other information about healthcare services that are provided to patients. Their duties vary by employer and by the size of the facility in which they work.
Average annual salary: $39,180 per year
Job growth: 13% (Faster than average)
Entry-level education: Postsecondary nondegree award
PHARMACY TECHNICIANS (II)

Pharmacy technicians play an assisting role to a licensed pharmacist. They are charged with taking information from customers or health professionals to fill prescriptions, measuring medications, organizing inventories and many other things. Their work is constantly monitored by a learned professional.
Average annual salary: $31,750 per year
Job growth: 12% (Faster than average)
Entry-level education: High School Diploma or equivalent
MEDICAL AND HEALTH SERVICES MANAGERS (III)

Medical and health services managers play an administrative role in cataloging health information. They work to improve efficiency and quality in administering health treatments and manage the finances of the health care institution. They also must stay ahead of any changing health care legislation and ensure the organization is using appropriate technological tools.
verage annual salary: $98,350 per year
Job growth: 20% (Much faster than average)
Entry-level education: Bachelor's Degree
(i) bls.gov/ooh/healthcare/medical-records-and-health-information-technicians.htm
(ii) bls.gov/ooh/healthcare/pharmacy-technicians.htm
(iii) bls.gov/ooh/management/medical-and-health-services-managers.htm