Top Online Master's in education Degree Programs
Get Matched to an Online Master's in Education Program for Free!
What is an Online Master's in Education Degree Program?
An online Master's in Education (M.Ed.) degree program focuses on teaching and learning. Some programs aim to prepare students to pursue a first teaching license. While others may help current educators refine skills and/or step into a niche field.
If you teach full-time or work in another field, an online master's in education program may be perfect. These often allow you to log into your classes when you can. Plus, complete any supervised practicum in your local community. As education is a regulated field, studying one area in depth may allow you to pursue a state license. Though many online students also use a M.Ed. program as a preparation for a doctoral degree such as a PhD or Doctor of Education.
Four Types of Master's in Education Programs You May Find Online
There are four main types of online master's degrees in education. The Master of Education (M.Ed.), Master of Arts in Education (M.A. Ed.), Master of Science in Education (M.S. Ed.) and Master of Arts in Teaching (M.A.T.). As you consider online M.Ed. programs, it's important to understand the difference in degrees.
A Master of Arts in Teaching (MAT) focuses more on initial teacher licensure. As such, you may learn practical ways to manage a classroom and teach specific subjects.
A Master's in Education (M.Ed.) is usually for experienced educators who want to step into leadership. A key theme is understanding how to turn research into action plans for student success
A Master of Science in Education and Master of Arts in Education are like the M.Ed. Many teachers use this path to refine teaching skills. Also, to better grasp how to teach a science (MS) or liberal arts (MA) subject.
Master of Education in Teaching Special Education
Master of Science in Elementary Education
Master of Arts in Educational and policy administration
This program is for educators who want to teach K-12 students who learn differently. It often readies teachers to pursue state certification in special education. Along with the core program, there are areas of emphasis to look into. Like behavior analysis. Or an autism spectrum disorder endorsement

This program paves the way to teach and shape young minds. Students often learn how to create a positive setting that nurtures child growth. Plus, strategies to manage classrooms and craft lesson plans. Other than courses, one usually takes part in field-based learning

This program aims to build school leadership skills. It may discuss things like how to line up a school vision with district goals. Students often learn how to make data-driven decisions. Plus, how to use research to nurture positive outcomes in the P-12 setting

 Foundations and Current Issues in Special Education
 Diagnostic Assessment
 Theory and Instructional Practice

Creating an Effective Learning Environment
Elements of Literacy Content
Instruction and Assessment

School Leadership- Data, Decision Making and School Improvement
Education and the Law
P-12 Principalship
Online Master's in Education Programs
A typical online master's in education program consists of 30 to 36 credits. Most of these are core topics. But others may pertain to a concentration, thesis or supervised practice. As you notice, there are different kinds of master's degrees in education to look for. But at heart, most programs focus on building a teaching tool kit. Things like:
How to teach to a diverse student body
Assess student strengths, needs and learning styles
Maximize your in-class effectiveness
Plan lessons that foster positive student outcomes
Transform curriculums through new technology
Make sense of and apply current research
To reach these goals, there are a few common class themes for those who are using a master's degree to learn how to teach.
Foundations of Teaching for Learning
This class often cover the basics for effective entry into the classroom as a teacher. Some topics may touch on human growth and learning styles. Other themes may relate to teaching and testing for a specific content area. One might also learn about the school system in general as well as ways to follow district goals.
Adolescent Development and Learning Needs
This class may cover ways to teach adolescents from diverse backgrounds. Often this means looking a few themes and theories. Like social, cultural, racial, and gender issues. One might also discuss typical/atypical growth to better understand the age group.
Featured Online Schools
1
Take advantage of some of the nation's most affordable tuition rates, while earning a degree from a private, nonprofit, NEASC accredited university
Qualified students with 2.5 GPA and up may receive up to $20K in grants & scholarships
Multiple term start dates throughout the year. 24/7 online classroom access.
Offering over 200 online degree
Popular Programs
Business Administration, Psychology, Information Technology, Human Services…

2
Ranked #8 by U.S.News & World Report for Best Online Bachelor's Programs
Apply up to 90 transfer credits for bachelor's students, and 9 transfer credits for master's degree students.
CSU Global graduates experience a return on investment of 4:1, which means they receive $4 in salary and benefits for every $1 they invest in their education.
Available Programs
Business, Computer Science, Criminal Justice, IT, Psychology…

3
Save up to 25%. Save thousands on your bachelor's with the Strayer Graduation Fund.
Strayer University is an accredited institution with a proud history of 125 years in quality education.
With the help of dedicated personal support and AI technology, earn your degree online or on campus.
Programs Include
Accounting, Business Administration, Criminal Justice & Information Technology

Sponsored
6 Popular Concentrations for Master's in Education Degrees
Both career switchers and current teachers may pursue a master's degree in education. One way to tailor your studies to your goals is through a concentration.
For example, you may want to teach a specific subject like reading, math or science. Or teach a certain group like K-8, autistic students, or high school. Some people also want to stay in education but move out of the classroom and into administration.
Six of the popular areas are as follows:
Educational Leadership or Administration:&nbspThis area may help teachers learn how to lead. Classes may cover areas like how to budget and manage staff. So, it is often the choice for those who want to prepare to become school administrators. Like principals or superintendents. In most states, after you have your degree, you are able to take a certification exam.
Curriculum and Instruction:&nbspThis area is about lesson planning for a grade level, or district. Usually, students learn how to gather and use data from education research. Then apply findings to assess and even improve study plans. Often, they also study new technology, trends and theories.
Integrating Technology in the Classroom:&nbspThis emphasis helps teachers reach today's tech-savvy students. One of the goals is to learn how to weave digital tools and computer-based instruction into the class. You may learn to do this for all grade levels and content areas.
Special Needs:&nbspThis area is about meeting the needs of students with disabilities. One often studies human growth patterns to begin. Then the focus may shift to how to adapt lessons to special needs students. You may also learn different theories and interventions. Plus, social, legal and ethical issues. Many people pursue a master's in special education as a path to licensure.
Elementary Education:&nbspThis area covers the teaching methods used to instruct K-8 learners. Often, one learns how young minds form and learn different concepts. Other topics may touch on how to create lesson plans, test students and observe progress. There is usually a practical student teaching component too.
Secondary Education:&nbspThis area covers the teaching methods used to reach high school students. It usually includes leadership and classroom strategy. Things like how to discipline a class of adolescents. Also, ways to communicate and present material suitable to these grades.
How Long Does It Take to Earn a master's degree in Education?
A full-time online student may earn a master's degree in education in 1.5 to 2 years. Because this is an average, some students may need longer depending on their course load. Other students may be able to speed up their progress by transferring in credits.
Master's in Education Programs That Could be Completed in 91 weeks
| | | | | |
| --- | --- | --- | --- | --- |
| School | Degree Level | # of Credits Required | Start Dates | Minimum Months to Complete |
| University of Phoenix | MA | 40 to 44 | Every 6 weeks | 21 months |
| Southern New Hampshire University | MS | 36 | Every 10 weeks | 15 months |
| Northcentral University | MAT | 33 | Every week | 18 months |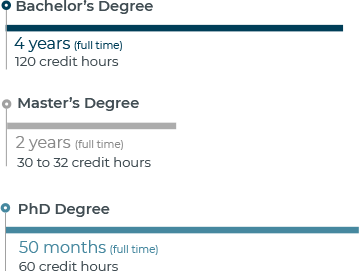 How much is an Online Master's Degree in Education?
The tuition cost of an online master's degree in education varies from one school to the next. If you attend an in-state public university, the average tuition is $6,519. While the average cost at a private out-of-state university is $28,524.
| | | | | |
| --- | --- | --- | --- | --- |
| School | Degree Level | # of Credits Required | Cost Per Credit | Total Tuition Cost |
| Capella University | MS | 46 | $455 | $20,930 |
| Walden University | MS | 30 | $580 | $17,400 |
| Ashford University | MA | 30 | $635 | $19,050 |
Top Schools that offer Master's in education degree programs
According to the NCES, there were over 100 schools that offer Education degrees or programs.  From those schools there were 304,679 education degrees or programs awarded to students. The majority (52.7%) of these programs were master's degrees.
| | | |
| --- | --- | --- |
| School | 2017 Grads total/degrees awarded | Tuition (Out of State) |
| Grand Canyon University | 5,239 | $17,050 |
| Western Governors University | 3,588 | $6,670 |
| Concordia University – Portland | 3,411 | $31,158 |
| Walden University | 3,091 | $12,120 |
| Ashford University | 2,786 | $12,160 |
| Liberty University | 2,688 | $22,584 |
| University of Phoenix – Arizona | 2,419 | $9,552 |
| National University | 1,616 | $13,320 |
| Capella University | 1,399 | $14,579 |
| Touro College | 1,298 | $19,870 |
| Nova Southeastern University | 1,231 | $30,900 |
Choosing an Accredited Master's in Education Degree Program
When choosing an online education master's program one thing to weigh is accreditation. Accreditation is voluntary and happens at a regional, national and sometimes program level. Remember, accreditation involves a set of standards set in place by the accreditor. These aim to ensure the quality of schools, departments and their programs.
Many schools with regional accreditation offer online master's degrees in education. Studying at one of these schools may enable you to get federal aid. It also lets employers and state license boards know your school is reputable. Since a school needs to show it improves, accreditation status lasts for a set period of time. Then the school must apply again to the accrediting agency for another review.
Most accreditors keep a current database so you can check where a school stands in this process. Reviews usually take place every 7 to 10 years.
Going beyond the school's accreditation, there's another quality measures in place. This applies to individual programs in already accredited schools.
Program accreditation speaks to curriculum standards. What skills, ethics and knowledge students take away. Whether these are enough to get them workforce ready.
Top Salaries by State for Principals
| | | |
| --- | --- | --- |
| State | Employment | Annual Mean Wage |
| Texas | 28,310 | $85,680 |
| California | 22,950 | $124,500 |
| New York | 20,670 | $127,970 |
| Illinois | 12,610 | $103,880 |
| Ohio | 9,820 | $86,500 |
Education Career Paths and Potential Salaries
There are many career paths you might want to pursue after earning a master's degree in education online. Weigh a few of these options along with potential salaries and job growth.
Elementary, Middle, and High School Principals
Elementary, middle, and high school principals manage school activities and operations. Part of what they do is set academic goals and make sure teachers meet them. Yet other duties include setting a budget and overseeing staff. Principals are also the public face of the school. So, they often interact with the school board, community, parents and students.
Median Salary: $95,310
Job Growth Through 2018: 4% (As fast as average)
Typical Entry-level Education: Master's degree
Special Education Teachers
Special education teachers work with students who learn in a different way. They may have a wide range of learning, mental, emotional, and physical disabilities. So, to teach them means understanding their issues, how they learn and how to adapt to their needs. Then helping to craft and put into use the child's Individualized Education Program (IEP).
Median Salary: $59,780
Job Growth Through 2018: 3% (Slower than average)
Typical Entry-level Education: Bachelor's degree
Instructional Coordinators
Instructional coordinators oversee the material taught in schools. They also set standards for teaching and often train teachers. Part of what they do is develop curriculums. This may be for a specific grade level and/or subject. Once created, they must put the curriculum to test and check results and student outcomes.
Median Salary: $64,450
Job Growth Through 2018: 6% (As fast as average)
Typical Entry-level Education: Master's degree