Online Elementary Education Degree Programs
Get Matched to Online Elementary Education Degree Programs for FREE!
What is an Online Elementary Education Degree Program?
Online elementary education degree programs cover how to teach the early grades. Depending on the school district, these may range from kindergarten to grades 4-7. Prospective teachers learn the fundamentals of classroom management and instruction. They learn how to teach subject areas like math and reading. And, they gain an understanding of children's diverse learning needs.
Elementary education degree programs also include student teaching. Students engage in supervised fieldwork in an elementary classroom. So, some parts of your program will be in person, even if most of your courses are online. If you're passionate about helping the next generation learn and thrive, this path may be perfect!
Associate's
Bachelor's
Master's
Associate of Arts (A.A.) in Education
B.A. in Elementary Education (grades K-6)
M.A. in Teaching, Elementary Education
This program covers the fundamentals of how to teach children. It does not lead to initial teacher licensure. But, it could be a step toward pursuing further education in the field, or paths that call for knowledge of teaching.
This program helps build foundations in teaching. It covers learning theories, influences in education, and characteristics of learners. Students also learn and practice teaching skill areas.
This program is designed for those who already hold a Bachelor's degree in a field other than teaching. It covers content knowledge and instructional skills you may need to pursue a career path as an educator.
Courses include:

Principles of Education
Psychology of Childhood
Classroom Management for Teachers

Courses include:

Mathematics in the Elementary Classroom
Teaching Assessment
Reading Across the Curriculum

Courses include:

 Foundational Perspectives of Education
Fundamentals of Diversity, Inclusion, and Exceptional Learners
Online Elementary Education Degree Programs
 A typical elementary education degree program covers the theory and practice of teaching. You could look at everything from education psychology to new technology that makes learning fun. And, you could study practical teaching strategies to help you manage a classroom.
Undergraduate Programs in Elementary Education
To teach in public schools, kindergarten and elementary school teachers must earn at least a Bachelor's in elementary education. (This may vary for private schools, but a Bachelor's is standard.)
An elementary education Bachelor's program often takes a ground-up approach. For starters, you'll explore the basics of teaching – from its history to the contemporary issues in the field. One key knowledge area is classroom management. That means learning how to create a positive, structured environment where students will thrive. You'll explore how to motivate, engage, and guide students as they learn.
Instructional planning and teaching methods are the heart of the curriculum. Expect to explore tools and techniques for teaching each subject – from language arts to social studies. You'll find out how to present information so a young audience can understand and build on what they're learning. And, you'll discover how to intervene when students are struggling.
Some states ask teachers to major in a content area, like math or science. You could also potentially choose a specialization in a subject like special education or English as a second language (ESL).
And, don't forget student teaching. This important rite of passage is a chance to practice skill areas like classroom management and presenting information effectively. (Don't worry – a mentor teacher usually helps student teachers learn the ropes!)
Look for programs like:
Bachelor of Science (B.S.) in Elementary Education
Bachelor of Arts (B.A.) in Elementary Education
BS in Education – PreK-4
BA in Elementary Education and Special Education
Graduate Programs in Elementary Education
Some states need teachers to earn a Master's degree. Usually, this comes after earning their teaching certification and pursuing a teaching job.
At the Master's level, teachers may build on and refine their knowledge of elementary instruction, classroom management, and more. Or, they may pivot in the field and study a new area of teaching. For instance, you could focus on reading, curriculum and instruction, or another concentration. Some candidates may even consider an education leadership path.
In some cases, a prospective educator may pursue a Master's in elementary education after earning a Bachelor's in another field. When pursuing a career change to education, you'll need to earn your initial teaching licensure. Some Master's programs are designed for students with that goal. You'll study the foundations of teaching, which graduate programs aimed at experienced educators likely won't cover.
Whether you already have teaching experience or not, classroom practice is often part of a Master's program. This may take the form of student teaching, for those pursuing licensure. In other cases, you could participate in a practicum or internship.
Look for programs like:
Master of Arts in Teaching – Elementary Education
Master of Arts in Education – Elementary Education
Master of Education (M.Ed.) in Elementary Education
Featured Online Schools
1
Take advantage of some of the nation's most affordable tuition rates, while earning a degree from a private, nonprofit, NEASC accredited university
Qualified students with 2.5 GPA and up may receive up to $20K in grants & scholarships
Multiple term start dates throughout the year. 24/7 online classroom access.
Offering over 200 online degree
Popular Programs
Business Administration, Psychology, Information Technology, Human Services…

2
Ranked #8 by U.S.News & World Report for Best Online Bachelor's Programs
Apply up to 90 transfer credits for bachelor's students, and 9 transfer credits for master's degree students.
CSU Global graduates experience a return on investment of 4:1, which means they receive $4 in salary and benefits for every $1 they invest in their education.
Available Programs
Business, Computer Science, Criminal Justice, IT, Psychology…

3
Save up to 25%. Save thousands on your bachelor's with the Strayer Graduation Fund.
Strayer University is an accredited institution with a proud history of 125 years in quality education.
With the help of dedicated personal support and AI technology, earn your degree online or on campus.
Programs Include
Accounting, Business Administration, Criminal Justice & Information Technology

Sponsored
What Do Elementary Education Online Degree Courses Look Like?
In an elementary education program, courses span areas of teaching theory and practice. You'll explore teaching strategies for different curricular areas – from science to reading. And, you'll study subjects like professional ethics and working with students who have learning differences.
Curriculum, Instruction, and Assessment&nbspThese three areas of the teacher's role unite to create an effective classroom. You'll learn how to design a curriculum that meets your district's standards. You'll find out how to plan instructional strategies. And, you'll look at methods for assessing student learning.
Psychology for Educators&nbspUnderstanding how students learn, think, and develop is essential for teachers. This course covers concepts in psychology that help educators reach their students. You'll learn how to apply these theories to your teaching strategies. And, you'll discover how to work with diverse learners.
Teaching Mathematics&nbspThis course covers the concepts and strategies you need to teach math to elementary learners. You'll gain a better understanding of how math lessons build on one another, helping students see the whole picture. You'll study areas like numeration, geometry, and logic. And, you'll create and practice teaching models.
Teaching Diverse Populations&nbspThis course focuses on delivering equal access to education. You'll study the many ways diversity can enrich your classroom – from the linguistic to the cultural. You'll learn how to be culturally responsive and mindful of your own biases. And, you'll learn instructional techniques for meeting diverse learning needs.
How Long Does It Take to Earn a Degree in Elementary Education Degree Online?
A Bachelor's degree in elementary education usually takes about four years to earn. A Master's usually takes between 16 and 24 months to earn. These timelines may vary depending on whether you study part time or full time.
Elementary Education Degree Programs That Could be Completed in 20 Months or Less
| | | | | |
| --- | --- | --- | --- | --- |
| School | Degree Level | # of Credits Required | Start Dates | Minimum Months to Complete |
| Liberty University | Master's | 36 | Multiple | 18 |
| Walden University | Master's | 30 | Multiple | 12 |
| American University | Master's | 33 | Multiple | 20 |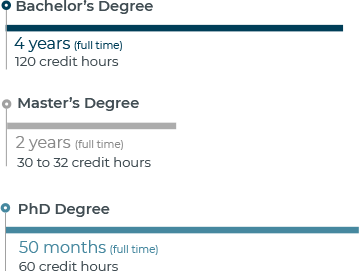 The Cost of an Elementary Education Degree Program
According to NCES, the average annual cost of attending a public, four-year school is $19,189. Average tuition at private and for-profit schools was $39,529. Compare tuition for these schools that offer forensic science degree programs:
| | | | | |
| --- | --- | --- | --- | --- |
| School | Degree Level | # of Credits Required | Cost Per Credit | Total Tuition Cost |
| Saint Leo University | Bachelor's | 120 | $370 | $44,400 |
| Walden University | Bachelor's | 181 (quarter credits) | $325 (non-field); $200 (field) | $53,200 |
| Grand Canyon University | Bachelor's | 120 | $440 | $52,800 |
Top Schools That Offer Elementary Education Degree Programs
NCES lists 1,222 institutions with Elementary Education and Teaching programs. From those schools, students were awarded 39,965 degrees in 2016 (the most recent data). The most common degree awarded in this field was the Bachelor's (74.3%).
| | | |
| --- | --- | --- |
| School | 2016 Degrees awarded | 2018/19 Tuition |
| Western Governors University | 781 | $6,670* |
| Liberty University | 594 | $22,584* |
| Grand Canyon University | 566 | $17,050* |
| University of Phoenix-Arizona | 517 | $9,552* |
| University of Central Florida | 457 | $22,467 |
| Northern Arizona University | 268 | $25,828 |
| Kennesaw State University | 256 | $17,329 |
| University of Northern Iowa | 255 | $19,480 |
| Eastern Michigan University | 249 | $12,508* |
| Illinois State University | 247 | $26,040 |
Choosing an Accredited Elementary Education Degree Program
Every state has specific requirements for pursuing a teaching career path and earning teacher certification. You should check with your state to learn about its educational requirements. For instance, in Pennsylvania, you must graduate from a teacher education program that is approved by the Department of Education.
You may also wish to look for an accredited elementary education degree program. The Council for the Accreditation of Educator Preparation (CAEP) accredits these programs. This credential helps make sure your teacher education program meets the field's quality standards. CAEP accredits programs at the following levels:
Bachelor's
Master's
Doctoral
Post-Baccalaureate
Other programs that may lead to certification, licensure, or endorsement
Top Salaries by State for Kindergarten & Elementary School Teachers
| | | |
| --- | --- | --- |
| State | Employment | Annual Mean Wage |
| New York | 82,590 | $83,010 |
| Massachusetts | 30,380 | $82,600 |
| California | 162,440 | $80,100 |
| District of Columbia | 3,260 | $79,480 |
| Connecticut | 16,320 | $75,480 |
Source: https://www.bls.gov/oes/current/oes252021.htm#st
What Can You Do with an Elementary Education Degree?
According to the most current census data, there are over 5 million Education graduates in the workforce. That includes graduates of Elementary Education programs. This field is expanding, with a one-year growth rate of .65%.
Elementary education falls into the category of education, training, and library occupations. These roles are projected to grow 5% from 2018 to 2028, which is about as fast as average. Roles for kindergarten and elementary school teachers should grow about 3% in the same time frame. Growth in this field is tied to two big factors: student enrollment and government budgets. More students create the need for additional teachers. That said, state and local budgets determine how many educators can be hired. Another consideration is location, since urban and rural areas may have greater need for teachers.
Can you see yourself in this field? Education remains a more popular career area for females, who make up over 90% of graduates in this major. The average age of an education degree-holder in the workforce is 46.2 years old.
Jobs with an Elementary Education Degree
Kindergarten and Elementary School Teacher
Kindergarten and Elementary School Teachers educate young students in subjects like math, science, and reading. They develop lesson plans and assess student progress. They may also teach students how to interact with others, creating classroom rules for behavior. And, they communicate information about students' progress with their parents and guardians
Median Salary: $57,980 per year
Job Growth Through 2028: 3%
Typical Entry-level Education: Bachelor's degree
Substitute Teacher
Substitute Teachers instruct students when their regular teacher is not available. They may work in a public or private school. Duties may vary depending on the grade level and class they are teaching.
Median Salary: $28,270
Job Growth Through 2028: N/A
Typical Entry-level Education: Varies by state
Career and Technical Education Teacher
Career and Technical Education Teachers instruct students in subjects like auto repair, cosmetology, and culinary arts. They plan lessons to help students develop career and technical skills. That may include teaching students to use tools and equipment, as well as key rules and safety procedures. And, they demonstrate hands-on tasks related to the field – like installing brakes on a car or taking a patient's blood pressure.
Median Salary: $56,750 per year
Job Growth Through 2028: -1%
Typical Entry-level Education: Bachelor's degree