Become a Financial Advisor
Do you need a degree to be a financial advisor?
What is a Financial Advisor?
Before you delve into how to become a financial advisor, you should be clear on what they do.  Financial advisors are pros that help people manage their money. They give advice on meeting personal financial goals. Like retirement, saving for college, or buying a house. And, they help with areas of personal finance that can be tricky. Like, investments, estate planning, and taxes. Many people feel overwhelmed when it comes to planning for their financial futures. Financial advisors are on hand to break down the complexities. They can help make tough goals – like paying off debt – feel more manageable.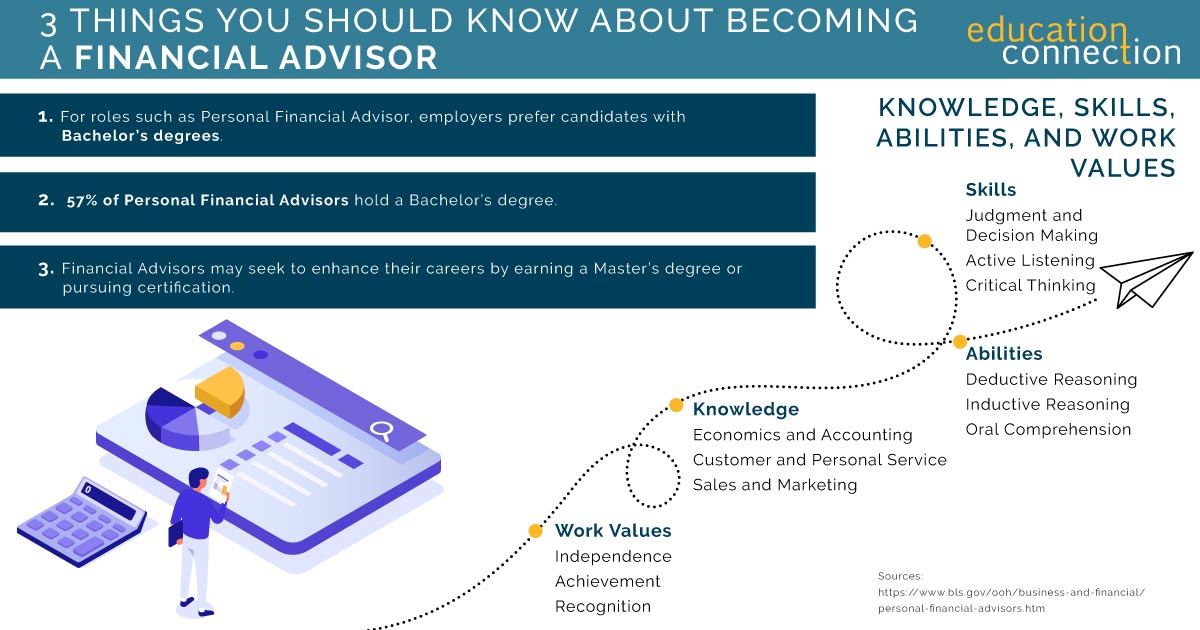 PERSONAL FINANCIAL ADVISORS: A RANGE OF POSSIBILITIES
Financial Advisor Responsibilities 

Where Financial Advisors Work 

Types of Financial Advisors 

Financial advisors meet with clients to discuss their money goals. These could include saving for the future, growing wealth with investments, or buying property. Advisors educate clients about their options and risks. They often invest money 
on the client's behalf. And, they monitor clients' money to see if their strategies need to change. 

Also, you would help them with their assets. And, you would help them do their taxes. You would also help them analyze potential risks in their investments. Plus, you would do research.

Financial advisors often work for financial organizations. For instance, banks and investment companies. Some may work for insurance carriers and other employers. But, about 
25% of financial advisors are self employed. Meaning, they advise clients in their own private practices. Besides working in offices, FAs may travel to conferences and even teach financial seminars.  

In other words, you could tailor your interests to pretty much any career path, depending on what's out there in the job market.

Personal financial advisors. These FAs work with individuals. Their clients are regular people who need help getting their money goals on track. 
Advisors help their clients plan, save, and invest their money.  

Private bankers or wealth managers. Some 

people have more money to work with. They may look for an FA with experience managing wealth on a grander scale. Private bankers or wealth managers handle a client's investment portfolio with help from other pros, like financial analysts.
WHAT IS A PERSONAL FINANCIAL ADVISOR DEGREE?
Perhaps you have heard of a personal financial advisor degree, but you don't know what it is? Or, maybe you are wondering what you would do as a personal financial advisor? Well, if you choose this career path, then you would work with clients to help them manage their money. You would work face to face with individuals and discuss investment opportunities with your clients. You would talk to them about stocks and bonds. And, ultimately, you would help put people on a track toward a comfortable retirement. Or, you could help them to facilitate a higher standard of living.
Are you interested in earning your online personal financial advisor degree? Well, if you are, know you have choices. For example, you can set a flexible schedule for  yourself. You can arrange your periods of study and classwork around your current responsibilities. In fact, if you take courses online, it may give you the chance to pursue your new career more easily. This is because you can take your courses without the time consuming commute. This will allow you to work at your own pace. Whatever program you choose, you can be sure your courses will teach you the basic techniques employed by financial advisors. You will be confident you have learned the most necessary skills your employers may require.
ONLINE FINANCIAL ADVISOR DEGREES
As a personal financial advisor, you will typically need a B.S. degree in order to be hired. However, you should know that your employers do not always require a specific field of study. If you take courses in economics and accounting, it could help you, though. Also, taking courses in business, mathematics or law may help you, too.
Here are some things you should consider when you are choosing an online personal financial advisor program:
As a personal financial advisor, you are primarily employed by financial and insurance companies. You may also travel and teach conferences to attract clients. However, you will generally work in offices.
The professional experience you need will depend on your specific responsibilities. As a personal financial advisor, you will typically need a license. You could also need certifications to practice. You can find this information according to the U.S. Bureau of Labor Statistics.
Why should you get your degree? Well, getting an education may be the key to you enhancing your career. Did you  know that employers typically recognize you more if you have certifications? You could pursue a Certified Financial Planner (CFP) certification, for example. You can research the personal financial advisor degree offered by your prospective online school. Then, you can see if the coursework may prepare you for your certification exams.
1
Take advantage of some of the nation's most affordable tuition rates, while earning a degree from a private, nonprofit, NEASC accredited university
Qualified students with 2.5 GPA and up may receive up to $20K in grants & scholarships
Multiple term start dates throughout the year. 24/7 online classroom access.
Popular Programs
Business Administration, Psychology, Information Technology, Human Services…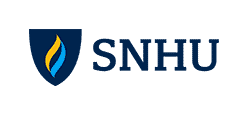 2
Ranked #8 by U.S.News & World Report for Best Online Bachelor's Programs
Apply up to 90 transfer credits for bachelor's students, and 9 transfer credits for master's degree students.
CSU Global graduates experience a return on investment of 4:1, which means they receive $4 in salary and benefits for every $1 they invest in their education.
Available Programs
Business, Computer Science, Criminal Justice, IT, Psychology…

3
Award-winning programs created to help you succeed.
A quality education doesn't have to be expensive. Earn an accredited degree for less.
Programs start monthly – Apply free this week!

Sponsored Schools
WHAT YOU MAY STUDY IN A FINANCIAL ADVISOR DEGREE PROGRAM 
In a financial advisor degree program, you could take courses 
in investments, taxes, estate planning, risk management, and more. Expect to study how to help individuals and families plan for financial goals. That means knowing the principles of personal finance. Like, how to manage money, invest wisely, and handle debt. You may also focus on a particular area of personal finance. Like, education planning, healthcare planning, or debt management. You could study the skills to advise people in these unique financial situations. For instance, education planning covers saving for college, using strategies like a 529 savings plan. 
And, you may take some general courses or electives in business and finance. This may add context to your study of 
personal finance. For instance, you could study global markets or how corporations manage finance. After all, when you help one person manage their money, it's part of a bigger financial picture.  
What Degree Should I Earn to Become a 

Financial Advisor

?  
Financial advisors usually must earn at least a Bachelor's degree. There may not be any one degree employers look for. Rather, a number of majors may be helpful if you're interested in pursuing a financial advisor career path:  
Financial Planning

 

F

inance

 

E

conomics

 

A

ccounting

 

B

usiness

 

M

athematics

 

L

aw

 
Today, many schools offer Bachelor's in Financial Planning programs. These may cover subjects you need to know for the CFP (Certified Financial Planner) exam. You could study areas like estate planning, taxation, and risk management. Some financial advisors may earn a Master's degree. This could be in finance, business administration, or a related area. Earning a Master's may help financial advisors pursue a management career path.  
FINANCE ADVISOR DEGREE PROGRAM COURSES:
Personal Finance:&nbspGain insights into how to plan a budget, manage money, and more. Topics covered could include taxes, credit, and making major purchases, like a house.
Money and Banking:&nbspThis course takes a journey through the complex world of banking. You could learn all about money, credit, treasuries, and more.
Investments:&nbspIn this course, you could learn how the stock market works – its risks and possible rewards. Study the role of the broker, types of investments, and how to manage a portfolio.
Finance Regulations and Ethics:&nbspLearn the rules that govern choices about money. This course could explore how to reach goals while doing what's right.
HOW LONG DOES IT TAKE TO EARN A FINANCIAL ADVISOR DEGREE? 
Earning a financial advisor degree like a Bachelor of Finance in Financial Planning may take about 
four years. That is, if you study full time. If you plan to earn a Master's degree, that may take between one to two years. Again, it depends on your program and whether you study part or full time.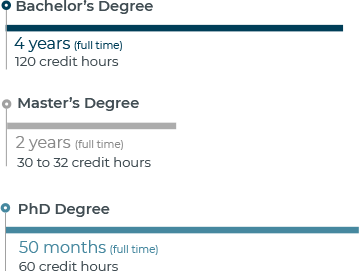 Professional Certifications for Financial Advisors 
Earning certification could help financial advisors stand out from the crowd. While there are many to choose from, 
here are three common certs to consider:  
Certified Financial Planner (CFP)  
There are 
87,270 CFPs
 in the U.S. To pursue this well known cert, you need to earn a Bachelor's degree and complete three years of experience. You must agree to a code of ethics. And, you must pass an exam. This tests you on key areas of financial planning. Some of these areas include: 
I
nvestment and real estate planning 
D
ebt management 
I
nsurance planning 
I
ncome taxes 
R
etirement planning 
R
isk management 
E
mployee benefits planning 
Statistical 
modeling
 Chartered Financial Analyst (CFA)
Earning the CFA cert could help prove your knowledge of 
investment analysis, management, and ethics. To become a "Charterholder," you must earn a Bachelor's degree or have eligible work experience. (Among other requirements.) You will then have to pass a test that covers ten knowledge areas. If you make it, you'll be one of 
167,000+
 CFA Institute members.  
Personal Financial Specialist (PFS)
Earning the PFS cert may be ideal for those skilled in wealth management. Pursuing the cert is a bit complex, as you need to also be a Certified Public Accountant (
CPA). Having both credentials may help you stand out! You must also: 
Have a
t least two years of full time teaching or business experience in personal financial planning. 
Have a
 minimum of 75 hours of personal financial planning education in the last five years. 
P
ass a PFP-related exam. This could be the PFP exam, itself. But other exams also count, like the Certified Financial Planner (CFP) exam.  
Working as a Financial Advisor 
Financial advisors 
may work for employers like banks and investment companies. And, many are self employed. In 2019, these pros earned a median annual salary of 
$87,850
. 
State
Employment
Annual Mean Wage
New York
26,710
$164,260
California
24,890
$128,730
Florida
14,080
$122,840
Texas
10,830
$110,820
Massachusetts
9,060
$128,140
POTENTIAL FINANCIAL ADVISOR CAREERS AND SALARIES
So, do you think you are interested in becoming a financial advisor? Well, if you are, then there are many career paths you can choose from. The important step for you, though, first, is to pursue your online courses. That way you can get an overview of the field. So, do you need help choosing a personal financial advisor online program?  Well before you choose, and before you sign up for courses, you should study which routes you may be interested in.
You can start by asking yourself some questions. Do you want to manage large sums of money as a private banker? Do you want to manage funds as a wealth manager? Or, you can choose to work with a broader range of clients. So, you could opt to work with medium income clients, for example. Whichever direction you go into, you should know there are many options you can choose from.
As a personal financial advisor, you would work with various clients. You would help them to manage their money. You would also work with their assets. And, you could handle their taxes. Or, you could handle their investments, and more. You would work directly with clients in this role. So, you could work for big firms. Or, you could work with smaller institutions. You would wear many hats. In some cases, you could create specific plans for educational expenses. Or you could sell insurance.
Median Salary: $88,890 per year
Job Growth Through 2028: 27% (Faster than avg.)
Typical Entry Level Education: B.S. or B.A. degree
Do you like numbers? Well, as a budget analyst, you would work with them a lot. But, instead of working with specific people, as a budget analyst, you would work with specific businesses. You could also work with institutions. You would be asked to analyze their spending habits. Then, you would identify how a business uses its assets. You could work with the public. And, you could work with private institutions. You would draft budget reports for these companies. And, you would study the spending habits of the organization. Your goal is to help them spend wisely. And, you would help them plan for their future.
Median Salary: $76,220 per year
Job Growth Through 2028: 4% (As fast as avg.)
Typical Entry Level Education: B.A. or B.S. degree
As a financial analyst, you could also work with public businesses. Or, you could work with private institutions. In addition, you could work with individuals. However, you would not be drafting budget reports. You would not be researching institutional spending, either. So, what would you do? Well, you would study. And you would analyze and report. You will study and recommend strategies for organizations. So, you would look at ways in which you can advise an organization to make smart investment decisions. This is so you can help them to plan for their future. You would also research how well stocks and bonds perform for the company. You would look at their other investments, too. Your role would be to analyze the ways you can increase a company's earnings.
Median Salary: $85,660 per year
Job Growth Through 2028: 6% (As fast as avg.)
Typical Entry Level Education: B.A. or B.S. degree