The Difference Between a Vet Tech vs Vet Assistant
Get Matched To Online Schools Using Our Degree Finder!
What Is the Difference Between a Vet Tech vs a Vet Assistant?
Vet techs and vet assistants may share some responsibilities and work closely with animals and veterinarians, their roles and earning potential differ. It is common for outsiders to assume these positions are similar, but in reality, they entail distinct responsibilities.
Vet techs typically possess more extensive education and enjoy a wider range of professional opportunities. They may work alongside doctors in various settings such as research institutions, clinics, kennels, animal hospitals, and even with pets, livestock, zoo animals, lab animals, and military animals. On the other hand, vet assistants are often primarily engaged in administrative tasks within local clinics. However, as they accumulate professional experience, assistants may gradually assume additional responsibilities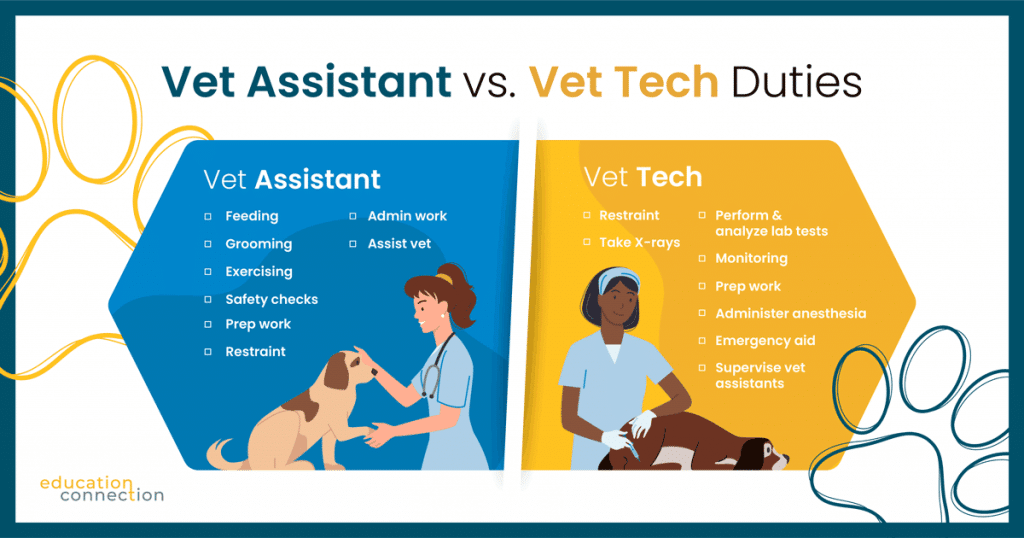 Comparing Vet Techs vs Vet Assistants
Here's a quick breakdown of the two positions in the fields below. Please note that the median pay is based on the national average.
| | | | | |
| --- | --- | --- | --- | --- |
| Job Title | Job Description | Education Requirements | 2022 Median Annual Pay | Number of Jobs in 2022 |
| Vet Tech | A vet tech may perform a variety of medical tests to diagnose and treat animals. They may also provide general animal care. | Associate's degree | $38,240/year | 122,900 |
| Vet Assistant | A vet assistant may help vets, scientists, and other veterinary medicine professionals complete a variety of tasks related to the care of animals. | High school degree (or equivalent) | $34,740/year | 114,800 |
Role of Vet Techs vs Vet Assistants
Knowing the roles of vet techs vs. vet assistants may make it easier to decide which one is the perfect path for you. As you read through the expectations, keep in mind how you would respond to each task.
Vet Assistant Duties
A vet assistant may pursue work directly out of high school. Families with cats, farmers with goats, and lab workers with rats will fuel the profession for years to come. Those who attended a program may have a head start, but much of what is learned is often through hands on experience. This is why it's so important for assistants to dive into a new position.
Each veterinarian may have their own comfort level when it comes to how much they need their assistant to do.
But for the most part, assistants may be asked to perform the following tasks:
Provide basic care: This may mean feeding, grooming, bathing, or exercising the animals.
Safety checks: A vet assistant may need to keep things safe and clean for the animals, clients, and staff. This may include disinfecting the waiting room or washing surgical instruments.
Prep work: The assistant may prepare the room for a variety of medical procedures. They're also expected to properly store everything away after the vet has finished.
Restraint: Assistants may have to restrain difficult or unruly animals. They may need to remain calm and professional under these stressful situations.
Admin work: Vet assistants may fill out intake paperwork and file document. They also may set appointments for clients.
Every clinic or hospital may have its own strengths and limitations. They may have to feel comfortable with the physical and emotional demands of a job. Working with unpredictable pets and animals involves plenty of pressure.
In short, this amounts to vet assistants being willing to fill in wherever they may be needed. On one day, they may be asked to assist a vet when taking blood samples. On the next, they may spend the majority of their time setting up and dismantling surgical rooms. As a vet witnesses an assistant's commitment to the job, the assistant stands a better chance of moving up.
Vet Tech Duties
Many of the vet tech duties may mirror those of the vet assistant. The duties of each vet tech may vary from one practice to the next.
It may be some combination of the following:
Restraint: Vet techs may need to prevent animals from hurting themselves. They may also need to look out for the safety of other people during exams and procedures.
Take X-rays: The technician may operate standard X-ray equipment. They may produce clear and readable images for the veterinarian to diagnose their patients.
Perform lab tests: Vet techs may run analyses in the lab. They should feel comfortable working with bodily samples taken for testing (e.g., blood, stool, etc.).
Monitoring: Hospitalized animals may need consistent monitoring. This way, vets understand how they're responding to treatment. This means checking vitals, changing bandages, and alerting staff to major changes.
Prep work: Vet tech may need to get animals ready for procedures and set up surgical and exam rooms. They should anticipate common problems and work to prevent them whenever possible.
Anesthesia: The vet tech may administer anesthesia to animals during surgery. They may also need to track the animal's response to the drugs.
Emergency aid: Technicians may perform emergency first aid to animals. This usually occurs when the veterinarian is unavailable. They may also be asked to come to the vet's aid when needed.
Vet techs are generally given more job responsibilities. They may need to know how tests are performed and what equipment is needed for each procedure. They should be comfortable working in a lab setting and be able to run tests and analyze results. Also, they may supervise vet assistants and assign tasks. Time management skills may be important for vet techs.
Educational Requirements of Vet Techs vs Vet Assistants
This is by far the most important distinction between the two. A vet assistant may perform some of the same tasks as a vet tech. But the vet tech may have received higher education. A vet assistant might be hired without any kind of formal degree or accreditation. You should know that there are programs for vet assistants though. This may help an assistant become more qualified for a position.
Vet Assistant Education Requirements
Becoming a vet assistant may only require a GED or high school diploma, although enrolling in an Approved Veterinary Assistant Program can offer a competitive advantage. This program provides instruction on specialized tasks expected of vet assistants and often includes a requirement to pass an approved credentialing exam. The exam serves not only as an assessment of acquired knowledge but also as evidence of dedication and willingness to go the extra mile in pursuing a career in the field.
The National Association of Veterinary Technicians in America (NAVTA) established the Approved Veterinary Assistant designation as a means of recognizing the valuable contributions of assistants to animal health in their communities. This esteemed training program by NAVTA is widely recognized and respected throughout the United States.
Vet Technician Education Requirements
While veterinary technologists may require a bachelor's degree, becoming a vet technician may not necessitate the same level of education. However, completion of an accredited program is typically mandatory. The coursework must receive approval from the American Veterinary Medical Association (AVMA). Vet techs usually pursue an associate's degree, which can be obtained through a community college and typically takes between two to four years. In contrast, vet assistants typically aim for a certificate or program diploma.
The specific registration requirements may vary depending on the state. Some vet techs may be required to attend school, while not all may need to take and pass the Veterinary Technician National Exam (VTNE). It is crucial to verify the requirements set by your state when seeking certification. Adhering to the guidelines established by the appropriate board or agency will ensure that you possess all the necessary qualifications for application. Licensing or certification may be necessary in some cases, while registration may suffice in others.
Costs of a Vet Assistant Program
As mentioned, a vet assistant may be hired with nothing more than a high school diploma. For this reason, the cost of a vet assistant program is relatively reasonable. This is especially true if you may be getting through an online platform. The number of hours you may need to complete the course may be as low as 100 and as high as 240. Working online may give you the chance to make your own schedule too. This perk may come in handy for those with demanding responsibilities.
Costs of a Vet Technician Degree Program
A vet technician may need the proper education to earn their degree in the field. But the actual costs may vary widely, depending on the program a person selects. Shopping around and checking the reputation of each curriculum may go a long way. Check with different veterinarians in the area about which schools may get preferential treatment. This may help you decide if the costs of the degree are worth the rewards.
Is There an Alternative Route I Could Take to Become a Vet Tech?
It depends on the state that you're hoping to work in. Alaska, California, and Wisconsin may allow you to sit for the Veterinary Technician National Examination. This may be without having completed the designated coursework required in 47 other states. The vet tech must may need to meet a number of requirements to qualify though. You must provide proof by way of documentation of the veterinarians that you've worked with. You'll also need to show that you have 20 hours worth of class work. This may be obtained through a state approved program.
Salary
The Bureau of Labor Statistics (BLS) conducts a comparative analysis of the job outlook for vet techs and vet assistants, juxtaposing them with various other career paths. This assessment aims to provide insights into the post-graduation prospects and career prospects awaiting individuals.
The positive news is that both fields are projected to experience nearly identical growth rates until 2032. With a 20%-21% increase, the demand for these roles is rising at a significantly faster pace than many other career options. Job stability holds great importance for prospective applicants, and investing in either position can instill confidence in individuals.
This upward trend in demand is often reflected in the higher earning potential of vet techs. In 2022, their median annual salary was approximately $4,000 higher than that of vet assistants. With a median annual salary of $38,240 compared to $34,740, the value of pursuing further education becomes evident. The increased salary can make it more manageable to repay educational expenses.
Job Outlook
Regardless of the path chosen though, both professions may have opportunities. Assistants might become certified in operating equipment and veterinary technology. Vet techs may take more classes in any given specialty (e.g., surgical procedures, nutrition, etc). Vet assistants may begin right out of high school before deciding that they want to advance to a vet tech. A vet techs might choose to go onto to be a vet.
As you can see the vet assistant and vet tech may share duties. But the veterinary career positions are different. You should choose between the two based on how much you want to make and how much you're willing to invest in a vet tech program or the veterinary field. While a vet tech may spend more, they'll also make more. Or you may choose to start as a part-time assistant at a veterinary hospital or veterinary practice and receive as much on-the-job training as possible. Check your state's requirements to find out more about what you may expect.