Vote By Mail Common Issues
Get Matched To Online Schools Using Our Degree Finder!
Vote By Mail Common Issues
As Americans are preparing to vote by mail in large numbers in the 2020 Presidential Elections, we wanted to make you all aware of the many vote by mail common issues. This year is different than any other election. The COVID-19 pandemic as a whole are changing the way people want to vote. Some states are working to make it possible for more people to vote using mail ballots. No matter who you plan to vote for, it is important to know how to ensure your vote counts.
Many Republicans and Democrats want a fair election. Many have pushed to ensure registered voters have access to polling places and mail voting. The U.S. Postal Service is working to ensure ballot applications and absentee ballots allow for early voting in a fair manner.
Yet, many of the vote by mail common issues come from simple mistakes that voters make. Human error is a big factor in why your vote may not make the count. This may be even more common if you have never voted before and are unsure of the process. That is why it is so important for you to take the time to follow the rules as closely as possible. Become familiar with the process. Read through your state's requirements. These are simple things to do to help protect your vote.
First, not all states are allowing mail in voting as a result of the pandemic. Many have rules about who are eligible vote. Make sure you are a registered voter before you request a ballot, for example. The key to remember is it is possible in most states to vote from home. Yet, you need to know the rules and timelines for doing so.
Vote by Mail Mistakes That Cost
Many election officials want each and every vote to count. This applies to the general election. It also applies to any local election.& Many locations have very specific voting rules. This includes for in person voting. These rules may work to reduce voter fraud.
To make sure your vote counts for the November Election, follow the guidelines of the state's Secretary of State when it comes to mail elections or in person elections. Most importantly, try to avoid these common mistakes.
Improperly Filled Out Ballots
Fill out the ballot accurately, completely, and properly. Many voters receive a package of information that outlines the process and procedures. Each state is a bit different. Follow the requirements and information set by your state.
Mistakes in filling out ballots may be numerous. Not completing the ballot is one of them. Another is getting the ballot dirty or allow it to be damaged. Fill it out on a flat, clean, dry surface. Remove all risk of spills when possible. Read through all of the instructions as a next step.
Ballot technology needs to be able to pick up on the selections you choose. These machines – which may work a bit like those old tests called Scantrons you took in grade school – need to pick up on the color and position of your marks. That is why you may have instructions telling you what color or type of ink to use. Using red ink or marker may be a key problem with these.
Make sure you keep those marks within the box. Avoid making any marks outside of these boxes or areas. Stray marks on other areas may cause confusion.
Only fill in the right spaces. For example, only fill in one box in a multiple choice question or area. If you fill in two, or leave a stray mark in one box and fill in another, that may cause confusion. That may mean your vote does not count.
What happens if a ballot does have mistakes like this?
Many states use canvassing boards. These are people who may make decisions by looking at the ballots by hand. This is important for many reasons. When a person uses an in person voting system, called a tabulator, it immediately shoots back a ballot that is not filled in properly. It kicks it back to the voter. The voter then may make decisions or fix it. You know there is an error. This does not happen with mail in voting. There is no way to know the problem until it goes through the system at the voting office. There is no second chance opportunity to fix these mistakes.
The best rule – take your time to ensure you use the right ink, fill in just the area you should, and protect that ballot from any damage.
Signing the Envelope
Another potential problem with ballots has to do with signing the actual envelope. States go through a process to verify that the ballot is legitimate. They need to be sure the right person is casting the ballot. To do this, they verify information. One part of that is having the voter sign an affidavit.
Every state has rules for the affidavit. It is generally located on the outside of the envelope. This is the envelope that holds the mail ballot. This signature means that the person submitting the ballot is affirming their identity. They are also stating they are eligible to vote in this election.
It is sometimes common for these signatures to be missing. If they are missing, the ballot may not be cast for you. Remember, this is an additional signature that is noted on the outside of the envelope. It is not just the signature required inside on the application.
Signatures That Do Not Match
In a primary election like this, details matter. Many times, mistakes are made in how voters sign their ballot. When mailing ballots, the signatures on the interior of the ballot and on the ballot's envelope must match. If they do not, that may be an indication of fraud to the voting officials. Sign the ballot in the same way every time.
In addition to this, many states have systems in place to double check signatures. This is not just on the ballot received but also going further back. They may check the ballot's signature to the one on file with the election board or county clerk's office. Some may check the ballot signature with the one on the absentee ballot application provided. Some may use other government files or systems to determine if they match. This may include the Department of Motor Vehicles or other government agencies.
The belief is that matching signatures like this helps to verify the authenticity of the ballot. In some situations, states go further. They may make it necessary for a voter to verify his or her signature. This may be done, for example, by requiring one or two witnesses to sign the document. These people should be over the age of 18. In some cases, a notary public or other official witness must sign the absentee ballot.
Why So Many Rules?
These rules aim to help make submitting votes safer. Yet, this added security may increase the risk of mistakes that may lead to a vote not being counted. Sometimes, they are not rejected. Rather, the election officials may challenge them. This means the officials want more information or verification of the accuracy of the voting.
It may be more common for younger voters to have problems with this. You may struggle if you sign your name in different ways, for example. If you do not have any experience with signing official documents, that may also make it a bit harder to complete this form with confidence.
Some states do have a cure process. This allows the voter a chance to correct the problem with their signatures. This may allow their ballot to be counted. However, if there is limited time, that may not be possible.
Voters Fail to Provide Necessary Documentation
Some states require voters to do a bit more work to obtain their absentee ballot and to submit it for it to be counted. Mail balloting is not always a simple process. When it comes to mail, states differ on these requirements. Use the resources below to verify what your state requires to minimize the risk of problems reported by elections officials.
As noted previously, some states require voters to submit their ballots with witness signatures as well. Some also require identification to be sent in with the ballot. This may include a photo copy of a state-issued identification. It may include submitting information about Social Security numbers – such as the last four digits of the number – with the application. In other cases, a driver's license or state ID number must be submitted.
A mistake some people make is not knowing these requirements. If a voter makes a mistake with his or her driver's license number, for example, that may lead to a challenge or rejection of the ballot. Small mistakes like this may be costly to you when voting.
Missing Deadlines for Sending the Ballot Back
States set the rules for when absentee ballots must be returned. Some states have elections officials go through the applications to verify signatures. That takes time. That means voters must return the absentee ballots in enough time to allow that to be done. Also, if there is a challenge to a ballot, there needs to be some time to allow for the ballot to be returned. Then, the voter has to cast another ballot. Or, he or she may need to supply other details. That, too, takes time.
A key mistake then is not following instructions for returning the document. Many applications for ballots as well as the ballots themselves have instructions on how and when to return ballots. Some states have rules about using universal mail. Delays with the post office may also make it hard for voters to cast a ballot in time if they wait too long.
Tight deadlines are a critical factor. If you plan to vote, be sure this information is understood. The postmark on your ballot has to be within the specifications set by the state. Doing this before that date may be helpful, too, to help avoid any delays related to the post office.
Voter Mistakes & Statistics You Should Know
To help you get ready to vote, consider a few of the key statistics about voting by mail as well as voting in general. Avoid all of these vote by mail common issues!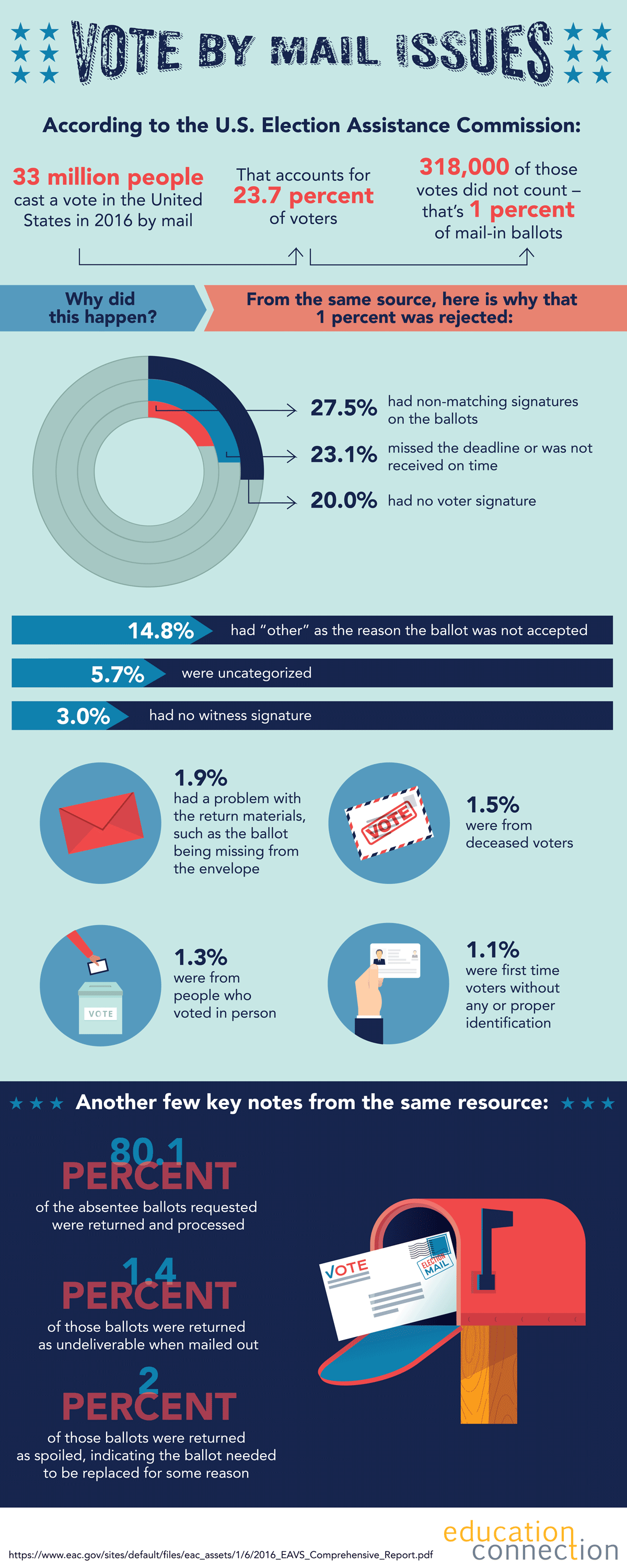 Vote by Mail Policies for Your State
If you plan to vote in the presidential election, be sure to check your state's specific rules. States allow voters to place their vote in various ways. You should still know about voter registration and absentee ballot requests.
Here is the link to each state's rules. You may also verify it through the National Conference of State Legislatures: