PhD vs PsyD
What's the Difference Between a PhD in Psychology and a PsyD? Let Us Help You Get Matched For FREE!
Doctorate Degrees in Psychology
A doctorate in psychology may position you for many careers you can't access without one. Above all, in ones like clinical, counseling and school psychology. According to the BLS.gov, demand in these fields is on an uptick, with 14% more jobs forecast for 2028. That said, there are two doctorate degree in psychology programs to consider. One is a PhD in psychology, and the other, a Doctor of Psychology or PsyD. Below is a brief description of what to expect from a PhD vs PsyD. Keep your goals and interests in mind as you weigh these options.
What is a Doctor of Philosophy (PhD) in Psychology?
A PhD is a Doctor of Philosophy and by definition, a research degree. As such, it is less of a "hands on" approach to psychology, and more academic.
The name for this type of training is the 'scientist practitioner model'. Instead of clinical work, it stresses inquiry, statistics, testing and data. This makes many PhD in psychology programs both broad and deep. Broad because they cover a wide range of theories and research methods. And deep because you anchor your program in a research interest.
As you learn how to design experiments, there other things you might study too. Such as, the various ways to collect data, analyze it and present your findings in a clear, scientific way. To this point, a PhD caps with a dissertation in which you submit an original theory. You must also defend your paper to colleagues and teachers (with lots of evidence).
As you might guess, a PhD tends to build expertise in analysis which may be useful in specific careers. Like researcher, educator, consultant and program evaluator.
Since there are many areas to investigate, as a prospective PhD student, you want to identify yours. When you do, it can help you find programs where the faculty shares your ambitions. Like PTSD, forensics, couples, addicts etc.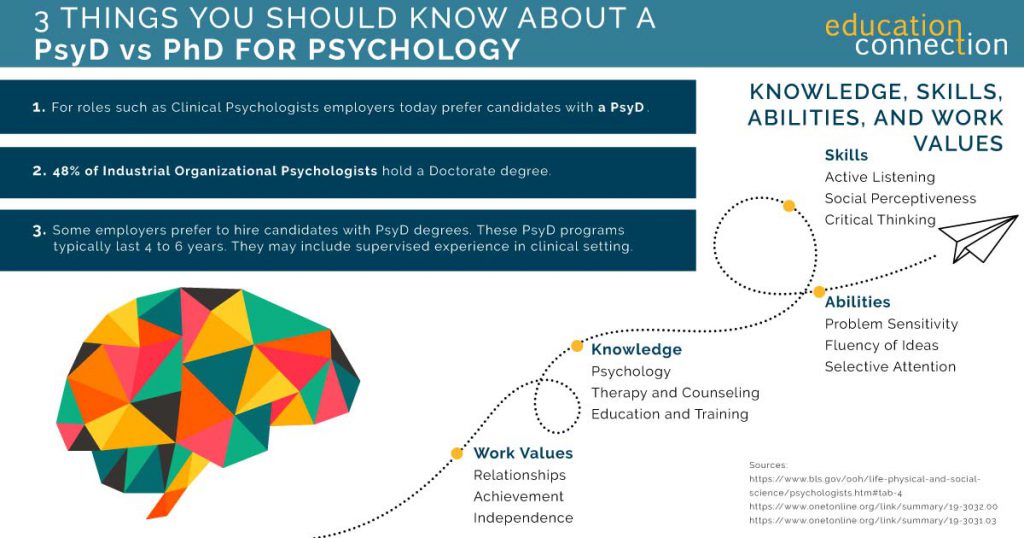 What is a Doctor of Psychology (PsyD)?
A PsyD is a Doctor of Psychology. So, by definition, the focus is the (clinical) practice of psychology.
The name for this type of training is the 'practitioner scholar model'. Instead of conducting research, you apply it to treat and help your clients. As such, most PsyD programs are practical. They consist of fewer research or statistics classes and more clinical subject areas.
These areas frame theories about growth and behavior. Plus, methods to assess, diagnose, counsel and intervene with individuals and groups. You are also likely to develop expertise in a clinical area. What this means is you focus on a specific group or issue. Like troubled teens, families and couples or mental health. You also complete hands on training in a setting related to your choice.
While in your PsyD, there are tests to pass along the way that show you've fused skills and knowledge. And apart from clinical hours, you have to write a thesis. Also called a dissertation, it differs from the one you do in a PhD. A PsyD paper may be a long form essay or project. So while you still have to read and research, you do not have to come up with a new theory.
As for the clinical hours, there may be two parts. First a practicum, then an internship in your last 2 semesters.
PsyD vs PhD in Psychology
Degree comparisons
PhD in Psychology
PsyD (Doctor of Psychology)
Who is it ideal for?
Designed for those interested in clinical practice, research and academia

Designed for those interested in clinical practice with clients
What does it focus on?
Focus on research

Focus on clinical (hands on)
What are the admission criteria?
Typical Admission criteria/requirements: Bachelors (major in psychology preferred) and or masters (preferred), strong research interests, acceptable GPA (3.0 – 3.5) and standardized test scores like the GRE, references, goals statement and writing sample. Often, there is an interview too.

Typical Admission criteria/requirements:
Bachelors (major in psychology preferred) and or masters (major in the same field), CV, acceptable GPA (3.0 – 3.5) and standardized test scores like the GRE, references, goals statement, and aptitude to help others.
Often, there is an interview too.

What can of funding can you get?
Funding: Many PhD programs offer funding as students may serve as Research Assistants or Teaching Assistants

Funding: Fewer options from schools based on premise you earn your degree sooner and pursue a career

What are the program lengths?
Program length: 5 – 8 years

Program length: 4 – 6 years

What do courses and training look like?
Courses: Research, statistics, analysis and theory (practical psychology knowledge) along with a research or teaching practicum and final dissertation

Courses: Direct application of psychology through courses in topics that relate to intervention and treatment methods that relate to working with clients and patients plus a one year internship

What are your career path options?
Career path options: Scientific researcher, educator, consultant, program director, licensed psychologist
Career path options: Licensed clinical, counseling or school psychologist (with many focal areas such as family and couple therapy)
Which degree is perfect for you?
No matter which degree program you choose, PhD or PsyD, it may prep you to get your license. And, to pursue work in many of the same roles within clinical psychology.
That said, do you want to research and teach psychology at the graduate level? Or do you see yourself in an office setting helping a patient reach their goals?
A PhD in psychology explores the science of behavior. So, things like testing, theory and analysis are staples. As such, it may appeal to you if you want to impact the field. Either as a teacher, researcher, consultant or scholar.
In contrast, a PsyD looks at ways to apply science in real time. In other words, you take a proven theory about behavior. Then, use it to help someone work through their issues.
That said, a PsyD may appeal to you if you see yourself in a counselor role. Seeing a patient one to one or conducting group therapy sessions. You'd still need to keep up to date on the latest methods. But likely not be the one in the lab.
Admission Requirements for PhD vs PsyD Programs
Admission standards for PhD vs PsyD programs differ by school and by program although the process may be the same. You fill out an application, submit material and have an interview.
Each university sets its own criteria too. These tend to be about lowest level grade and test score ranges, but there may be others. Generally, both programs favor undergrads with a major in psychology. And many want you to have a masters. For the PsyD, they want this major in a related area.
It is common for schools to set an approved GPA range of 3.0 and up. You may need to submit recent GRE scores and there may be a range for these too.
Admissions teams also read your personal statement and reference letters. These should attest to your character and work ethic as well as answer the school's questions about you.
After these, there are a few that are distinct for each program. PhD programs assess more criteria. One, they want to see you have the 'stick to it' mentality to enable you to finish a rigorous PhD program.
And, they look at whether your research interests align with theirs. This is to see if there's a 'fit' as successful candidates work under faculty in their labs.
PsyD programs don't look at your research interests. They want to see you have the personality to work with problems of individuals and families.
What are your chances of 'getting into' a PhD or PsyD? There is some interesting data on that. According to the APA, they are both harder to get into than masters in psychology programs.
And, at the doctorate level, the highest number of programs, applications, and acceptances were in clinical psychology. These had an overall acceptance rate of 12% compared to a range of 8 to 15% for other subfields.
Funding for PhD vs PsyD Programs
Another contrast area between the PhD vs PsyD is the type of funding that may be available.
Many PhD psychology programs offer stipends and waive tuition. In exchange, you work as a research or teaching assistant. As a result, you could help faculty advance their projects. And if the stipend is generous, you may get a full ride.
PsyD students may be eligible for a stipend, if the school offers it. But not all do, and many schools do not waive tuition either. The premise is that you will graduate sooner from a PsyD than a PhD, and once you do, pursue a career.
That said, if financial aid is still an issue, there may be ways to fund a dissertation or thesis. According to the APA, sources include schools, foundations, APA divisions and grants, psychology groups, state and federal agencies.
You might also be able to bring the cost of a degree down with a scholarship or fellowship. These could pay part or all your studies and unlike a loan, you typically do not pay the money back. Keep in mind, you still need to abide by some terms.
Program Length in a PhD vs PsyD Program
Both a PhD and PsyD entail a significant amount of time. Many PhD programs devote about three years to course work and lab rotations. Once you compete these components, there is an exam.
Passing the exam allows you to move onto your own research project (dissertation). There may also be an option to take part in a teaching practicum, depending on the school.
To complete all these steps, you might need an average of 5 to 7 years. At that, some schools are flexible, and give more time since the research process is extensive.
In comparison, PsyD students may need from 4 to 6 years. The first three years tend to be for classes and exams. And the latter part, for practicum, internship and doctoral project. As the project is one of applied research, it may be less complex an effort than for the PhD.
Courses for a PhD vs PsyD Program
While there are places of overlap, courses for a PhD and PsyD differ, as you might guess.
A PsyD aims to provide academic, practicum, internship and research experience. While science based, it emphasizes therapy and counseling methods.
This yields a study plan around quality clinical skills. Ones needed to assess, diagnose and treat mental health problems and illnesses. You tend to also study ethical codes and how to set boundaries with patients. So, some classes cover group dynamics, cultural diversity and other professional issues.
In some PsyD programs, you can choose a focal area as well. Forensics, health, mental illness, family and couple are a few. Each one brings with it some electives, practicum and research. So aside from the core program, you are likely to develop expertise in one subject area.
PsyD Sample Classes
Interviewing assessment
Intelligence testing
Psychoanalytic theory
Human growth (child, adolescent, adult, older adult)
Consultation and supervision
Psychopharmacology
Human sexuality
Substance abuse
Clinical practicum
Statistics
Doctoral project courses
Main goal: To learn how to provide psychological services.
Central elements: Core classes, exam, electives, doctoral project courses, internship.
Credits: Varies, some programs cover 70 to 80 credits.
PhD programs include core courses, seminars, reading and research. Core courses frame theories like social learning, behaviorist, cognitive, gender and more. You also tend to human growth, milestones and phases.
Research methods are central too. Topics like statistics, experiment design, and data analysis. These take a good part of your study plan and may involve lab rotations.
If you plan to teach, you might take classes that outline teaching skills. Things like how to communicate and manage a classroom. You tend to have a teaching practicum too.
Most students also choose to earn a PhD in a specific area of psychology. It guides your dissertation work and includes electives in your chosen area. For example, let's say you do a PhD in social psychology. It may discuss all the above and add topics related to memory, attention, schema theory and social influence.
PhD in Psychology Sample Classes
Psychology themes and theories
Human growth (child, adolescent, adult, older adult)
Culture and psychology
Teaching of psychology
Consultation
Program assessment
Research foundations
Advanced qualitative reasoning
Research theory, design, methods
Advanced quantitative reasoning
Research or teaching practicum
Main goal: To generate new knowledge through scientific inquiry.
Central elements: Core classes, doctoral writing, research classes, dissertation support classes, teaching or research practicum.
Credits: Varies, some programs cover 60 to 70 credits.
APA Accreditation
Beyond the above, APA accredited programs follow guidelines. APA accreditation promotes unified standards both for training and education.
The APA commission accredits PhD and PsyD programs in a few areas. Clinical psychology, counseling psychology, school psychology and ones related. 
APA standards also span a broad and general training in scientific psychology and core elements of practice. And aim to ready students for the practice of professional psychology.
As a graduate of an APA accredited program, you may be prepared for licensure. For one, these programs cover material you need to master for the EPPP exam. The EPPP is the Examination for Professional Practice in Psychology.
It is from the Association of State and Provincial Psychology Boards (ASPPB). You need to pass this to be a licensed psychologist. Second, some states mandate you have a degree from an APA accredited program. Or prove their program is equal. In other words, if your goal is licensure, APA accreditation matters.
Potential Career Path Options for a PhD vs PsyD Program
To call yourself a licensed psychologist, you first need to take and pass the EPPP exam. Or, Examination for Professional Practice in Psychology. It is available through the Association of State and Provincial Psychology Boards (ASPPB). Each state may also mandate continued education to keep your license active.
Some licensed psychologists go an extra step to board certify in a specialty area. This is through the American Board of Professional Psychology (ABPP). Either a PsyD or PhD may help ready you to take the EPPP exam. But each type of degree helps you hone certain skills that may be useful in different career paths.
A PhD, for example, nurtures skills in analysis. So, it may be helpful for positions such as researcher, consultant, program director and or, educator. According to the O'NET, college psychology teachers earn median annual wages of $76,620. Demand is high too, with 11% more jobs forecast for 2028. So, this may be one option.
If you prefer to solve problems in the workplace, I / O psychology is another in demand sector. Industrial organizational psychologists rely on data and earn a median annual salary of $92,880 per year.
On the other hand, a PsyD expands practical clinical skills. And these are crucial if you want to work with clients in an office or health care setting.
According to the BLS.gov, psychologists earn a median annual wage of $80,370. Many work in private practice. And others may find jobs in gov't, hospitals, ambulatory care and schools. Prospects are even better if you work with seniors and rehab psychology.
Other Doctoral Degrees in Psychology
There are a few other doctoral degrees that may be useful if you want to pursue a career in psychology. One is the EdS, or Education Specialist. And another is a DBA, or Doctor of Business Administration. Likely in organizational psychology.
Education Specialist (EdS)
An EdS is a post masters and pre doctoral degree. It generally takes about three years to complete after a masters degree. Most EdS programs are designed for professionals who would like to study beyond the master's degree level. But do not plan to pursue a doctoral degree like the PhD or PsyD.
The course work is at the advanced graduate level though. So many schools will transfer earned credits to a doctoral degree if you decide to pursue one later.
Some students choose the EdS to improve their skills for advanced licensure in K – 12 related roles. Or to prep for academic and administrative leadership roles within higher education.
In some states graduates can pursue licensure with an EdS. Although in other states you must have either a PhD or EdD (a doctoral level degree) to pursue licensure.
Both school counseling and school psychology are practice areas in EdS programs. School psychology programs cover education and mental health subject areas. Like behavioral and learning disorders, performance plans and specific counseling tactics for students.
If you want to prepare for a career as a school psychologist, this may be an option. According to the BLS, the demand for school psychologists is on the rise. Apart from 15% more jobs by 2028, average annual salaries are about $76,990.
Doctor of Business Administration (DBA)
A DBA in I / O psychology studies human behavior in the workplace. It typically takes about three years to complete after a masters or MBA. Many DBA programs are for senior executives who make decisions and policies for their business. For instance, human resource directors and training managers.
These roles tend to rely on research and data to solve problems. In a work setting, these problems often affect productivity, profit, morale and performance. Some of the subject areas in a DBA program are leadership and coaching. You may also learn how to manage conflict and group dynamics.
As a doctorate in business admin, it is likely to focus on managerial theory too. So, tactics, planning and policy processes tend to be key topics also. Some I / O psychologists launch a career with a masters in I / O psychology. And if a career as a licensed psychologist is your goal, a PhD may be more useful.
At present, the Society for Industrial Organizational Psychology (SIOP) does not list the DBA as a path to licensure. You would need either a PhD or PsyD from an accredited school. Then, undergo a supervised practice and pass the EPPP exam.
But if a C suite job lines up with your personality, a DBA may provide other possible paths. Consulting is one area where demand is high. Business consultants use psychological research methods as well as strategic managerial skills. They can help a company become more efficient and control costs.
According to the BLS, jobs for consultants are on the rise by 14% through 2028. Other job titles are management analyst and leadership development manager. Beyond faster than average growth, consultants earn an average annual salary of $83,610. And some earn more than $152,760.